ITL Focus
ITL FOCUS puts a spotlight each month on a different topic that is driving innovation in risk management and insurance. A collection of curated content from our vast library, each month's FOCUS includes webinars, featured authors, and more to offer a comprehensive look at the topic of the month.
This Month's Focus: Embedded Insurance
Image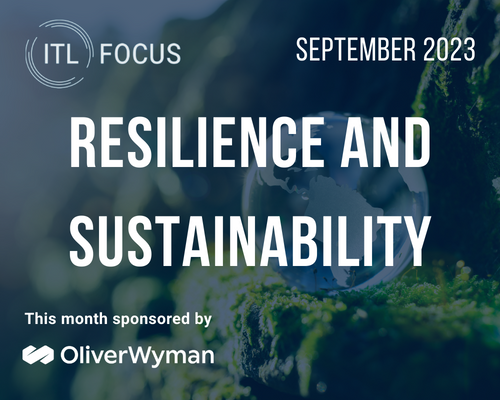 What We're Focusing on in 2023
In the going on 10 years that I've been editing ITL, there have been two truisms about claims.

First is that claims are "the moment of truth" for insurers. That's certainly true, and, taking that notion to heart, insurers have made real progress. They've made it easier for insureds to report claims -- via app, sending in their own pictures rather than waiting for an adjuster, and so on. They've used new technologies, such as drones to survey damage after a storm, and have become much better at triage so they respond faster to the situations that are the most important and most urgent. Many have institutionalized compassion, for instance by quickly providing money to people forced out of their homes in a major storm, rather than making them wait for a full inspection and settlement. I could go on.

The second truism, which has taken its full form more recently, is that the industry needs to get to straight-through processing. It's certainly worth heading in that direction. You can already see the benefits that have come from those apps for reporting claims, submitting photos of damage, etc. But it also seems to me that making straight-through processing has obscured some real opportunities for progress.
The thought that keeps rattling around in my head as I think about underwriting these days is: How can you make accurate predictions about risk based on historical experience... when the world has decided to throw so much of that experience out the window?

COVID-19 changed all sorts of assumptions about life expectancy, at least in the short run and perhaps in the long run; we just don't know yet. The pandemic also reset our patterns of work, changing the risks associated with buildings and with those who work in offices and factories -- or maybe not, as more companies insist on a return to the office.  

Inflation came out of nowhere for the first time in decades and made just about every sort of claim more expensive, especially in auto, where supply chain issues sent car prices through the roof. Now, inflation is subsiding... we think... but how fast? 

And don't get me started on the Russian invasion of Ukraine, a stunner that not only created tons of business risks but that greatly stepped up the general geopolitical uncertainty, including on the possibility that China will invade Taiwan.

I wish I had an answer for underwriters. Instead, as usual, I have a story. It's one that was told to me in 2000 by Gary Loveman, a Harvard Business School professor who rather unexpectedly found himself being asked to be COO at Harrah's and who reinvented loyalty programs, initially for Harrah's and eventually for the whole gambling industry. 

The analogy is far from perfect. Regulations will prevent insurers from implementing many of the ideas. That's why I used the word "dream" in the headline, rather than offering a concrete proposal. But there may be aspects of his ideas that can help with underwriting -- and it's a good story....
For me, the emergence of cyber insurance as a separate line dates back a decade, to when Target was hacked and had 40 million credit card numbers and personal information about 70 million customers stolen. Target was seemingly so well-protected, with its massive IT department and careful security procedures, and the vulnerability so seemingly trivial (in an HVAC system) that the news sent everyone scrambling. 
 
But what to do? 

Well, policyholders hoped their general liability policies covered cyber issues, or at least could be easily extended to cover those risks. Insurers, meanwhile, worked to make a clear division between GL and cyber and, in the face of such uncertainty and potentially enormous payouts, set rates as high as they could. Hackers, of course, plunged into what they saw as a huge payday. 
 
Ten years on, we seem to finally be approaching some stability. 
Maybe a dozen years ago, I read a book called "Half the Sky," about the need to end oppression of girls and women. It's a great book, full of powerful examples, but it's really the title that has stuck with me. It comes from a Chinese saying, that "women hold up half the sky." That's hardly a surprise, but I'd also never seen it put that simply. Women hold up half the sky, and half of everything else, too. Extend that thinking just a touch, and you see the sort of talent that exists in minorities of every ilk -- and how much we all miss if we don't recognize that talent, nurture it and find ever-more-important roles for those with that talent. 
 
Insurers complain about a talent gap. Well, there's a lot out there that has historically been overlooked.
 
The way I was raised, there was never any question about the diversity of talent. My mother was the first in her family to graduate from college and had the temperament and intellect to run a large organization -- which she more or less did by having eight of us kids. My five sisters not only all have college degrees but have four advanced degrees among them, including a juris doctor and a Ph.D. The schools granting those degrees include Harvard, Wellesley and Johns Hopkins. My daughters graduated from Cal and Yale, and one has a law degree from George Washington. 
 
The attitude of the women in my life has basically been: Do try to keep up.
When I think of the customer experience, I imagine a warm handshake or smile from someone I'm dealing with, empathy about my concerns, expertise, etc., but two experts I spoke to recently say I'm greatly overstating the importance of the softer side. They say the key for customers these days is simple: They want speed. 
 
Fast. Faster. Fastest.
 
Jay Baer, long a guru on the customer experience, says speed is almost as important to consumers these days as price. David Samuels, chief commercial officer at Pie Insurance, a startup that initially focused on workers' comp for small businesses and recently added commercial auto, says the company draws on some 18 to 20 data sources and has built algorithms that let it make decisions automatically on more than half the submissions it receives. A spokeswoman says decisions are made automatically for 73% of class codes.
Of course, while speed may be the most important thing, it's not the only thing, and Jay and I run through the whole list in this month's interview. Here is his summary:
Despite all the possibilities I've read about and considered for the Internet of Things, Dave Wechsler managed to raise a new one in the conversation we had for this month's ITL Focus interview. He suggested that water leaks, fires and other household hazards could be handled as a service that would insulate carriers from the complexity and from the claims, in return for a per-household annual fee. 

Many of you have seen Dave in action as a speaker at conferences during his time as the leader of IoT business initiatives at Comcast or, more recently, as the vice president of growth initiatives at Hippo.  He's now a principal with the venture fund at OMERS, the Ontario pension fund, and had some thoughts on how IoT could get to massive scale.

The IoT, under the name of telematics, is taking hold in transportation, mostly because phones are full of sensors that can be used to evaluate someone's driving and because just about everyone has one with them at all times. But homes have been a trickier proposition. The vast majority are many years or even decades old, so they have to be retrofitted with sensors that can detect water leaks, fires and other hazards. That can be expensive. It can also be unreliable: The sensors may be installed wrong if homeowners do the work themselves or may be placed in areas where they somehow don't quite get hit by, say, the leaking water.
Jamie Yoder, the president and general manager of Sapiens North America, jokes that driverless vehicles are no big deal. The Amish had them decades ago, he says. A farmer would get drunk and fall asleep on the front of bench at the front of his cart, and his horse would eventually start trotting and take him home.
Jamie would know. Even though he now runs the North America operations of a major provider of software products and tools and has made a career out of digital technology, he grew up in an Amish community.
I've heard that joke a few times because I've known Jamie since 1996, when we met via Diamond Technology Partners, where we were partners. I've heard a few other stories, too, because Jamie has been my go-to on lots of insurance-related subjects as he became the insurance practice leader at PwC (which bought Diamond in 2010) and then the president at Snapsheet, an insurtech that has been an innovator in claims management, even before taking on his senior role at Sapiens.
In "Billion Dollar Lessons," a book that Chunka Mui and I published in 2008 on the lessons to be learned from 2,500 corporate bankruptcies and major writedowns, we found that companies often kidded themselves about the benefits that would come from synergy. We argued that the only real synergy was, "Do you want fries with that?"

Embedded insurance basically asks a customer, "Do you want some insurance with that?", so I've warmed to the concept over the years. 

The benefits seem clear: Embedding insurance could allow for much lower distribution costs, letting insurers lower premiums, attract more customers and narrow the protection gap -- while giving insurers a massive new customer base.

So far, not much has happened. There is travel insurance and warranties, and bancassurance is popular in some parts of the world, but that's about it. 
Sponsored by Oliver Wyman
"No insurance, no finance. No finance, no project. No project, no transition."
Alex Wittenberg, a partner at Oliver Wyman, says that phrase governs the transition from fossil fuels to a clean energy economy. By now, everyone acknowledges that the transition is under way, but it has to begin with insurance.
And the insurance piece of the puzzle can be so very complicated.
Think about an offshore wind farm. The turbines have to be erected under difficult conditions. The mast may stick 260 meters out of the water. Each blade can be 100 meters long, so the rotor can be 220 meters long.
Wind turbines are huge, powerful, complex machines, and it's hard for insurers to find the technical expertise to fully understand them -- there are few enough experts, and the field is new enough that the experts want to be on the front lines, innovating. Adding to the complications: Installations are tailored to their environment, so even if you can figure out all the technical issues on one project, you can't just apply that learning across the board.
There is, of course, limited historical data, given how innovative these projects are... and the technical issues are just the start.
The ITL team will focus on Blockchain for the month of October 2023. Check back at the start of the month for six feature articles, exclusive commentary from Editor-In-Chief Paul Carroll and an expert interview. If you have interest in sponsoring this month's Focus, please reach out to lachowicz@theinstitutes.org
Sponsored by IntellectAI
The ITL team will focus on AI for the month of November 2023. Check back at the start of the month for six feature articles, exclusive commentary from Editor-In-Chief Paul Carroll and an expert interview.
Sponsored by ICW Group
The ITL team will focus on Workers Compensation for the month of December 2023. Check back at the start of the month for six feature articles, exclusive commentary from Editor-In-Chief Paul Carroll and an expert interview. 
Subscribe to Six Things Today!
Subscribe to ITL's Six Things newsletter and never lose Focus.

We Want to Hear From You
Are you a thought leader interested in writing for ITL or do you have a piece of content that would fit one of our 2023 Focus topics?
Learn more and submit to write for ITL
Tell us what you think will be front and center in 2023.