JUNE 2021 FOCUS OF THE MONTH
Workers' Compensation
FROM THE EDITOR
The world of work turned upside-down and inside-out beginning 15 months ago, as the pandemic shut down offices and forced so very many of us to work from home. That transition worked far better than expected -- but now we're beginning to reverse it as the pandemic recedes in many countries. Will the move back into offices work as well, including for those that insure workers?
The transition could well be more complicated this time. The shutdown stressed schedules and technology capabilities but at least was clear-cut: Everybody had to stay home for those first weeks. Over time, the situation became more complicated based on federal guidelines and those from the individual states, and workers deemed "essential" wound up being much more exposed to the virus than the rest of us. But, now, every company will pretty much make up its own rules, and each employee will react and adapt in his or her own way.
Some employees will return to the office full-time, some occasionally. Some won't ever have to leave home. Business travel will rebound. But how much? Many companies will give up office space. Many others will reconfigure what they have. Factories and other non-office settings may change less, but many will still adapt.
And insurers will have to figure out what rates to charge in these new environments, without benefit of the normal historical data. Insurers will also have to sort through all sorts of new issues. Here's one: When is the place where a worker works a "workplace," and when is it not?
Welcome to the new world of workers' comp.
- Paul Carroll, ITL's Editor-in-Chief
---

---
WHAT TO WATCH
A Conversation on Workers' Comp, with Kimberly George and Mark Walls

We sat down with two of ITL's thought leaders, Kimberly George and Mark Walls, to explore the new world of workers' comp.

Optimizing Care with AI in Workers Comp Claims

In workers' compensation, we've all seen seemingly basic claims morph into catastrophic claims. Artificial intelligence and machine learning have held out some hope of heading off problems, but the industry has been cautious about exploring these possibilities. This webinar, sponsored by CLARA analytics, lays out a tangible solution that realizes the promise of AI.
---
WHAT TO READ
Workers Comp Trends for Technology in 2021

An efficient workflow passes 60% to 70% of medical bills straight through; workers' comp has a long way to go.

 

How Social Inflation Affects Liability Costs

The industry is probably looking at several more years of accident year combined ratios above 100%.

 

How AI Can Tackle Claims Staffing Gap

A job description with "acquire AI superpowers" might appeal to millennials more than "study policy footnotes and calculate claim reserves."

 

Case Study on Using AI in Workers' Comp

Taking in extra data points and thinking in a different way has let us make better decisions about how to route claims, and more.

 

Commercial Claim's Journey With AI

AI is still very new to insurance, and claims teams are only scratching the surface on how it can be applied for the betterment of all constituents.

 

COVID: Chance to Rethink Work Comp

As insurers worry that the pandemic is depressing premiums, here is a way to rethink workers' comp -- and two entirely new product ideas.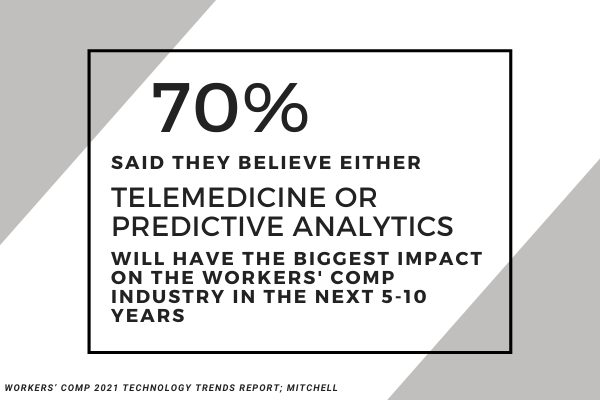 ---
WHO TO KNOW
Get to know this month's FOCUS article authors:
Thomas Ash

David Bacon

Karlyn Carnahan

Kimberly George

Shahin Hatamian

Ji Li

Rebecca Morgan

Mark Walls
---
---
Interested in sponsoring ITL Focus or learning about other promotional opportunities? Contact us
---