The concept of embedded insurance is familiar, yet we leave value on the table when we consider it solely from a "point-of-sale" perspective. The opportunity we miss is to weave protection in at the "point-of-design," an approach that has the potential to realize the vision of embedded as a $70 billion market for insurers by 2030 (Conning, 2023). In fact, embedded insurance may help insurers reduce the over $1 trillion insurance protection gap by making protection a part of products. 
Imagine a future in which protection solutions are woven into everyday products in ways that inspire the same surprise and delight as a car that detects who you are and adjusts mirrors and seats to your settings automatically, or a phone that fits perfectly into your palm as if it were made for it, or a music-streaming service that has learned the beats and melodies that you prefer and accurately recommends the tracks you'll love. Protection services can be like that, too.
Form follows emotion: Weaving protection into product design
What if product, service and space designers incorporated unmet or under-addressed protection needs to weave insurance solutions into industrial design? 
Great design entails a practical understanding of how consumers are likely to interact with the product or service coupled with the broader context of the user's experience. We can think about this as the consumer's "comportment" toward a product or service. 
"Comportment" describes the relationship between the consumer and the product. It describes how consumers interact and engage with products and services and how they perceive it is intended to be used or consumed. Understanding this relationship is key to determining how to design products and services that will meet and exceed consumers' underlying needs. It is this insight that makes it possible for designers to create that "wow factor," experienced when the form of a product or service intuitively "makes sense" and addresses an un/under-expressed need. 
Exceptional product designers observe and empathize, listen and read between the lines and match shape and flow with what may be un(der)expressed customer needs. They harness experience and emotion that serve as the basis for purchase decisions. What if insurance underwriters and product specialists were included in this process and, together with their design counterparts, explored means of weaving protection services into the design of everyday products and services?
What if insurance underwriters and product specialists played a role in the product/service design process and had access to the same observations and insights as the designer?
Realizing this vision begins with re-framing the concept of embedded insurance from a bolt-on model to imagining embeddedness applied at the point-of-design.
An analogy: Levi's trucker jacket with Jacquard by Google 
In 2019, Google and Levi's partnered to develop and launch a line of connected clothing. The Jacquard trucker jacket, interwoven with conductive fibers, is complemented by a sensor fob connected to a cellphone app that allows users to control some of their phone's functionality through swiping the fabric. Users can manage calls and texts, query Google Assistant and control media through contact with the jacket.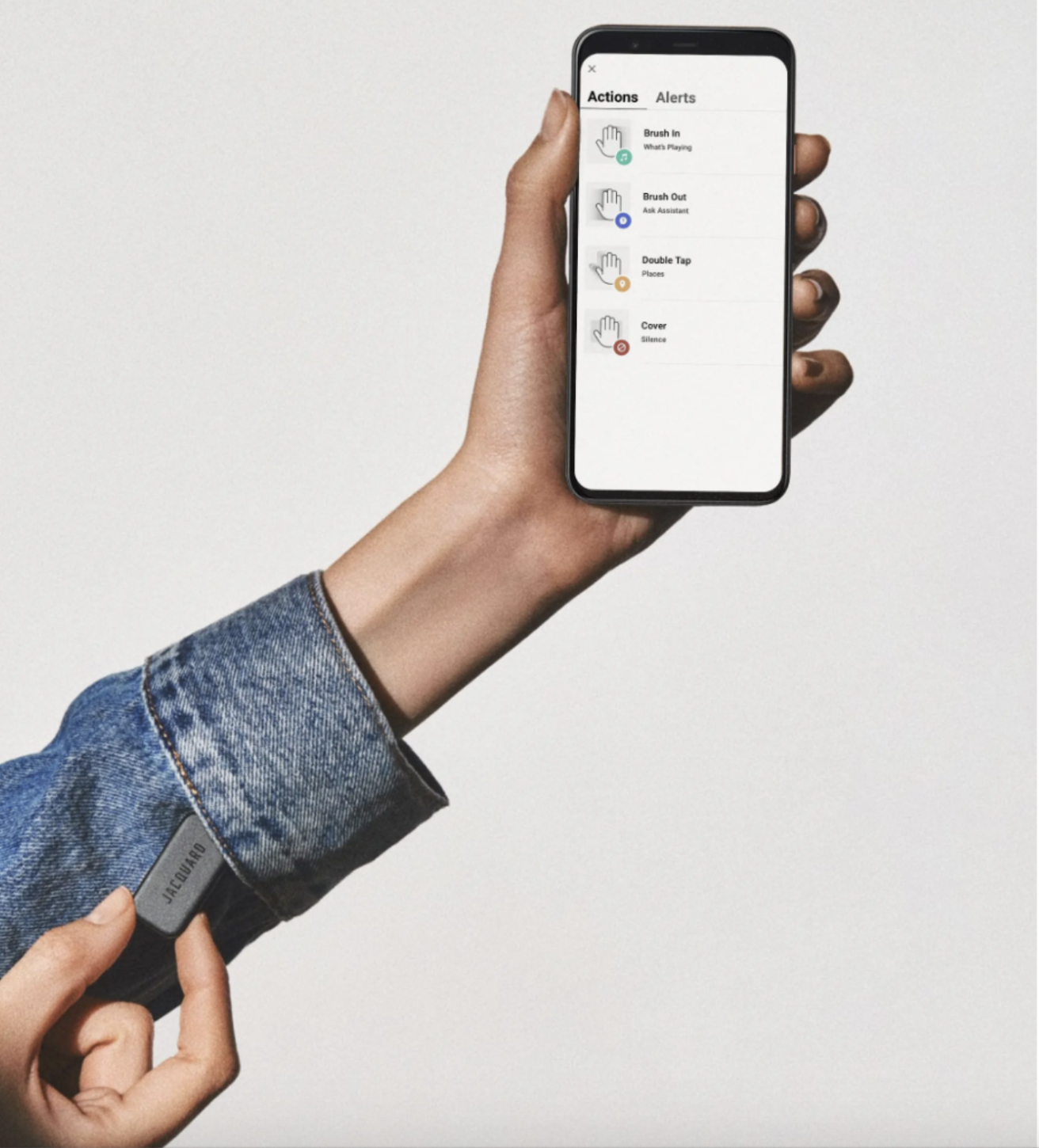 Image from Google/Jacquard.
Google and Levi's were natural partners in this venture. Google brought the augmented fabric solution, sensor technology and the power of their technology brand while Levi's brought clothing manufacturing capability, market access and their globally recognized clothing label. They collaborated to create a hybrid product that addressed both fashion and adjacent lifestyle needs in a way that enhanced the wearer's experience.
Embedded insurance, developed from the point-of-design, is aligned in concept with the wearable technology solution that Google and Levi's developed. We can amplify exceptional experiences by tailoring protection options during the design phase and making them part of the core product or service value proposition. To do so, we encourage our clients to become unfamiliar with insurance as traditionally conceived.
Working from first principles: Becoming unfamiliar with insurance
When we explore point-of-design development we are looking for a fundamental relationship between the protection service and the non-insurance product or service. We boil the concept of insurance down to its most fundamental and customer-centric element – the need for protection.
Insurance addresses the desire to avoid the pain of loss. Related to the decision bias of loss aversion, we accept a degree of loss now (i.e., premiums) when we voluntarily purchase insurance products to avoid a greater loss in the future that we perceive to be a plausible risk. Beginning with this most fundamental component, we can re-imagine ground-up what protection services may entail.
For example, when exploring designing an embedded insurance solution for a global watch manufacturer, we were faced with the task of weaving protection services into an extended warranty proposition for consumers for whom the financial impact associated with losing one or more of their collection was not meaningful. What was most important to them were the memories, events and relationships associated with the items. 
We addressed this challenge by collaborating with the manufacturer and identifying a series of protection service packages based on client segments that provided a means of capturing and recording irreplaceable memories and records of events, white-glove risk management services and advice, as well as specialized risk placement services beyond existing standard coverages. A first-principles approach and a re-framing of protection services made possible a complementary design process and an unexpectedly appealing outcome. 
We can take this further. As we begin to explore protection services embedded within everyday products, we can see the opportunity for all manner of products becoming wholly new direct distribution channels. Existing insurers may both have their branded and recognized products available directly or through intermediated distribution channels plus tailored protection solutions distributed through wholly new partners such as clothing manufacturers, OEMs and equipment manufacturers, not to mention service providers, software and experience firms and so on. 
Data and insights collected from embedded solutions may be shared with a consumer's existing agent or broker to provide an even more personalized experience. Agents and brokers with permission to access consumer travel, fitness or related data may more effectively manage their individual relationships as well as their overall book of business. 
Plus, we anticipate the opportunity for large product manufacturers or retail platform providers to facilitate the development and launch of protection service marketplaces (in collaboration with underwriters and brokers), whereby individual risks may be collected, evaluated and bid upon by (re)insurance underwriters in exchange for commissions payable to the retail host. 
We recommend considering the following actions when exploring making point-of-design embedded insurance a key part of your growth strategy:
What to consider:
What are your organizational objectives, and how will embedded insurance help realize these goals? 

Make certain that your organization has clearly defined and measurable objectives

Develop a sufficient understanding of the embedded insurance value proposition to determine whether this approach is right for your organization to realize these objectives

How confident are you that you understand your target market?

How well does your organization understand the target market for this proposition – its segments, their needs, their purchasing behaviors and preferences that may inform which partners to engage? 

Do you have a clear path to engage with partners and a capability to manage these relationships?

Once the strategic alignment and target markets are clear, is your organization positioned to identify and engage with partners who bring the other pieces of the puzzle (such as non-insurance product manufacture if yours is an Insurance firm)? How well do you feel you understand their industry and their objectives? Have you explored how you will package and pitch the opportunity to your prospective partners?

 

To what extent do you have the capability to inform industrial and protection services design?

Many organizations have mature design capabilities – to what extent can your organization manage the co-design of non-insurance products and protection services? How will this process be managed between the (at least) two firms? How will arrangements such as branding and marketing be managed, and how will challenges such as disputes be addressed?
What next?
Embedded insurance, if approached with an open mind and the patience to nurture business partnerships, has potential to grow existing business in wholly new ways and to reach more customers in a more intuitive manner than previously thought possible. Perhaps more importantly, it encourages us to entirely re-frame the way we think about insurance and to consider the possibility of protection services that can be woven into any product and service.