ITL Editor-in-Chief Paul Carroll recently hosted a webinar on "Captivating Customers With All-Channel Experiences," featuring experts from Capgemini and Salesforce.com and the former chief customer experience officer at AIG. To view or listen to the webinar, click here. For the slides, click here. 
While insurers have focused on meeting the increasing demands of their customers and invested in customer-facing operations, they are continually losing ground. The World Insurance Report 2015 by Capgemini and Efma reveals that positive customer experience ratings declined at an alarming rate in the past year, from an already low 33% in 2013 to 29% in 2014. This should be a wake-up call to the industry. Insurers urgently need to accelerate their ability to deliver exceptional experiences and captivate customers -- or risk losing them. Of the 30 countries surveyed in the World Insurance Report 2015, 80% recorded a decline in the percentage of customers with positive experiences. Ten countries experienced a drop of more than five percentage points. They include the U.S., which dropped 8.3 points, marking the largest decline of all countries surveyed. Although the trend is clearly toward digital interactions with customers, the agent channel remains the preferred channel overall. It delivered positive experience levels that were almost double those of digital channels. But the digital/analog division has become a false one. The fact is that all channels have to fit together seamlessly to captivate customers. Customers have to be able to start a conversation in any way – face to face with an agent, on the phone with an agent, online with the agent, online at the carrier, at a social media site  – and pick it up later in any channel, in mid-sentence. Instead, at the moment, customers often wind up dropping partway through the process. They may begin a query online, get a rough idea of a premium and then go off to talk to their spouse or to do some research. Then they go back online to continue the process or call an agent, find they have to start over, get frustrated and stop. We have to get to an omni-channel world, where everything is seamless and efficient from the customer's point of view. Falling customer experience ratings, coupled with a growing number of market disruptors (See exhibit  below), indicate that insurers need to take swift action to become truly customer-centric. They must improve their digital services and seamlessly connect the customer experience across mobile, social, digital and agent interactions. While doing so, they must ensure the important agent channel has the tools and full customer visibility to effectively sell to and service the customer in the digital world.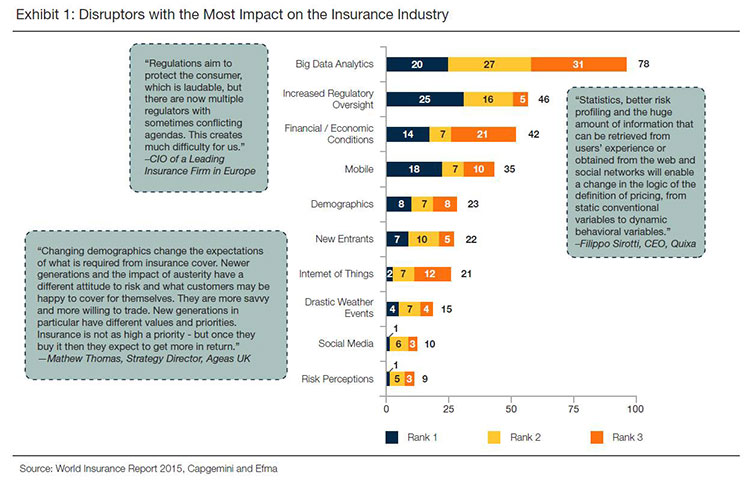 Yet many insurers will find it hard to move quickly. The World Insurance Report identified seven core capabilities that insurers need to develop to enhance customer experience and take advantage of opportunities created by disruptors. Yet we found most insurers' maturity levels to be lagging in all seven core capabilities: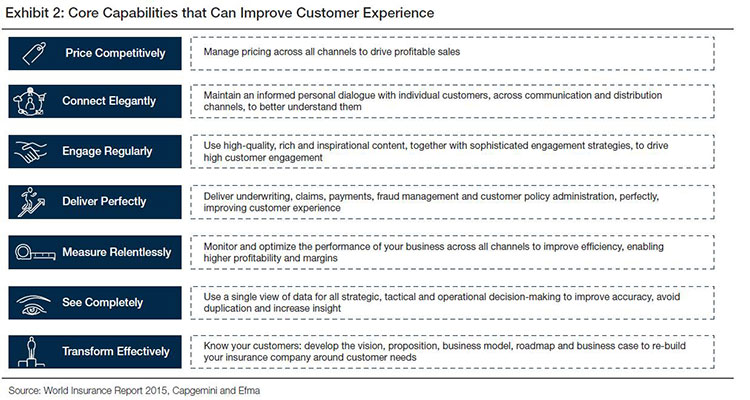 Insurers exhibited the lowest maturity levels across three essential areas:
Connecting elegantly: All channels, including social media, are fully integrated in real time for all interactions, so that customers always feel that the insurer knows them well and that the agent can have an informed dialogue with individual customers.
Engaging regularly: New content is continually created and published to the relevant customer segment through the right channels at the right time. Advanced content management and "gamification" platforms are put in place to take customer engagement to the next level. Agents have the tools to easily and frequently engage with customers via mobile channels, text messages and other digital means.
Seeing completely: The insurer has a comprehensive view of each customer and understands each customer's relationships (e.g., family, businesses.). Accurate, real-time data supports predictive analytics, planning and delivery.
Raising insurers' maturity in these three areas, along with having a fully integrated agent workforce, can accelerate the ability to deliver an exceptional customer experience across all channels. Only by developing comprehensive plans for proficiency – including a comprehensive look at the technology that underpins each capability – can insurers hope to counteract the decline in customer experience ratings that threaten insurers' growth and profitability.
This is the first in a series of four articles drawn from the white paper by Capgemini and Salesforce.com, "Cloud-Enabled Transformation in Insurance: Accelerating the Ability to Deliver Exceptional Customer Experiences." For the full white paper, click here.