When executives are looking at future business scenarios, they are often called upon to "connect the dots." If we draw a line from A to B to C to D, what kind of future scenario emerges? In which direction are the dots pointing?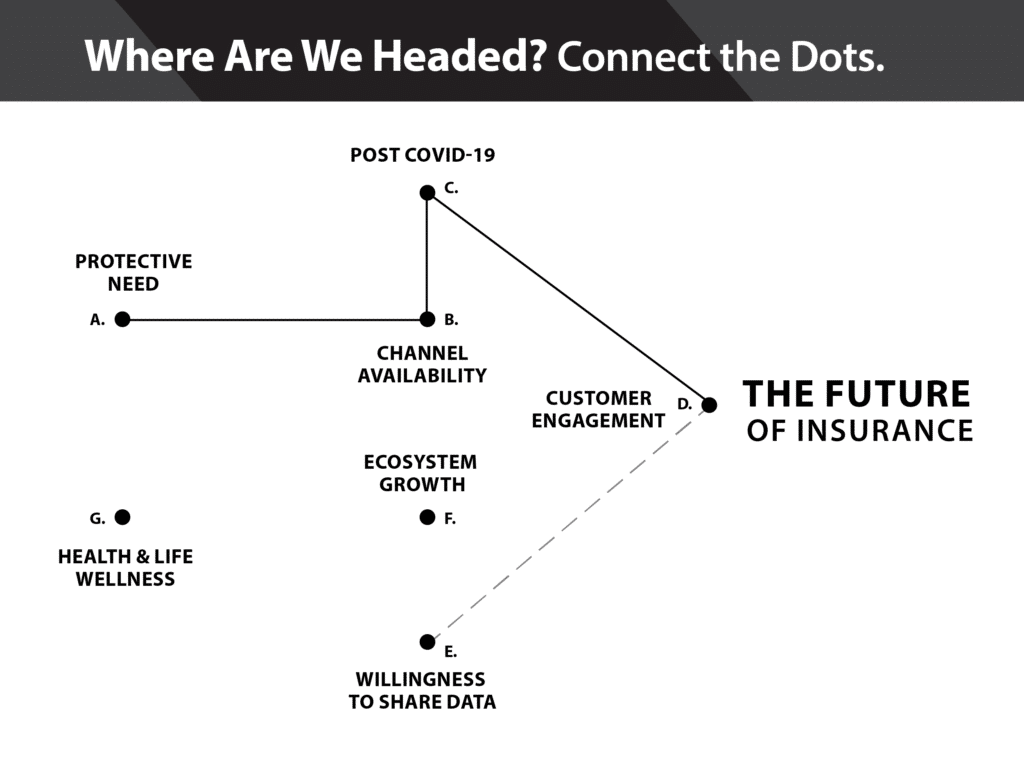 Sometimes the lines are fuzzy. The dots don't quite line up. The possible futures are too many to count. The next steps are nearly invisible. In fact, coming out of COVID-19, some industries, such as the food industry, real estate, automotive manufacturing and travel, are going to be faced with some, "So, what's next?" moments. The train of progress might be leaving the station, but it's anyone's guess which platform you use to hop on board.
This is not the case with life insurance. Though the numbers of policies sold may vary and the types of life products may have some new wrinkles, if we connect the trends and dots today, we get an excellent picture of tomorrow. We know where this train is headed. We also know that your ticket to get on the train will be the launch of a new life business model.
Our latest thought-leadership report, Rethinking Life Insurance: From a Transaction to a Life, Health, Wealth and Wellness Customer Experience, outlines the latest trends, expectations and insights from consumers that will change life insurance from a traditional, risk-focused, transaction-based product into a viable core component within a cohesive life, wealth, health and wellness ecosystem.
We surveyed consumers asking them a range of questions related to health, wealth, wellness and life insurance. The survey results highlight a rapid shift, particularly by millennials and Gen Z, to wanting a lifestyle experience across life, health, wealth and wellness, rather than just a life insurance transaction.
Majesco's survey sheds important light on several of the dots that can help insurers connect today's strategies to tomorrow's futures.
Life insurance – from boom to bust
On the eve of the Great Depression, there were more than 120 million life insurance policies, the equivalent of one policy for every man, woman and child living in the U.S. Once again, following World War II, the economic boom in the U.S. fueled a rise in life insurance ownership; by the mid-1970s, 72% of adults and 90% of households with two parents owned life insurance.
Fast forward to today, and only 54% of American adults own life insurance, according to a recent LIMRA report. That is down nine percentage points from 2011. Only 34% of Millennials own individual life policies.
Over the course of a century, life insurance went from a boom to a bust. What went wrong?
Growth and viability of the life insurance industry is vitally connected to the major trends redefining insurance, including demographic and market trends, customers' expectations and their adoption of new technologies. Insurers' long-held business assumptions and operating models were built to support "traditional" insurance approaches for products, channels, pricing and customer engagement, and this has not dramatically changed since the early 18th century when the first product mortality tables and structures were introduced. Innovative products like variable life, critical illness or long-term care still followed a similar business foundation.  
However, today's customers are increasingly digitally adept, with higher expectations, different needs and a demand for better experiences that are not met with the "traditional" insurance approach. Unless insurers develop a new approach, they will be unable to capture customers within the millennial and Gen Z segment, right as those customers become the dominant buyers beginning next year.
This new generation is not satisfied with traditional insurance processes, products and business models. They have grown up in a digital world. They expect and demand digital capabilities. Encouragingly, there are opportunities for growth and glimmers of revival of life insurance ownership on the horizon – but with a focus on engaging customers differently…and digitally. 
See also: Life Insurance's New Occupation
COVID-19 and digital acceleration
Forbes recently reported that, starting January 2020, online life insurance sales increased 30% to 50% for companies with speedy apps that used data/algorithm-driven underwriting, particularly for those 45 and under, the prime growth market of millennials and Gen Z. In contrast, agent-driven sales were down by up to 50%. The COVID-19 crisis is accelerating the online competition started by new players such as Fabric, Ladder Life and Haven Life. 
A recent Nielsen survey found that by mid-March, when COVID-19 reached critical concern, there was a significant increase in online shopping and that 25% expected this to continue post-COVID-19. 
The COVID-19 crisis has contributed to a digital wildfire that has exposed less than desirable customer experiences due to manual, paper-bound processes and non-digital transactions. Multiple trends are pushing life insurance out onto a digital limb.
Once again, the life insurance industry is faced with an opportunity for growth and capturing a new generation of customers. But, to do so, insurers must adapt their business approach to meet a vastly different set of needs and expectations.  
Generational views on life insurance are shifting to a holistic perspective encompassing health, wealth and wellness. Majesco's research identified key differences between millennials and Gen Z versus Gen X and Boomers. Some of the highlights include:
Life insurance value is trending upward. Millennials and Gen Z believe life insurance is more important – 79% as compared with 60% for Gen X and Boomers. The younger customers also have a larger array of reasons why life insurance is important, many of which are based on new behaviors and needs.
Millennials and Gen Z are very willing to share personal data if they benefit from it. Millennials and Gen Z are willing to share their personal information and data 25% to 39% more than the older generations.  
Millennials and Gen Z want more than a transaction – they want to manage their life more holistically. Millennials and Gen Z outpace Gen X and Boomers in wanting access to all health, wealth and wellness areas by 17% to 33% or more. The younger generation seeks information and advice for a variety of areas: health, financial planning, legal, tax, mortgage loads, bank balances, etc.
Younger generations want access to their information. They want information on their policies, medical records, fitness data and household purchases. There is strong interest in possible value-added services.
Millennials and Gen Z will use a wider and larger number of channels. This includes traditional agents as well as those they have existing relationships and loyalty with, including Big Tech like Amazon, Apple and Google.
This new era of life insurance is so much different than even just a few years ago. It will pressure insurers to develop products and services that are more affordable, digital-first, simpler, tailored to very specific needs and grounded in trust. Customer will want new, digital products like on-demand, single-item and embedded coverages and value-added services, that are bundled in a way to help customers manage their lives. 
Life insurers must reimagine the scope of what they will offer to customers. They must think of a compelling customer experience that is wrapped around a risk product and of value-added services that are part of a broader health, wealth and wellness ecosystem.  
The status quo is no longer an option 
We see the impact of the status quo with the 50-year-long decline in life insurance ownership. In this new decade, a new life insurance opportunity exists for those who will participate in a broader health, wealth and wellness ecosystem and the growing insurable opportunities… offering a new boom era for life insurance.
Capturing the boom — turning a transaction into an experience
The success of life insurance, in part, depends on the longevity of the human body. We predict longevity and use our mortality numbers to gain the ratios we need to keep our business healthy. In the new realm of life insurance, that formula is backward. Start with the human body. Make it healthier. Improve our systems of health data and find out that people are sick before their sickness becomes an issue. Help them improve their wellness as a part of their natural lifestyle. Add lifestyle and financial benefits to the customer experience. Add years to lives. Improve mortality, lives, finances, satisfaction and security.
The 2020 LIMRA study picks up on the idea of the better life/health relationship within the life insurance industry.
"This personal health push provides an opportunity for the life insurance industry. What if life insurers — typically focused on mortality — could "flip the frame" to disease prevention and longevity? What if they became partners in the effort to live the longest, healthiest life possible?"
See also: Reigniting Growth in U.S. Life Insurance
To retain the customer and revenue, insurers must rethink their scope away from a life insurance transaction to a broader lifestyle experience across health, wealth and wellness.
Highly networked, data-driven, value-added business models are emerging, within and outside of insurance. They are redefining the customer journey, and the entire customer relationship, across a broader set of health, wealth and wellness options across insurance and financial services.