Welcome to the new age of customers!  
Nearly every organization that sells its products and services in a B-to-C market goes through product, channel and service shifts brought about by consumer demand. Shifting business strategy to meet the customer is nothing new. Sometimes these changes are enacted through acquisitions. Sometimes they are brought about by greenfield business units. However, they come about, they are essential for long-term survival and growth. Consider some popular brands you know, and you can see the shifts in action.
Banana Republic was once a safari and travel clothing outfitter that even sold books. QuikTrip and Wawa were small-scale "convenience" grocers without fuel sales. Sony's most popular product was once a Walkman tape player. KitchenAid was just a mixer company.
Every company is shifting as customers shift, and insurance is no different.
Insurers are in a transition between what they once were and what they may one day become. You may see this transformation happening in your own organization. What if one day your company generated significantly more profitable income from services, side offerings and partner products than it did from some of your core insurance products?
If you knew this could happen, how would it change your plans? The idea is not unprecedented. In a business world flush with new opportunities, executives commonly push their companies in the direction of customer demand and profit, not necessarily in the direction of the organization's core competency.
That means it is always the right time to understand what the customer is thinking and needing and where customer demand seems to be growing.
Majesco recently released its annual consumer trends report, Enriching Customer Value, Digital Engagement, Financial Security and Loyalty by Rethinking Insurance. We assess the top-of-mind issues for today's customers and look at how Gen Z and Millennials especially are looking for ways to achieve financial wellness — across all financial aspects of their lives, including P&C and L&AH products. How will technology-enabled products and value-added services add up to optimal insurance offerings for today and the future?
Using the report as a springboard, let's look at what is changing year over year and where 2022 trends are pointing insurers for their 2023 strategies and beyond.
Gen Z and Millennials — "Serve the future me"
The future is all about the customer, and in insurance it is all about the customer's future.
Insurance's traditional products have always been pivotal in creating peace of mind, but new and expanding risks, market dynamics and evolving needs and expectations of customers require new ideas and approaches. Customers are seeking simple, holistic, direct experiences within a digitally immersive model. They are looking for real security over their lives and property, security that goes beyond traditional risk products and channels.
Insurers must give serious thought to offering value-added services that complement risk products and in some cases reduce or eliminate risk; providing multiple channel options, including new partnerships and embedded options and leveraging new data sources to create personalized pricing and underwriting. Beyond all this, insurers need to grasp how their company fits the future vision of a customer's whole security picture. How much of this picture is theirs to paint?
Creating security in times of change
Resilience and financial well-being are essential to living in a world filled with risk. Customers need to be able to return to the status quo after an event – whether for assets like our businesses, homes or vehicles or for our own personal or employee health and well-being.
Customers are seeking help with managing all the complexities of their life and finances. They are expanding their view of financial wellness. They want confidence and security. Customers want an expanding focus on the prevention of losses, creating risk resilience and financial well-being.
See also: 3 Insights on Millennial Insureds
Top-of-mind issues
The tumultuous times experienced by many consumers are reflected in their responses regarding top-of-mind issues. In this year's survey, we see that they are concerned about household finances, inflation, crime and planning/saving for retirement. (See Figure 1) The full list deserves a close review. Notice how many of the issues have a greater priority for Gen Z and Millennials than for Gen X and Boomers. Look closely at those issues garnering higher than 50% responses.
Financial well-being is about feeling secure and in control, managing your money effectively whether for the day-to-day, dealing with the unexpected (like risk and losses), or preparing for the future. This is why crime and inflation and household budget have become top issues for consumers. Uncertainty about the future will be a motivational driver for all consumer purchases in the short term.
Figure 1: Consumers' top of mind issues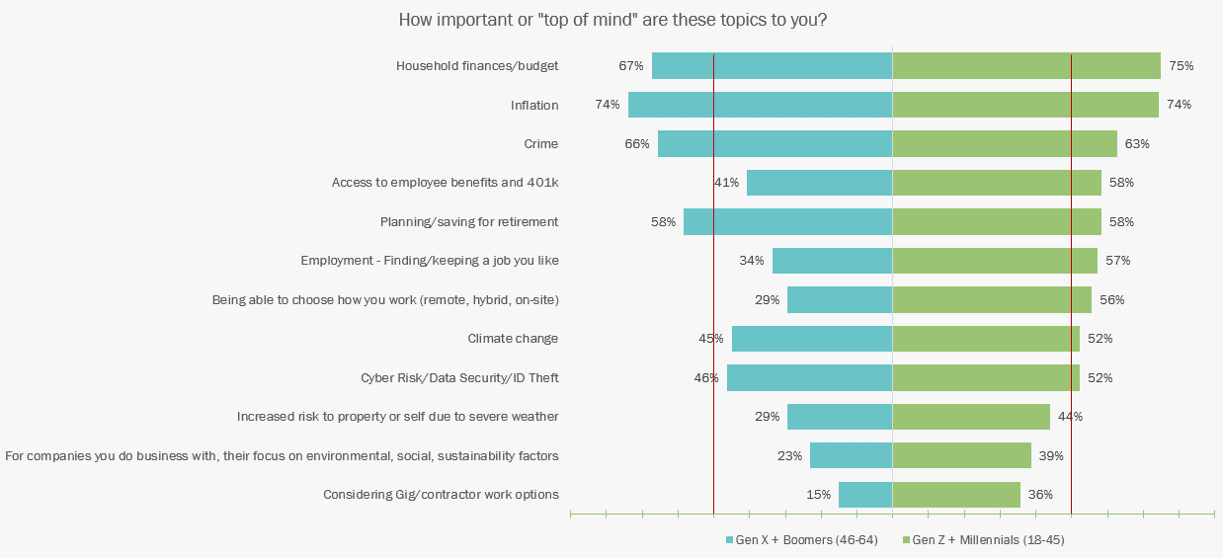 Both generations are concerned about cyber/data security/ID theft. Employment emerged as a crucial issue for Gen Z and Millennials, with a 23% stronger view in finding or keeping a job, 37% in how they would like to work and 21% in considering gig/contractor work options as compared with the older generation. This shift in employment expectations has a significant impact on employers in terms of group and voluntary benefits; cyber risk and worker safety – leading to a demand for different insurance products.
Likewise, environmental, social and sustainability-related areas are also of keen interest to the younger generation, with a 16% difference compared with Gen X and Boomers and 15% for increasing risks from severe weather. In response, some insurers are developing risk appetites based on net-zero and carbon reduction pathways, the introduction of sustainable insurance products and investments in funds that back or support insurance products.
Digital technology use trends
Gen Z and Millennials continue to outpace Gen X and Boomers in the use of digital technologies or digitally enabled businesses. Compared with last year, both generations were the same in usage, with the exception of a few key areas, as reflected in Figure 2. 
The strongest use is in the finance category, where digital payments reflect a gap of 27% to 28%, depending on the digital payment option. Despite the high usage levels, they are lower than last year's levels, with a 25% decline in Zelle/Venmo for Gen Z and Millennials and a 15% drop for Gen X and Boomers. These declines do not align with the growth in Venmo usage, which processed $230 billion in total payment volume in 2021, a 44% increase year-on-year, and reported over 70 million users, mostly based in the U.S. This strong use highlights the need for insurers to offer alternative payment options.
Figure 2: Use of technologies and participation in trends, 2021-2022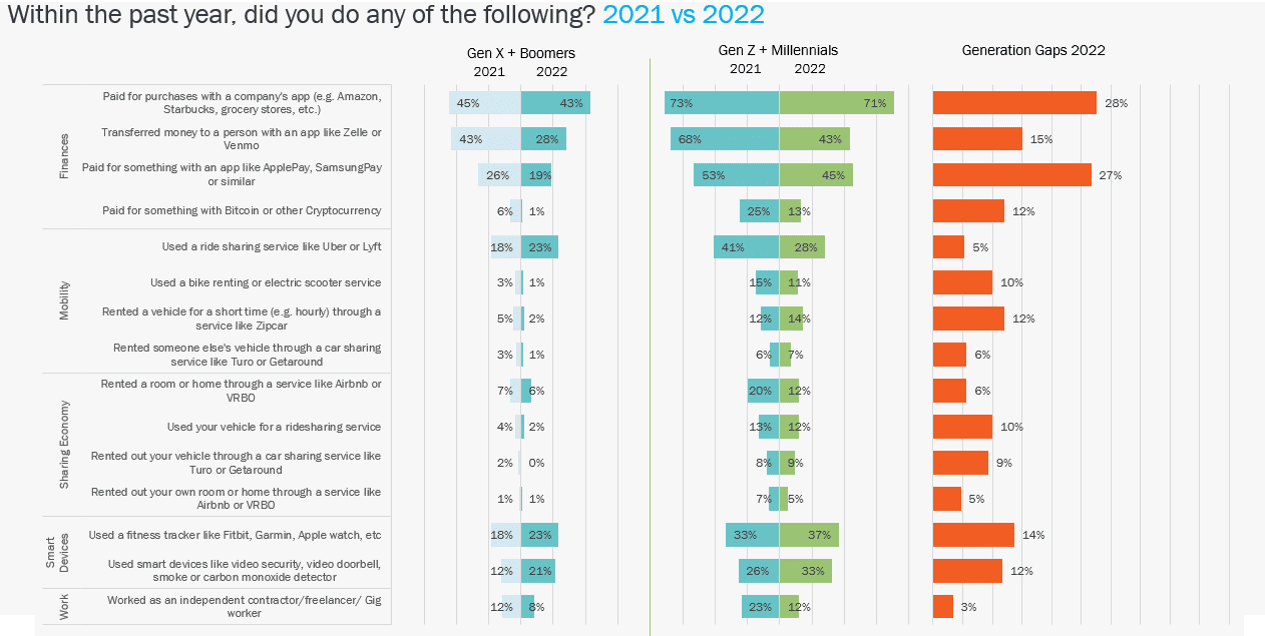 The smart devices category showed moderate year-over-year usage increases for both generations. In particular, video security/detectors saw a 7% increase for Gen Z and Millennials and a 9% rise for Gen X and Boomers, reflecting a focus on protection, which aligns with the top-of-mind issue of crime. Both groups are willing to spend money that will improve their peace of mind.
Usage of fitness trackers increased by 4% for Gen Z and Millennials and 5% for Gen X and Boomers. This highlights their focus on health and wellness, another top-of-mind issue. The younger generation outpaced the older segment in usage by 14% overall.
Mobility saw an interesting increase of 5% by Gen X and Boomers for the usage of ridesharing services, while the younger generation saw a decline of 13%, bringing the two generations closer in overall usage of 23% to 28%. This aligns closely with industry usage statistics of 36% by Americans, which is double the usage since 2015. This continued increase highlights the shift in a broader focus on mobility options that insurance will need to meet. Can insurers become adept at insuring people on the move without their own vehicles?
Gen Z workers are more likely to have independent jobs or multiple jobs than older workers and are less likely to expect this period of financial insecurity to end, creating high levels of doubt about their eventual ability to either buy homes or retire. These views reflect a potential significant disruption in the "traditional lifecycle" of people and have significant implications for insurers in terms of insurance from group and voluntary benefits to home insurance.
Products and services demographic use trends
In looking at the holistic financial wellness aspect, the survey covered four areas: Finance, Insurance, Life/Health and Personal/Home, as reflected in Figure 3. The Finance and Personal/Home categories, as well as some types of insurance, reflected the strongest areas of focus for both generational groups, highlighting areas of opportunity for insurers.
Leading the financial wellness focus are bank account and auto insurance, with 85% to 92% usage by both generations. Following them are homeowners insurance, with 47% to 62%, health insurance through an employer, at 44% to 47%, and investments, with 40% to 47% usage.
Specifically, for homeowners insurance, Gen X and Boomers' 15% differential reflects higher home ownership as compared with the younger generation.
This protection gap for both homeowners and renters insurance has existed for years and presents a challenge and opportunity for insurers to educate and engage consumers on their value by making them easier to purchase and use.
Figure 3: Products and services used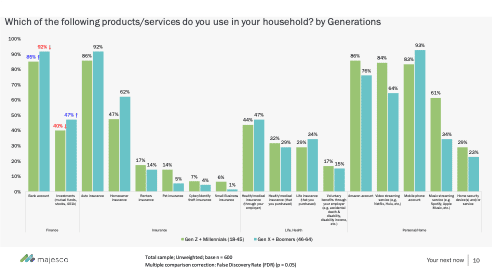 What stands out are the Personal/Home usage results. Amazon, video streaming and mobile phone usage of 64% to 93% reflect a strong alignment and loyalty to digital high-tech products and services. The usage and loyalty offer both a challenge and opportunity to insurers, in that usage has influenced consumers' digital expectations for shopping, paying and customer service.
Amazon offers a pre-built audience for additional products or services that the company is beginning to enter. The recent opening of the Amazon Insurance Store in the U.K. and Amazon Clinic, a "virtual care storefront" in 32 states in the U.S., reflect how "big tech" is planning to enter the market through partnerships with other insurers. Likewise, mobile phone companies are increasingly looking at a broader relationship to "own the customer." Verizon launched Family Money in 2021, a banking app and pre-paid debit card for Gen Z that allows parents to monitor their children's spending and saving. Verizon's launch follows its competitor, T-Mobile, which launched a digital banking platform in partnership with BankMobile in 2019.
See also: Tackling Turnover Amid the Great Resignation
Where does this leave insurers in providing a holistic financial picture?
As Millennials and Gen Z take the lead as the dominant buyers, the ability of insurers to capture, let alone retain them as customers will be severely challenged unless they develop a new approach. This newly dominant generation views and values things much differently. Their loyalty can be fleeting if nothing of value keeps them with a brand or company. They are not satisfied with traditional insurance processes, products and business models. They have grown up in a digital world. They expect and demand digital capabilities. They want new products that will align with their activities and behaviors. They want services, coverage and interactions that are available to them whenever they want them, and however they wish to engage.
At the same time, they need an education on how to properly see their own risk and how to "defend" themselves against the ever-increasing risks that threaten them each day. Can insurers begin serving their customers with expanded offerings, including digitally enabled preventive services and products that cover, not just their physical presence and property, but their financial and online presence, as well? Should insurers consider taking on an expanded set of banking and investment services or partner with someone who can provide them? Can insurers seamlessly provide for a healthier, more stable work and life environment that fits with today's and tomorrow's work and lifestyles?
For a deeper look at customer trends across all lines of insurance, be sure to read Majesco's latest report, Enriching Customer Value, Digital Engagement, Financial Security and Loyalty by Rethinking Insurance.