As the COVID-19 pandemic continues, we're learning a lot more about how insurance customers are being affected. We surveyed 6,000 U.S. consumers from May 22 to June 6, 2020 to get a snapshot of their attitudes about and experiences with insurance. Our survey uncovered the potential influence of COVID-19 on service preferences, loyalty to carriers and attitudes toward auto, homeowner, life, dental and vision coverage, as well as retirement.
As carriers navigate from their initial response to a longer-term strategy, they'll likely need to adjust their approach based on shifts in consumer behavior. The takeaway? Financial stress correlates with dissatisfaction — but insurance carriers can improve customer satisfaction by introducing alternative pricing, bundling plans and, of course, upping their digital game.
Spotlight on consumers in this survey
55% do not feel financial stress right now
37% fear that the pandemic may cause financial impact to their retirement plan
15% anticipate they are likely to purchase life insurance due to COVID-19
Source: PwC's COVID-19 Consumer Insurance and Retirement Pulse Survey, June 2020: base of 6,000.
Consumers who faced challenges with their insurer
41% say they are likely or more likely to switch providers due to a lack of digital capabilities
15% identify lack of digital capabilities as the topmost challenge while interacting with insurers
Source: PwC's COVID-19 Consumer Insurance and Retirement Pulse Survey, June 2020: base of 657. Note: Percentage calculated as a subset of those who reported facing challenges with their insurer.
Budget strain tests customer loyalty in the insurance industry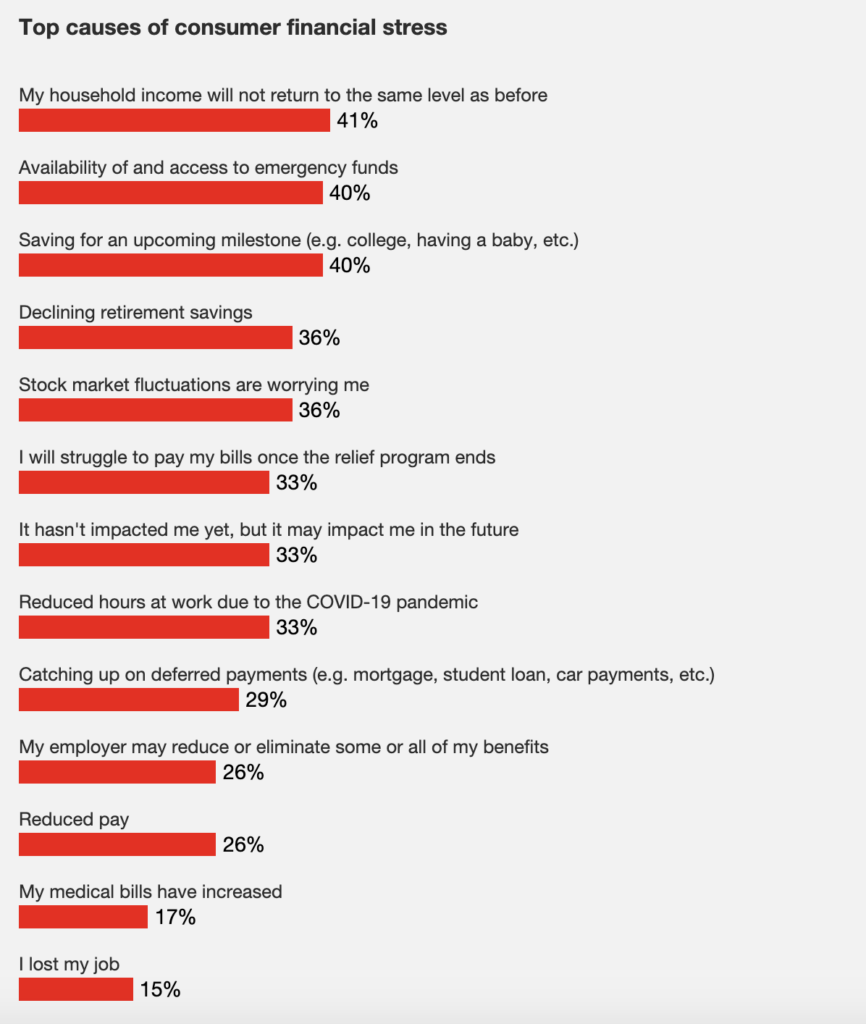 As lockdowns took effect across the U.S., 45% of respondents reported financial stress. Job-security concerns — not only job loss, but also cuts in hours, pay and benefits — were the primary sources of stress. The most-cited concern (41%) was whether household income would return to previous levels.
See also: The Real Disruption of Insurance
More young households were under pressure: 73% of the 18- to 24-year-olds surveyed felt financial strain, compared with only 19% of those 65 and older. Three-quarters of respondents found federal relief helpful, at least in part. Among furloughed workers, 28% did not have a good understanding of their benefit status, including those in employer-sponsored life plans.
Tensions were running high in households with incomes of less than $50,000, where 59% felt they were under pressure. Within this group, 21% reported post-COVID-19 challenges in dealing with their insurers, half of whom were looking for more flexible billing and payment options. Four out of five (82%) in this group said they'd likely switch carriers as a result. Across insurance categories, 26% of auto and 18% of homeowner policyholders said new payment options should be standard practices as a result of COVID-19.
At all income levels, consumers indicated that they're more willing to shop on price within the next 90 days, with levels ranging from 23% for respondents earning more than $200,000 to 34% for those in the $20,000 to $50,000 bracket. COVID-19 made price a top priority for 32% of consumers.
The top concern, among 25% of the auto policyholders, was that their decrease in driving would not be reflected in premiums. For life insurance policyholders, unsatisfactory coverage options or complex underwriting conditions were likely to prompt a potential change. Perhaps because they were mindful of the quick turn to remote staffing, consumers were less likely to drop their carrier based on the most common challenge: long call-center wait times.
Takeaways
Financial stress correlates with dissatisfaction, and it can lead customers to look for change. To avoid that, we recommend the following:
Provide monthly billing options to help address policyholder cash-flow concerns.
Explore forbearance or deferred payment options to help customers facing income disruption. Explain these accommodations and how customers can secure them. 
Develop alternative pricing designed to help you retain customers. For example, consumers may be more willing to consider bundling policies or usage-based auto insurance programs, such as pay-as-you-drive GPS trackers and safe-driver telematics. Early adoption of COVID-19 rebates have contributed to high satisfaction among auto insurance customers and may have set expectations for price adjustments in other categories. 
Consider ways to play in a bigger ecosystem — one that can meet an individual's full financial wellness needs. Look beyond your own products and services. Consider offering more guidance and coaching to ease the worry of financial stress and help customers with the sometimes complicated trade-off decisions they need to make.
Life after COVID-19: Financial security needs grow stronger
Consumer concerns extend beyond immediate financial setbacks. COVID-19's future impact is a top current concern: 40% of the stressed population said they're anxious about both access to emergency funds and saving for college or other milestones, and 37% fear that the pandemic may affect their retirement plans. Many consumers worry that their workplace benefits will be cut or more coverage will be needed. Some said their experience with the pandemic has made them more open to considering life insurance (15% of respondents), supplemental health insurance (10%), disability insurance (9%) and critical-illness coverage (9%).
Takeaways
Annuities and cash-value life insurance products may be more attractive in a COVID-19 world, as older policyholders strive to preserve wealth and younger consumers seek assets to tap into in the event of a future crisis. However, the investment market volatility that makes these products attractive can also make it difficult for you to price them. We recommend you consider the following:
Provide more conversion features without penalties that will enable customers to easily switch between products.
Reexamine investment strategies to reduce risk and enhance payouts for longevity — creating options that pay out later — and retain cash value.
Accelerate programs to simplify and expand access to life insurance, supplemental health, disability and critical-illness coverages.
Digital gets it done: Apps gain new acceptance in the insurance industry
Our survey indicates that as customers looked for alternate ways to update accounts, renew policies or resolve issues, online options came up short. Of those who expressed difficulties in dealing with their carriers during the crisis, 41% said they would be likely to switch providers due to a lack of digital capabilities.
When traditional channels shut down because of the pandemic, 19% of customers said they anticipated more interaction with their insurer through video chats with agents or chats via a website. They also planned to make more use of email and, especially for younger users, mobile apps.
Young consumers were most vocal about expecting digital options. Among the 18- to 24-year-olds surveyed, 53% said they were likely to use digital channels to engage with their insurers within the next 90 days, 49% were likely to purchase usage-based insurance and 49% were likely to shop around to save money on insurance.
See also: Why Traditional Insurance Won't Work
Takeaways
Having digital capabilities has emerged as a differentiator as insurance customers are increasingly expecting to conduct business digitally. We recommend that you consider:
Accelerating your digital development now that customers have broken old habits to embrace online and mobile channels.
Leveraging technology to automate claims processing.
Strengthening your self-service capabilities, which may enhance customer satisfaction and reduce operational load.
The pandemic's early uncertainties have given way to both setbacks and a chance to operate differently. Insurers that examine customer pain points and life changes and accelerate their digital adoption have an opportunity to gain share and build loyalty.
We would like to acknowledge Anshu Goel and Susmitha Kakumani for their contributions to this article.