Insurers have spent the last 20 years exploring the potential of telematics with alternating curiosity, commitment and disillusionment. Last year, 8.2 million U.S. auto policyholders shared their driving data with an insurer, according to the IoT Insurance Observatory, a global think tank.
Insurer participation in the telematics space has been consistent for the past several years, according to annual surveys of insurer CIO members of the Novarica Research Council. Insurers that have deployed telematics generally indicate positive experiences; this includes a majority of larger insurers (more than $1 billion in annual written premium), 63% of which have measured positive ROI from their telematics programs. This is fairly rare for emerging technologies, where insurers are more likely to generally recognize value than formally measure it; the ROI places telematics alongside technologies like machine learning and robotic process automation in terms of the value created for insurers that have deployed it.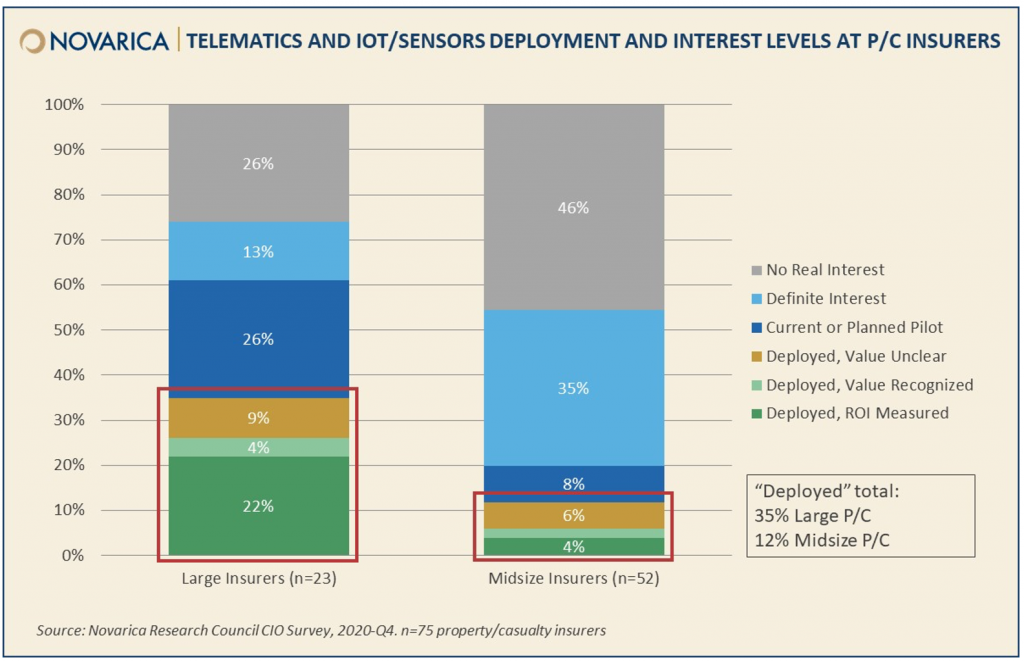 Given this activity, it's useful to example the past, present and future of insurers' use of telematics in personal auto lines, contextualizing current activity in light of insurers' past approaches and speculating on future developments based on insurers' present actions. As the article profiles the stages of telematics adoption, the focus will be on what is changing and why.
The Past (1998-2016)
Insurers in this phase were exploring telematics and the insights it could provide. Progressive's Snapshot program has been the pioneer in OBD/dongle telematics-backed programs. The company's journey has motivated other tier-1 insurers to engage with usage-based insurance (UBI). Several other top-10 insurers had introduced similar programs by the end of 2012, at least in some states.
These programs went out of their way to avoid scaring off initial adopters. They offered discounts to opt in and monitored driving behavior only temporarily, and many even didn't impose surcharges on poor drivers. The value for insurers largely came from self-selection: only good drivers were interested in enrolling. However, insurers that were better able to effectively manage the usage of telematics data for pricing not only obtained better economic results thanks to surcharging the worst risks but were also able to keep an average retention rate above 94%.
The number of policyholders sharing data with an insurer grew to 3 million in 2014 but then leveled off. Insurers' commitment subsequently vanished, and market sentiment about UBI became pessimistic. After almost 20 years and relevant investments, only about 1.5% of U.S. drivers were sharing telematics data with their insurers.
Number of policies sending data to an insurer by year in the U.S.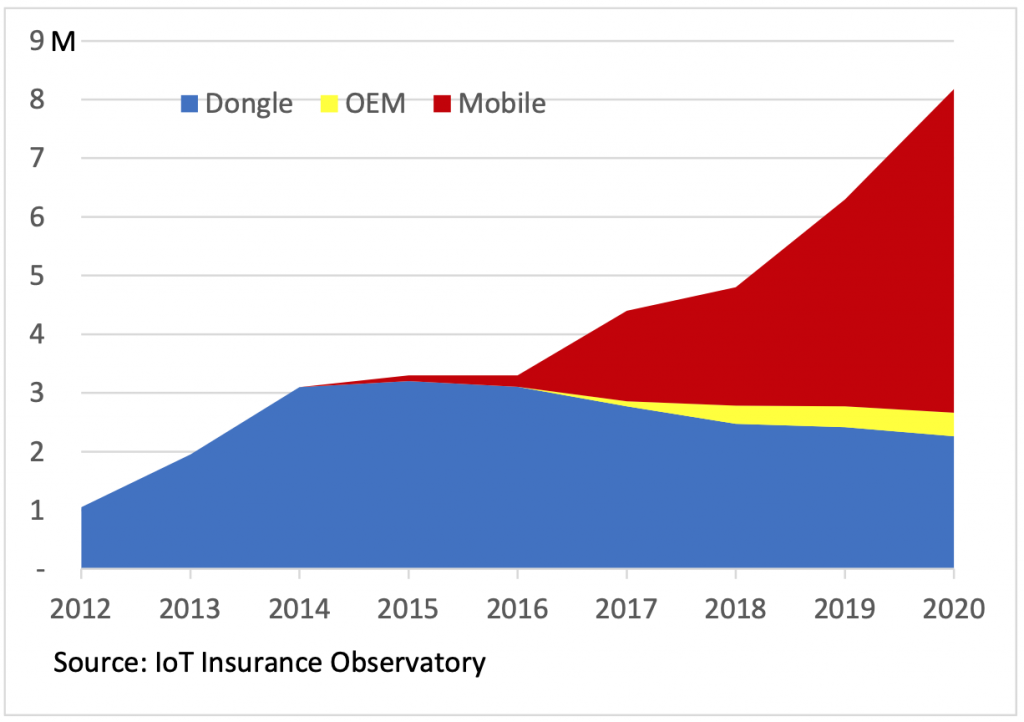 The Present (2017-2021)
While many market analysts with a little literacy about telematics data were speculating whether UBI would die before its potential was realized, in 2016 forward-looking insurer Allstate created Arity, a company dedicated to telematics and focused on the usage of the smartphone as a sensor.
Mobile-based data collection has vastly increased the reach of telematics programs by simplifying sign-up. The market has grown at 30% per year in 2019 and 2020. The COVID-19 pandemic has further increased awareness of UBI among the media, agents and customers – especially about pay-per-mile mechanisms – and is likely to support even more robust growth in 2021, as presaged by new mileage-based programs like that from American Family Insurance (MilesMyWay).
At first, it wasn't clear mobile was a suitable source for telematics data: A leading telematics conference in 2016 included a session titled "Royal Rumble: Dongle vs. Mobile vs. Embedded Data Collection." But mobile-based solutions have been the growth engine for telematics over the last few years, and quality of OEM data hasn't yet met expectations. All the new successful approaches rely instead on the sensors present in the phone – sometimes paired with a tag positioned in the vehicle – and monitor the policyholder for the full duration of the coverage, rather than using a dongle for a single initial monitoring period.
See also: From Risk Transfer to Risk Prevention
Continual monitoring has allowed many of the top insurers to expand the way they use telematics data. In recent years, U.S. insurers have:
Introduced mechanisms for structured behavioral change– such as cash back earned on each trip – to promote less risky behavior;
Leveraged telematics data in claim processes to improve customer experience and increase both efficiency and effectiveness of claims management;
Introduced "try before you buy" apps for more accurate pricing at first quote, to attract better risks in each pricing cluster and reduce the premium leakage from bad risks.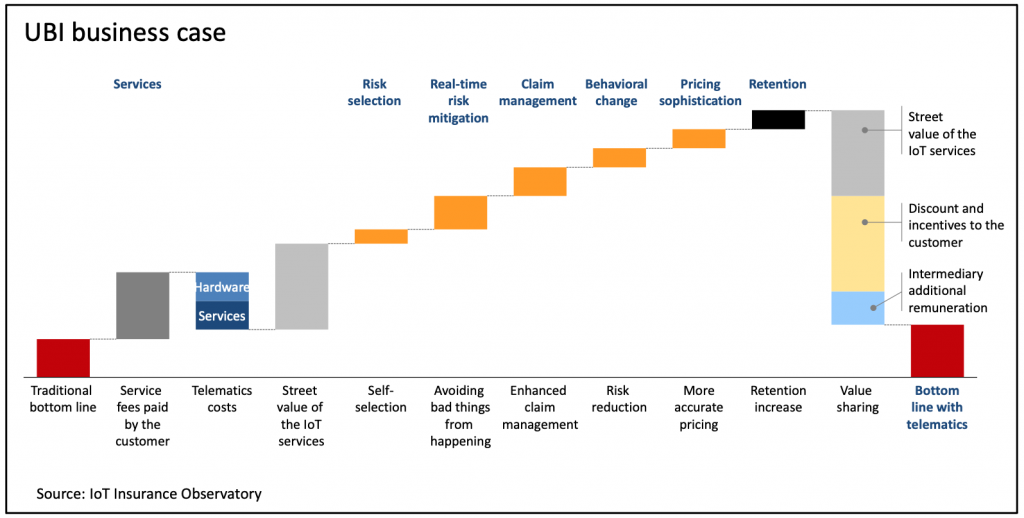 Additional use cases like these allow insurers to build more robust UBI business cases, creating value on insurance profit and loss. This, in turn, allows insurers to create more attractive value propositions for customers: The more value created, the more there is to share with policyholders in the form of discounts, rewards and cash back. These incentives in turn attract new customers, driving further adoption.
Forward-looking insurers investing in these innovations today are progressively building the set of competencies necessary for mastering the usage of telematics data in the insurance business. This will not only create faster-growing and more profitable UBI portfolios but also address the transition to future mobility, as suggested by the story of Avail, the car-sharing service created by Allstate.
A large portion of the market hasn't reached this level of maturity, however. Underwriting is still the most common area where insurers use telematics, although a few are beginning to explore other areas.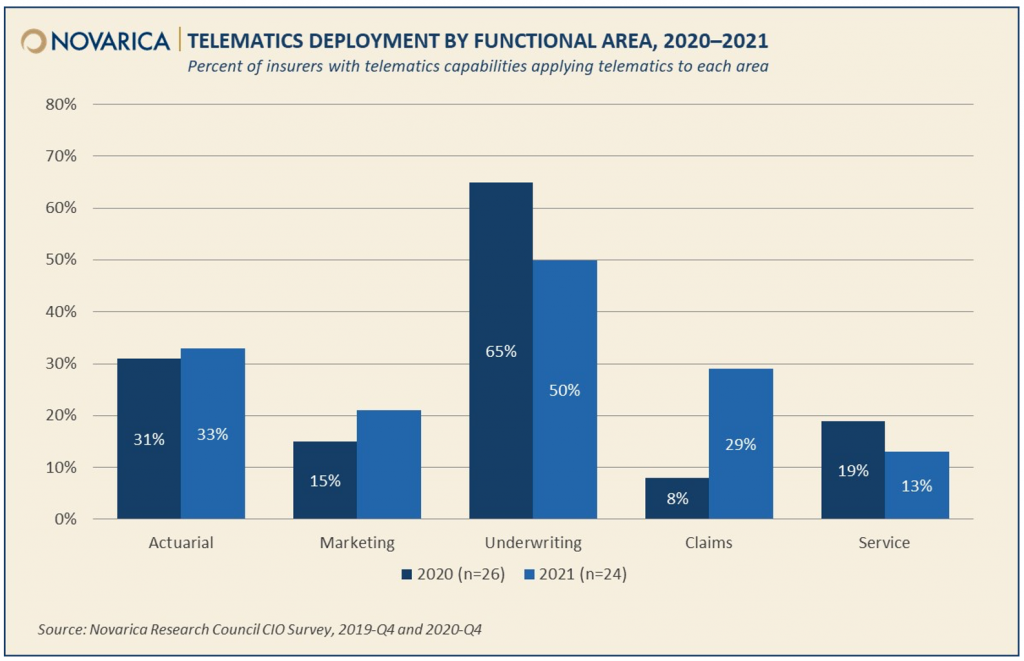 Many insurers are still watching the space, especially midsize insurers, which have engaged with telematics at roughly a third the rate of their larger counterparts. The percent of insurers deploying or piloting telematics has been roughly unchanged since 2018. (Insurers that are already participating, many of which have measured positive ROI, are continuing to innovate.)
Insurers whose internal technology environments are still mid-transformation may have a harder time supporting value-added telematics features; for these insurers, the value proposition for telematics as a whole is less clear. In particular, insurers need substantial data capabilities to manage UBI data at scale and innovation capabilities to transform the way business has been done for decades. As insurers continue to improve their data capabilities, and as more and more consumers adopt telematics, insurers that aren't yet in the space may have more ability and more reasons to enter it.
The Future (2022-2030)
An insightful postcard from the future has been delivered by Tom Wilson, Allstate CEO, in a recent Bank of America Securities virtual conference: "If you're not leaning into telematics, you're not going to be in business for very long, at least on a profitable basis."
We believe that in 10 years it will be the norm in the U.S. personal auto market:
For customers to download their insurer's app on their phone to be insured. This app will continuously use the smartphone's sensors to deliver a superior customer experience regardless of what product a customer chooses: pay-per-use, telematics-based renewal pricing or a policy with a traditional rating based only on traditional variables such as age, credit score, etc. This telematics app will have more than 40% daily active users, as some international insurers have already demonstrated. These interaction frequencies are not far from social media.
Telematics will prevent risks, both by real-time warnings in risky situations and by driver improvement via rewards for safe driving. Some international insurers have already put these into practice and created a reduction of their expected losses. Insurers will create an overall benefit to society by making drivers safer.
Claims touchpoints will be enhanced by the usage of telematics data and a virtuous collaboration between humans and AI. Policyholders will enjoy more accurate and efficient processes, from FNOL when accidents are detected, to claim triage, to adjudication and repair and payment. Customers are already demanding this, as shown by a 2019 customer survey conducted jointly by Cambridge Mobile Telematics and the IoT Insurance Observatory.
Customers will use their insurers' apps to select among personalized offers of telematics-based services and additional contextualized risk-transfer solutions.
See also: Personalized Policies, Offered via Telematics
Forward-looking insurers are already preparing for this kind of scenario. This will in turn require transforming processes to most effectively use telematics data. It may not be enough to simply have a UBI product: The technology itself has a cost, and value-sharing (e.g., through discounts), can start at 10%. Insurers will need to use telematics data effectively to generate a return on this investment.
Insurers will have to educate both externally and internally: Not only will they need to communicate the benefits of telematics to potential customers, they'll need each internal functional area to have a basic literacy about telematics. We expect that the next 10 years will see a tremendous degree of innovation and adoption, so telematics and the value-sharing it enables will be necessary to compete at the leading edge. This in turn should create a sense of urgency: Although simple telematics products can be replicated quickly, effectively leveraging telematics data to generate profitability can take years of iteration and concerted effort across organizations, and capability gaps will require years to be closed. After 20 years of experimentation in the U.S. personal auto market, telematics is ready to take flight.