For me, one of the best songs by the rock band Queen was "Under Pressure," co-written by David Bowie. The story is that the collaboration was creatively different as the vocal was constructed in a very novel way in one night, where they all contributed different pieces of the song musically and vocally and then put it together to create what is considered one of the greatest hits!
While I love the music, the title reflects what companies are increasingly facing … pressure. How they respond and what they do will define their future.  
There are all kinds of "pressure cookers" driving innovation, and they are proving how organizations with foresight are solving issues with rapid planning and prioritization.
Take Instant Pot -- a literal pressure cooker. When Robert Wang developed it, his background in software gave him a model for quick development and for rapid iterations that would perfect the technology quickly. According to an interview with Wang, Instant Pot adopted "continual innovation and highly disciplined product launch cycle (12-18 months), more typical of software development than consumer goods." Wang had the foresight to integrate the fixed timelines with an aggressive customer feedback loop. This would place pressure on the company to innovate and stay ahead of the competition.
Then consider GM. In September 2020, California's governor, Gavin Newsom, issued an executive order "requiring sales of all new passenger vehicles (in the state) to be zero-emission by 2035." Whether it was a coincidence or not, GM announced on Jan. 28, 2021, that "GM would phase out petroleum-powered cars and trucks and sell only vehicles that have zero tailpipe emissions by 2035." So…a timeline has been set. The race is on. These two announcements will rapidly disrupt an industry, reinventing supply chains and even affecting insurance.
Finally, COVID-19. It has accelerated the need for digital transformation at the same time that it has sent a warning signal to insurers to be ready to adapt to anything. In the Dec. 26 Wall Street Journal article, "Covid-19 Propelled Businesses Into the Future. Ready or Not," Loren Padelford, vice president at Shopify, summed up the pressure with this comparison:
"Covid has acted like a time machine: It brought 2030 to 2020. All those trends, where organizations thought they had more time, got rapidly accelerated."
Changes that normally might have taken years unfolded in months, and shifts that began as temporary fixes are likely to become permanent. The disruption of 2020 creates significant opportunities for those in the insurance industry to accelerate their digital transformation, from new customer experiences to new products and services, channels and business models … if we embrace the disruption. 
COVID-19 has all of the elements of the pressure-cooker environment that requires foresight, innovation and prioritization. In the case of the insurance industry, transformation to a digital insurance business model is an imperative.
Are Insurer Responses a Mismatch with Industry Pressures?
As we explore in our latest thought-leadership report, Strategic Priorities 2021, some insurers have responded to COVID by delaying or stopping strategic initiatives that will drive the future of their business. Fear and uncertainty have resulted in less action and more waiting. Insurers pulled back from previous years with regard to key strategic initiatives crucial for digital transformation. Among 11 initiatives tracked over time, seven show declines (six with double-digit percentage drops) from their peak ratings in 2018-19. 
While Improving customer experience remains the top-rated priority, it dropped by 9% (Figure 1). Data and analytics and Digital strategy ranked third and fourth in priority this year but showed even larger declines. This is concerning, given that most insurers are only beginning a digital transformation. They still retain old "portals" to engage customers rather than next-gen customer experience solutions and do not have data foundations to leverage new sources of data that will be required for new products and services, enhanced underwriting and customer experiences. If 2020 taught us anything, it is that digital priorities like these must be accelerated rather than stalled or slowed. 
Figure 1: Declining trends in priority of strategic initiatives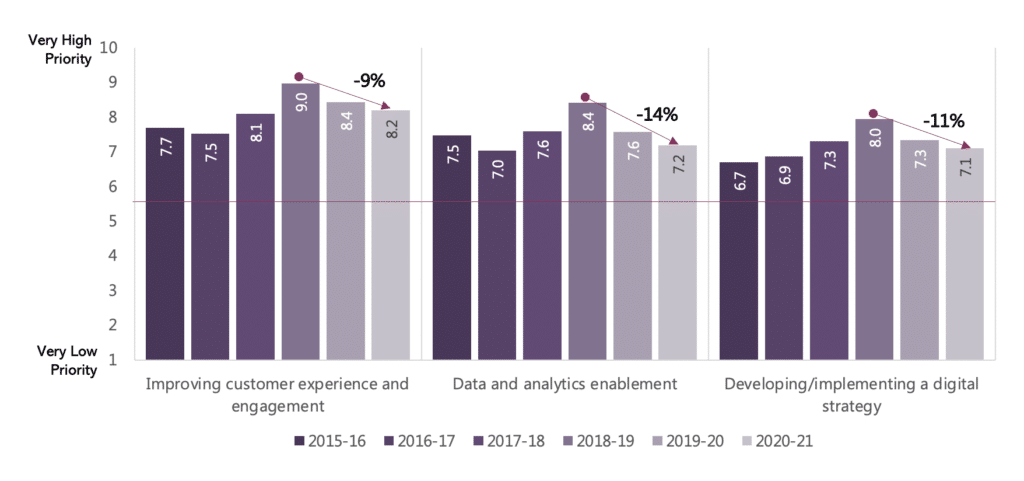 Surprisingly, the largest decline in priority was Scaling the business on a cloud platform, particularly given that cloud became the mantra and requirement for businesses to successfully operate virtually --- from Zoom and Teams to Salesforce, Workday and other crucial systems. The decline is consistent with the historically low legacy replacement activity in the past year and expectations for the next three years. Our research on core systems last year showed that legacy transformations over the last five to 10 years have been to non-platform modern core systems implemented on-premise, rather than cloud and API-enabled platforms. Non-platform solutions do not have the breadth of capabilities needed to digitally transform the business and respond rapidly to market opportunities or changes. Because of this, insurers are recognizing that they must replace these again to optimize the existing business or in some cases stand up a new cloud-enabled core platform to launch products, enter new markets and create a new business model.
These initiatives are four of five (Cost containment, covered below, is the fifth) that define Modernize and Optimize in the two-speed strategy for business transformation. While the overall decline is a discouraging development, particularly in light of the rapid market shifts that COVID has accelerated, when you separate out Leaders from Followers and Laggards, it becomes apparent that Leaders are adapting and accelerating modernization and optimization of the business while the others continue to fall behind. Followers and Laggards must place a higher priority on these initiatives than ever before to remain relevant.    
See also: COVID-19 Highlights Gaps, Opportunities
Figure 2: Declining trends in priority of strategic initiatives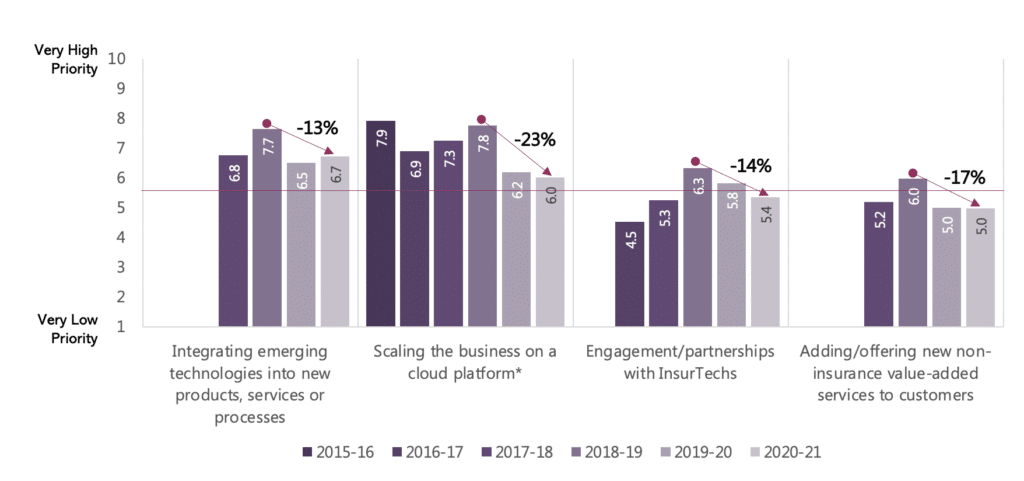 Cost containment has been a top-five priority in all six years of our research, growing 17% since the first survey in 2015-16 and holding relatively steady over the past three years. On the other end of the spectrum, Merger and/or acquisition has consistently maintained the lowest priority spot among the list of initiatives, which is interesting given the continued M&A activity in the industry.
Entering/developing new market segments (+8%) and Accessing new capital markets (+9%) saw slight increases or remained flat as compared with the last two years. Two new innovation-themed initiatives added this year showed strong rankings:
Innovation: 7.14, fourth-highest-rated initiative this year
Product innovation for new/changing risks: 6.74, sixth-highest-rated
The strong showing by innovation highlights its continued use as a lever of change within organizations. 
Together, these four initiatives define Create a New Business in the two-speed strategy and reflect a positive, growing focus by insurers. Though not shown here, companies that are focused on bringing new products to market rated nearly all the strategic initiatives as higher priority compared with those focused on traditional lines of business for P&C and L&A. This highlights their head start in capturing new markets and customers with new products needed in the future of insurance. The increased priority on developing new products and business models align to customer and market shifts we uncovered in our life and auto customer research last year.
Internal and External Pressures That May Reprioritize Initiatives
Resources from outside the industry, such as Google's SaaS data and analytics platforms may hasten insurers' adoption of AI and machine learning — effectively re-prioritizing Data and analytics enablement by making it easier to adopt. This is a hallmark of the pressure cooker environment. Which pressures will require insurers to yield, no matter what, and which technologies will simply assert themselves into future planning because they provide simplicity and a ready-made solution?
Another great example of simplification that begs for reprioritization would be the adoption of no code/low code insurance platforms. The internal pressures of IT cost reduction, speed of delivery and talent acquisition make it easy to justify a new model and, hence, should make it easier to make a case for reprioritization.
Business and IT Alignment
Accelerating business transformation requires alignment between business and IT more than ever on all of these strategic initiatives. Unfortunately, there is a gap between them by 22% (Figure 3). This gap places insurers at a disadvantage and can affect their ability to innovate and be ready for the future. The gap will drive the business to seek options outside the traditional IT organization, which can create momentum but may also create challenges.  
Figure 3: Business-IT gaps in priority of key business transformation initiatives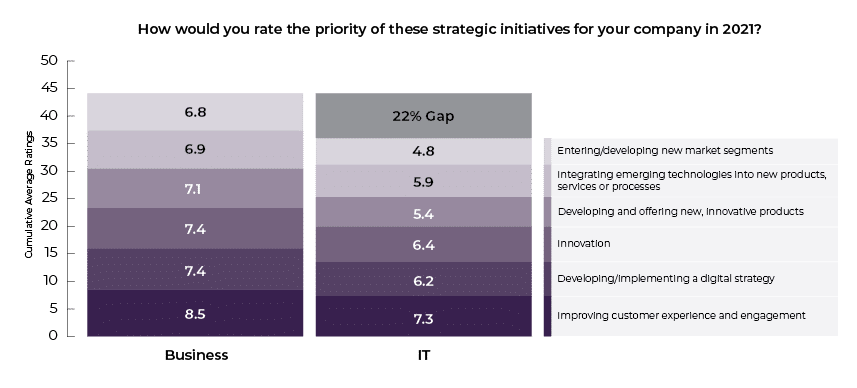 While these overall planning results are mixed for the industry, the differences between Leaders, Followers and Laggards stand out – highlighting the significant advantages that Leaders have. While many Followers may be keeping relative pace to Leaders with their modernizing and optimizing the existing business, often reflected in strong financials, this is deceiving when considering the future business needed – where Followers and Laggards are falling further behind.  
See also: A Burning Platform for Transformation 
Strategic planning needs to be bold enough to match the velocity and magnitude of the changes the industry faces. 
It will no longer be sufficient to allocate most of the resources to maintaining the status quo of the current business. Rather, companies must look to reallocate resources to accelerate in areas they are behind for both speed of operations and speed of innovation. It is not one or the other – it must be both.
If you feel the pressure, we encourage you to download and read Majesco's report, Strategic Priorities 2021, to see how your organizational priorities stack up against others in the industry. and to see if you are a Leader, Follower or Laggard in preparing for the future of insurance.