President Kennedy is quoted as having said, "The Chinese use two brush strokes to write the word 'crisis.' One brush stroke stands for danger, the other for opportunity. In a crisis, be aware of the danger -- but recognize the opportunity."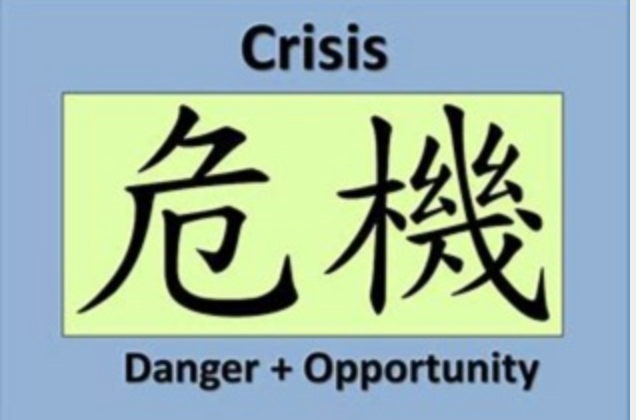 As I write this, the news coming out of Texas regarding the week's extreme weather is today's reminder that we face continued crises. (Hoping that everyone there reaches the end of this ordeal soon.)
Innovators can contribute to harnessing crises as opportunities, ensuring that collectively we focus beyond directing efforts to reverting to the way things were.
Now is the time to ask the basic question — "what is our purpose?" — because the answer will provide the means to align strategy, people, capital and other resources to innovate under remarkably different circumstances than most of us imagined a year ago.
Why should innovators focus on purpose?
Evidence suggests that purpose-led brands:
Always know where they are heading
Use their defined purpose to guide them through uncertainties
Sustain a workforce that brings their best selves to the organization
Increase their ability to overcome challenges and achieve results.
What more useful and practical tool could there be to drive innovation?
What is the path to create a purpose-driven organization?
Believe it is possible to inspire a purpose-led workforce.
Sponsor and empower a diverse team to lead a collaborative, iterative and disciplined process to define the business' purpose.
Commit to constant communication.
Know that the organization must, to paraphrase the late author, futurist and businessman Alvin Toffler, "Learn, Unlearn and Relearn." This is transformative.
Avoid a top-down approach.
Connect the organization's purpose to execution -- to individual actions and decisions.
Identify and enlist change makers and influencers on the team and from outside who can be role models, helping peers build the confidence to embrace the change.
Two examples
Patagonia was well ahead of the times on being purpose-driven. The brand's purpose: "To build the best product, cause no unnecessary harm, use business to inspire and implement solutions to the environmental crisis."
On Black Friday 2011, Patagonia ran this now famous ad in the New York Times.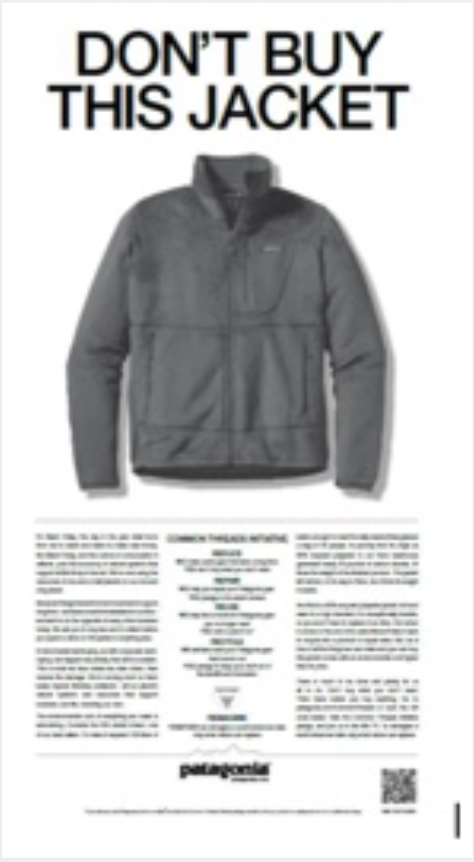 This ad is one example of what being authentic to a purpose means. Business priorities are supported by Patagonia's purpose: reinforcing brand values and product durability, justifying premium pricing and differentiating in a busy category.
Consider CVS' commitment to purpose, beginning with its name change in 2014, from CVS Caremark to CVS Health. The change aligns with the company's purpose: "Helping people on their path to better health. Whether in our pharmacies or through our health services and plans, we are pioneering a bold new approach to total health. Making quality care more affordable, accessible, simple and seamless."
CVS decided to halt selling any tobacco products as part of a deliberate realignment, including establishing new health partnerships and in-store services and merging with Aetna. CVS gave up a reported $2 billion in annual tobacco sales and then saw overall growth. A further stakeholder impact has been that the move out of tobacco created public health benefits as studies have linked overall declines in tobacco purchasing with CVS' decision -- and the decline also includes other tobacco sellers.
Ways to test the strength of purpose
Look to these execution indicators as a starting point:
Is the purpose evident in the organization's daily behaviors, or is it stuck inside presentation decks?
Is the purpose equally relevant to internal and external stakeholders?
Does the purpose inspire employees, vendors and partners and guide their daily actions with respect to the brand?
See also: Pressure to Innovate Shifts Priorities
Three Ways to Learn More and Take Action
In The Change Maker's Playbook: How to Seek, Seed and Scale Innovation In Any Company, the Seek phase of the methodology is packed with practical stories and advice on how to embed purpose in the innovation effort, and why it matters to create business results from these investments.
I've also launched a prototype of a workshop engaging leadership teams to experience the Playbook in a compact, action-oriented session.  Reach out if you would like to learn more; you can shape the content and make it your own. 
In the current issue of Carrier Management ,you can find an expanded version of this letter, specific to the insurance sector.