From what I've seen in recent insurance technology news updates, it appears that the insurance industry is finally ripe for change, ready to make the leap to digital technologies that will lead us into tomorrow. Or is it? Consider these core drivers of change: digital innovations such as cloud, telematics, IoT, analytics and AI, mobile, real-time 24/7 access to data, the growing need for on-demand products and, in general, using these transformative technologies to create operational efficiencies, adopt new business models and anticipate and exceed customer expectations. Even though we know these technologies are enabling new insurance products, methods, processes, services and business models, there is still an omnipresent culture that hangs on to the troubling "it's the way we've always done it" battle cry. This is often voiced by insurers that share their frustrations with being challenged to change existing culture from inside out to address these digital drivers. My view is that, while many of the larger insurers are making the hard move to adopt digital technologies, it's still not a priority for many small- to medium-sized insurance companies. And now, more than ever, there is a certain urgency to having that discussion. Tanguy Catlin, senior partner with McKinsey & Co., when addressing the issue, referred to it as the "tipping point" that is "where those that have not adapted their [digital] strategies fade away."
See also: Darwinian Shift to Digital Insurance 2.0  
In
research results
published by MIT Sloan Management Review (SMR) and Deloitte's Digital practice, 87% of executives queried believe that digital technologies will disrupt their industries, yet only 44% felt they were adequately preparing for it. Gerald Kane, professor of information systems at the Carroll School of Management at Boston College and MIT Sloan Management Review guest editor for the Digital Business Initiative, compares insurers' thinking about digital disruption to homeowners in disaster-prone areas who often seem caught off guard when an actual hurricane or cyclone strikes. [caption id="attachment_32193" align="alignnone" width="570"]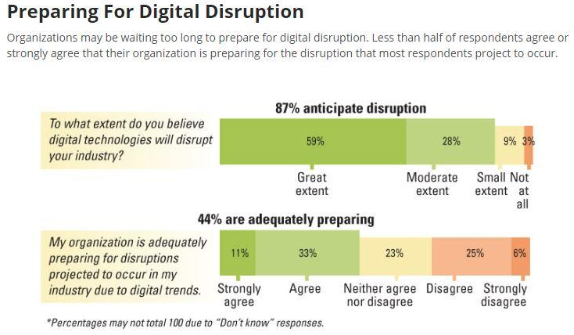 Source: MIT Sloan Management Review[/caption] So, why isn't adoption of digital technologies a priority for more small- to medium-sized insurers? While many see the opportunities presented by digital technologies, perhaps they don't believe the likelihood is high that digital will actually disrupt their own organization. But the authors of the research note that, if digital technologies represent an opportunity for your organization, they also represent a threat for your competitors — and vice versa. I get it, change is hard… but, the argument, "we are not in a financial position to prioritize" is irrelevant to the discussion of digital technology investments. Competitors aren't waiting for your company to be in a better "financial position" before they act. Moreover, because at some point in the coming years insurers will need to replace their growing faction of retirement-age employees with a younger, more tech-savvy labor force. And
in a war for the best talent
, the A and B players have absolutely no desire to work on outdated systems. So, what does that mean for the future of your company?
See also: Digital Insurance, Anyone?  
Just remember, technology is an accelerator for your company and your staff. In other words, the more digital technologies that are put into play, the greater and faster the return. Those insurers that ignore its call will fall further and further behind until they reach the tipping point and slowly fade away. Remember what happened to Blockbuster Video when it failed to adapt in a time of digital change. Don't be a Blockbuster in a Netflix world.