Insurance CEOs are acutely aware of the disruption and change facing their industry. Keeping pace isn't just a matter of adopting new technology. It's also about being innovative and developing the customer intimacy needed to meet fast-shifting market expectations, while sustaining an unrelenting focus on reducing costs.
Disruption and change
Insurance CEOs' concerns over regulation, the pace of technological change, shifting customer behavior and competition from new market entrants have continued to rise from their already high levels. In fact, no other industry group of CEOs is as "extremely concerned" about the threats to growth in these four areas. Incremental innovation and marginal cost savings won't be enough to sustain profitability and growth in this disrupted marketplace. The good news is that many insurers are embracing innovation. Two-thirds of insurance CEOs see creativity and innovation as very important to their organizations, ahead of other financial services sectors. They're also ahead of the curve in exploring the possibilities of artificial intelligence and humans and machines working together.
Innovation and growth
86% of insurance CEOs believe technology will completely reshape competition in the industry or have a significant impact over the next five years. The gathering transformation is already evident in areas ranging from robo-advice to pay-as-you-go and sensor-based coverage.
See also: Convergence: Insurance in 2017  
Cutting-edge customer interaction and data analytics have enabled insurtech businesses to set the pace in the marketplace. However, rather than being just a threat, collaboration with insurtech businesses can help more established insurers to make the leap from incremental to breakthrough innovation. This includes improving insurers' ability to analyze the huge amounts of data at their disposal, which can lead to better customer understanding, higher win rates and more informed underwriting. Partnership with insurtech can help insurers improve processes, increase efficiencies and reduce costs.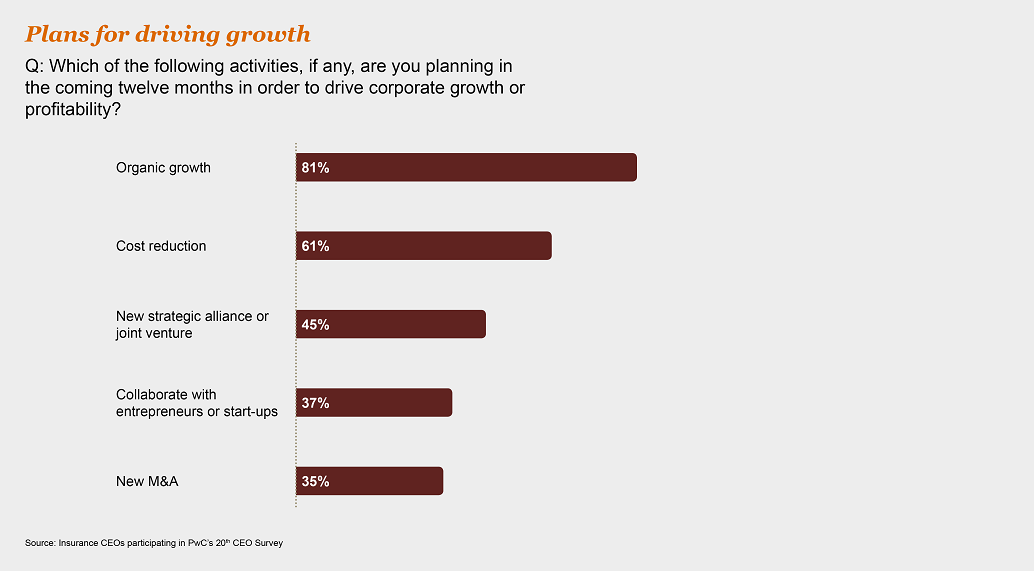 Data, digitization and trust
While digitization and data proliferation are now central elements of the insurance business, they bring increased cyber risk. More than eight out of 10 insurance CEOs (81%) are "somewhat" or "extremely" concerned about the impact on their growth prospects, on a par with banking and capital markets (82%). Given the volume of medical, financial and other sensitive policyholder information that insurers hold, breaches could lead to a loss of trust that would be extremely difficult to restore. More than seven out of 10 insurance CEOs (72%) believe that it's harder to sustain trust in this digitized world, though they also see the management of data as a competitive differentiator.
Grappling with regulation
A massive 95% of insurance CEOs are at least "somewhat concerned" about the potential impact of over-regulation on their growth prospects, and 67% are "extremely concerned."
See also: Insurance Coverage Porn  
The need to implement so many regulatory reforms across so many areas has inevitably tied up management's time and made reporting more cumbersome. Compliance demands and costs also continue to rise, straining operational infrastructure and holding back returns. However, these are the unavoidable realities of today's marketplace. Insurers that are able to build the changes into business as usual can gain a critical edge. And pressure on returns means the "second line" now has to pay its way as part of an approach that shifts the focus beyond compliance to sharpening competitive advantage.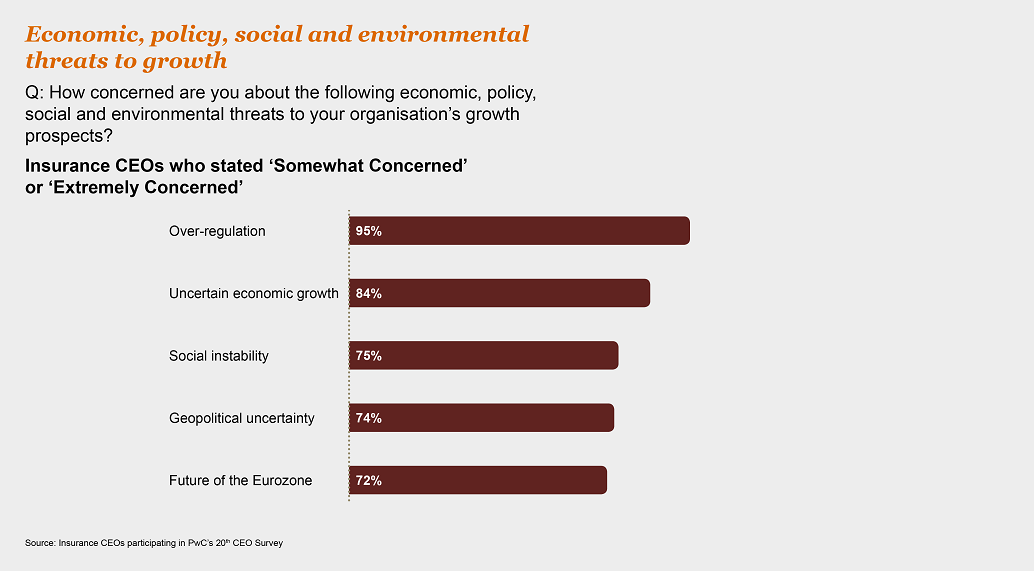 Download the full report
here
.