It's like a scene from an action-packed Marvel thriller! The threatened hero is being chased down the street but sees a route for escape. It's an alley. (We all know not to go down the alley, but the hero doesn't listen to us.) At the end of the alley, there is a brick wall. (We all knew there would be a wall or a fence or an iron gate.) There's no way around the wall. Our hero is going to have to get innovative in a hurry, find and use their superhero capabilities! They save the day. Save people. Save the world.
That's what COVID has done to nearly every industry. It chased companies into corners. It threatened their markets. It even built brick walls in perfectly good alleyways, separating unprepared companies from the customers they need.
Sometimes, however, it is the crisis that makes the necessity become real. Think about it. The pandemic has obliterated any lingering doubts about the necessity of insurance digital transformation. With rare exceptions, operating digitally is the only way to do and to stay in business. It's "go digital" or stare at that wall until the unthinkable happens. 
And this is where superhero capabilities come into play for insurers!
Some insurers are leveraging their superhero capabilities. They are the Leaders. When COVID rewarded the insurance industry with the ultimate teachable moment, they took the lesson to heart. When something built a brick wall between them and their customers, they made the wall irrelevant. They are focused on today's business while also creating tomorrow's business – operating at speed with a multi-focus, unlike others.
Some insurers are trying to keep pace or catch up. These are the Followers. Determined not to let the Leaders get too far ahead, Followers are listening to the lessons of COVID and are launching initiatives and making changes to ensure their success. They are solidly focused on modernizing and optimizing today's business; however, they are less focused on creating the future business. But they are continuing to gradually fall behind.
Some insurers are in a tight spot. They face dilemmas. These are the Laggards. Laggards generally understand the market dynamics but are clearly stuck in the past and have failed to rapidly move to planning and execution across the array of strategic areas – even for their business today. They are not moving to new cloud platform solutions or incorporating platform and emerging technologies. They are keeping their business focused on the past, rather than the future. If not already in one, they are approaching a downward spiral of relevance that will be nearly impossible to reverse.
Majesco's 2021 Strategic Priorities first report, based on post-COVID insurer survey results, shows a dramatically widening gap between Leaders and Laggards – 64%, a year-over-year increase of 20% – when looking at their focus on key strategic initiatives in the past year. Followers were "treading water" to keep even with the previous year – with a 12% gap to Leaders.
To explore in more detail the widening gaps, the 2021 Strategic Priorities second report, just published, assesses how insurers are dealing with necessary transformation in the midst of increasing challenges. In today's blog, we look at the details of this gap. What is it that Leaders and Followers and Laggards are doing differently? What can insurers do to make sure they are positioned to become or remain Leaders?
See also: Does Remote Work Halt Innovation?
Despite COVID Challenges, Leaders Are Widening the Gaps
The COVID crisis seemed to come out of nowhere, blindsiding the world with the force of a tsunami. Suddenly, the "usual" way of doing things no longer worked. Adaptability is the new innovator. For example, COVID-19 reduced or eliminated "in person" time for agents, adding a layer of difficulty to distribution. Those who were prepared to digitally shift for everything from communications to support lead generation through alternate channels and launch products in spite of quarantines were in a better position to turn plans into actions.
What Did Leaders Do Differently?
A key to reducing the drastic impact is the ability to rapidly adapt planning – both the plans themselves and the process for creating and altering them. Throughout history, we often see that the difference between success and failure is related directly to the ability to evaluate, reinvent and adapt to the current environment. While COVID forced all companies to adapt, Leaders took advantage of the situation. Leaders exercised their adaptability to a much greater degree than Followers (25% gap) or Laggards (34% gap), as seen in Figure 1. 
Figure 1: Impact of COVID-19 on annual planning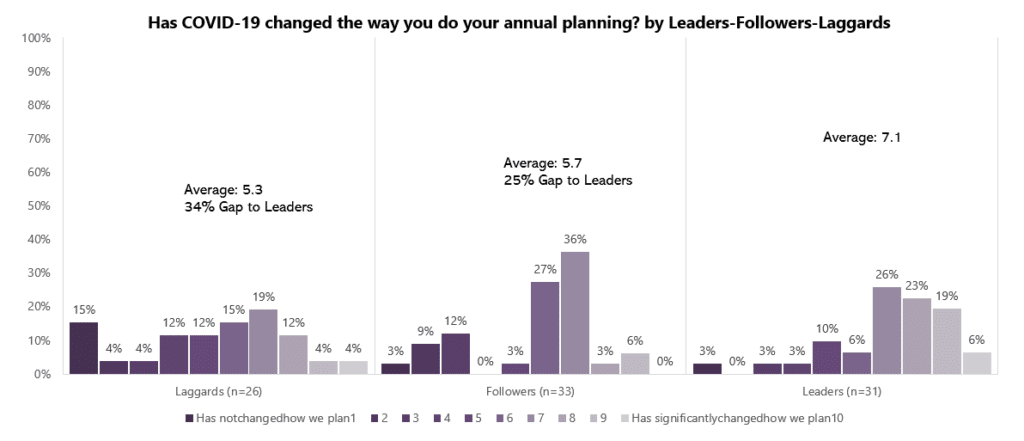 Leaders are also more in touch with COVID's potential internal and external impacts on their companies. Externally, their awareness of the impact to their customers was 26% higher than Followers and 33% higher than Laggards (Figure 2), a crucial insight and strategic difference between Leaders and those trailing them.
Leaders know they can't assume the customers they serve today will need or want the same products and services tomorrow… or that the same customers will even be there tomorrow. Leaders constantly monitor the changing demographics and dynamics and make short- and long-term adjustments to adapt and thrive in an ever-evolving market. If their current target markets are diminished by COVID, they know they need to adjust their product and service offerings, develop new channels, seek new markets and more.
The State of Insurers Last Year
COVID was a gut punch for all three segments in 2020. Leaders, Followers and Laggards all had setbacks in their companies' growth and strategic activities compared with 2019. On an aggregate basis, Leaders (-12%) and Followers (-10%) saw similar declines, but Laggards' (-24%) was twice the decline of Leaders, highlighting their lack of preparedness for the crisis (Figure 2). In contrast, Leaders' response was to counterpunch and adapt with new approaches to planning underpinned by a greater awareness of the business implications.   
Awareness and adaptability matter when responding to change.
Figure 2: COVID-19's impact on growth and strategic activities last year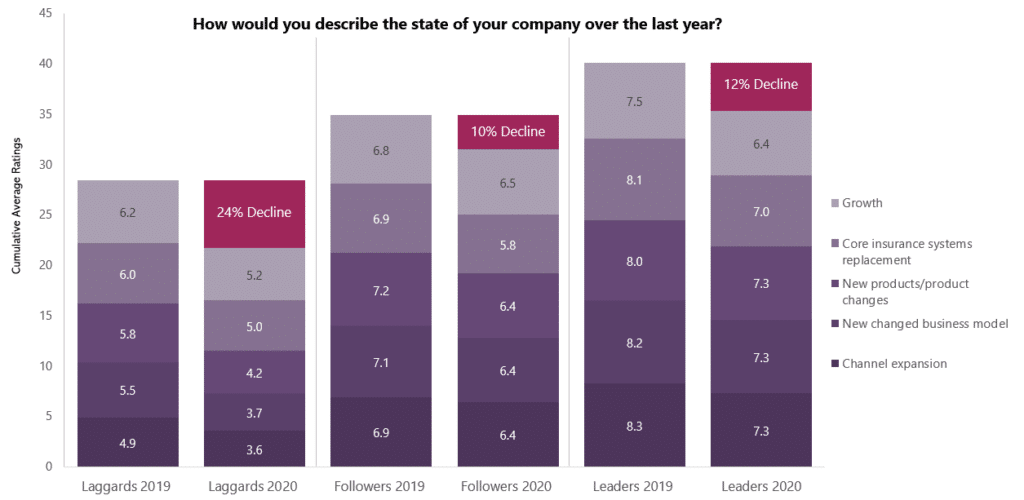 Despite the setbacks of the last year, Leaders continue to dominate with a 12% lead over Followers and a striking 64% lead over Laggards, as seen in Figure 3. 
Leaders and Followers were nearly identical in their views of company growth during the previous year, but Leaders averaged a 15% gap over Followers on all the other factors. The largest gap (21%) was in Maintaining/Replacing core systems, and the smallest (12%) was in a new factor added this year: Allocating resources to business as usual/change how we do business. 
Figure 3: Gaps between Leaders, Followers and Laggards in assessments of company growth and strategic activities last year

Digital Disparity
However, the huge gap between Leaders and Laggards was due to four key factors reflected in Figure 3 — all of which are linked to digital transformation and creating the business for the future:
Channel expansion: 103%
New business models: 97%
New products/services: 74%
Reallocating resources: 70%
These gaps reflect a vastly different strategic mindset between Leaders and Laggards, one that is squarely focused on the future and adapting to market challenges while the other is stuck in the past, trying to survive but falling further behind. 
The gap between Leaders and Laggards this year is the largest we have ever seen, more than doubling in size since we started tracking these segments in 2018-19. In contrast, the gaps between Leaders and Followers have been steady or slowly shrinking when looking at these in terms of the last year. But that gap is deceiving because it portends challenges when looking out three years. The gap between Laggards and both Leaders and Followers reflects a stark reality that Laggards' lack of awareness, planning and execution are putting their survival and relevance at increasingly greater risk – something they understand the implications of well. 
This scenario aligns with a December 2018 Boston Consulting Group (BCG) article on how some companies successfully navigated disruption and created value, earning the title, "thrivers." The article states that successful reinvention requires making a large bet—one that can overcome the drag of the old way of doing things. Making that big bet requires leadership, confidence and expertise to eliminate the "knowing – doing" gap. Those who wait – the Laggards – will need to make bigger and potentially riskier bets to gain parity with the "early responders" (the Leaders). As Leaders gain growth momentum, the "knowing – doing" gap grows, leaving Laggards with dwindling options and relevancy in fast-changing market. 
See also: COVID-19 Is NOT an Occupational Disease
The 2018 article seems prophetic in our current pandemic-dominated environment, as illustrated by this quote:
"In a time of technological revolution, shifting regulatory priorities, and fast-changing consumer expectations, most companies will face some form of disruption in their industries or core markets. Some management teams anticipate the coming changes and respond promptly. Others, slow to react, must eventually address a more mature threat. The speed of response matters. Early movers can experiment with new businesses and models. Those that wait have dwindling options and, as our new research shows, must make far larger, more concentrated bets to navigate the disruption."
Speed matters, particularly during disruptive change.  
Has the COVID crisis invigorated your organization or has it backed your planning into a corner and trapped your transformation list under a pile of priority revisions? Are you using your superhero capabilities or continuing down the same path?