It's no secret that millennials don't care much for insurance companies. In fact, recent 
Bain & Co. research
 found that 80% of millennials say they would move their insurance business to new entrants that are capable of creating and delivering more value than incumbent insurers, leaving incumbents especially vulnerable to insurtech startups. But when it comes to millennials, what exactly is value, and how do insurance companies make good on it? Over the last year, Cake & Arrow has been conducting 
research with millennials
to help the industry better understand this elusive demographic, and in doing so to answer precisely this question. In our research, we found that when it comes to insurance, creating and delivering value for millennials goes far beyond price and convenience–the two areas where insurance companies have been especially focused as they invest in their digital transformation efforts. 
2016 research
 (also by Bain & Co.) suggests that value exists in a hierarchy, and falls into four distinct categories: functional, emotional, life-changing and social impact. Price and convenience both fall into the functional category, the lowest level of the hierarchy, meaning that, while they are important (and, according to the hierarchy, prerequisite for delivering higher-level value), they fail to deliver the highest-impact value–emotional, life-changing and social impact.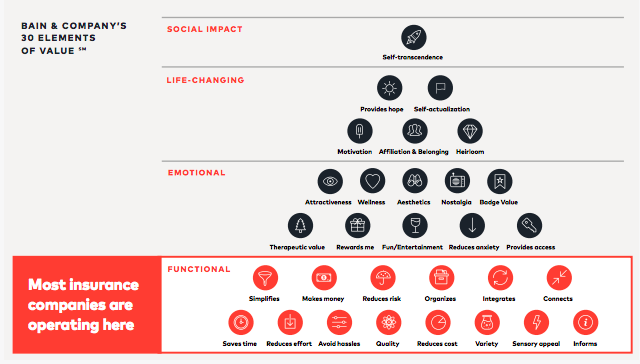 When we studied millennials, one of our research hypotheses was that to deliver value at the highest levels means resonating with millennial 
values
, that is, the important and lasting beliefs that influence their behaviors, attitudes and priorities. Our research identified three key values driving millennials: Community & Authentic Connect, Interdependency & Social Good, Transparency & Autonomy. Through a sequence of ideation, design and user testing, we were able to validate that insurance products that resonate with these values ultimately deliver more value (and higher-level value) to millennials than traditional insurance products, fundamentally changing the way they think about insurance.
See also: Overcoming Concerns by Millennials  
Looking at the industry at large, we found that there are a handful of insurance companies, mostly startups, that are taking these 
values
 to heart and designing solutions that not only address millennial needs and concerns but also resonate with their values to deliver value at the highest levels.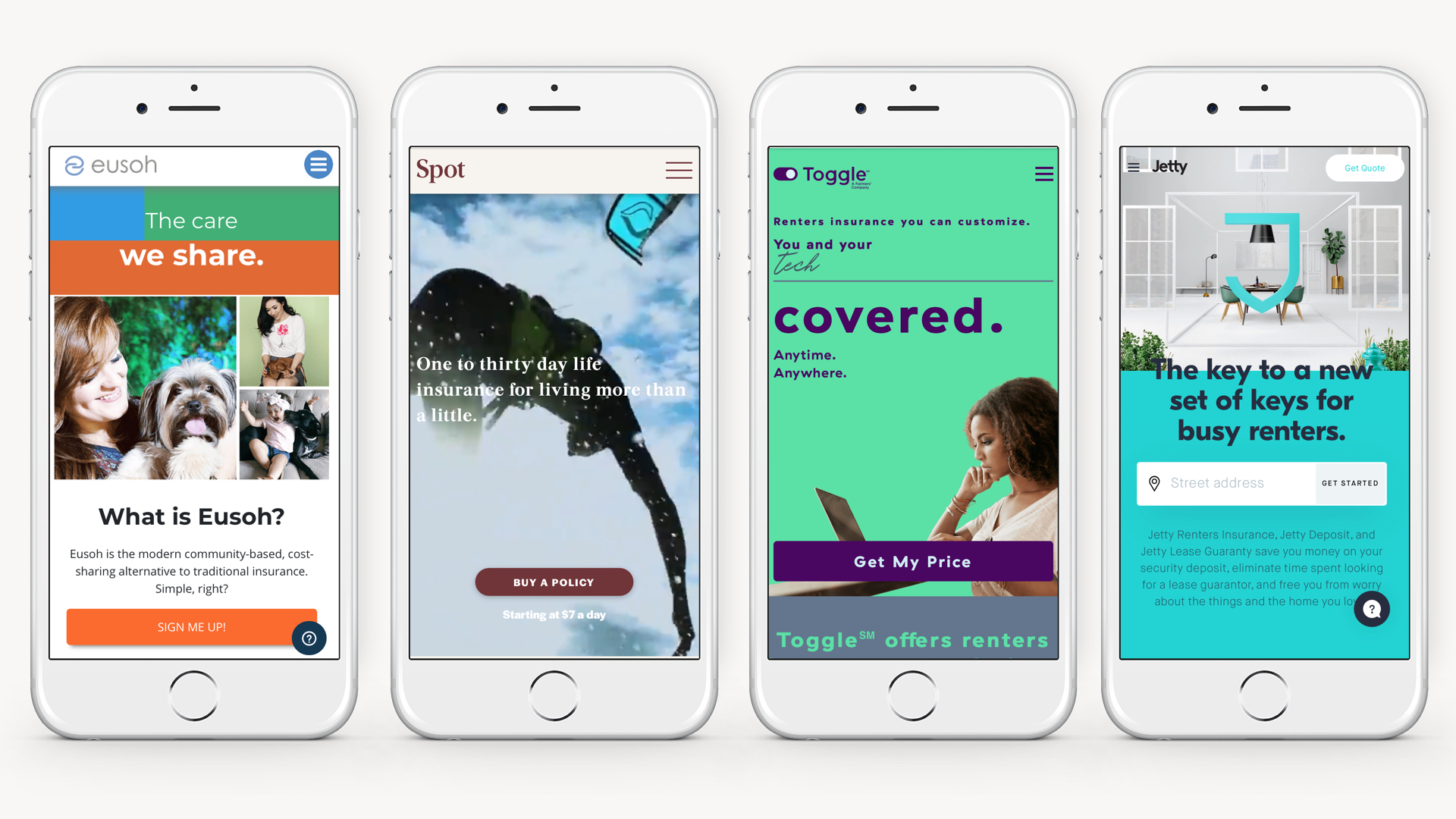 1. Eusoh
Eusoh
 actually isn't insurance at all. It's community-based cost sharing, offering an alternative to insurance. A small, little-known startup, Eusoh has built a cost-sharing platform for pet-related veterinary expenses. Unlike traditional insurance, Eusoh customers don't pay monthly premiums. Instead, they pay a $10-a-month subscription fee to join a cost-sharing community group with like-minded pet owners (there are currently groups for Jewish Dog Lovers, Urban Dog Owners, Large Cats, LGBTQ+ Cat Lovers and more). Community members pay for their vet visits up front and submit veterinary expenses; these costs are then shared among the group, and members get reimbursed. Members are also able to see how their funds are being distributed among the group through a dashboard that displays all the different expenses submitted for different pets and how much money each member was reimbursed. Eusoh also promises significant savings to its members, with the average cost of traditional pet insurance being around $800 for 10 months and Eusoh averaging only $133.
What we like about Eusoh:
Traditional insurance isn't all that different from Eusoh's cost-sharing model. At the fundamental level, both are about distributing expenses and risks among a group of people to lower costs for everyone. The big difference is that, in traditional insurance, customers pay their monthly premiums, and, if they themselves don't have a claim, they have no idea where their money goes. What we like about the Eusoh model is the way it surfaces the community aspect of insurance so that customers can see how their contributions are going to help others. In our research with millennials, we learned that being able to see and understand how the money they were paying to their insurance company was being used to help other members of their community made insurance feel more valuable to millennials, and more worth the money. By charging a subscription fee, and then only billing members for the actual costs incurred by the community, Eusoh is able to resist a problem that has long plagued the industry–customers feeling like their insurance companies are just trying to rip them off.
2. Life by Spot
Life by Spot
 offers flexible, short-term life insurance with one- to 30-day policies starting at as low as $7 a day. The insurance is geared toward travelers, athletes and other risk-takers. Life By Spot applicants are instantly approved, and there are few exclusions (Spot is like your cool older brother who "approves of the activities your mom wouldn't"). While short-term life insurance might seem gimmicky at first, the founders see orienting life insurance around experiences (like skydiving or a surf trip to Brazil) rather than more traditional major life events (i.e., marriage and children) as a means of introducing millennials (who are increasingly prone to delaying traditional life events) to life insurance earlier on in their journey, creating a funnel for bigger life insurance policies down the road. Life by Spot also has plans to deepen its ties to outdoor and athletic communities with a new injury protection policy starting at $5 a day that would cover policy holders with high-deductible insurance plans who are injured up to the amount when their health insurance kicks in. Set to officially launch later this summer, the new product has already proved promising. The company recently soft-launched the product with the Austin Marathon with impressive results, offering the policy as an add-on to runners when registering for the marathon. While supplemental coverage like this is nothing new, the distribution approach is fresh and highly relevant to its target consumer.
What we like about Life by Spot:
Our research showed that people are more open to sharing costs and risks (as well as data and other information) when it is with a community of people they identify with. While Spot may seem niche, this is precisely what we like about it. We like that Spot takes a traditional product and spins it for a specific community, one with unique values, risks and behaviors. The spin on life insurance is more than just a marketing message (millennials can see right through this, according to our research); there is a change at the product level that corresponds with the values, risks and behaviors of this particular community, creating a sense of authenticity and trust in an industry where these things are increasingly difficult to come by. By making policy holders feel like they are involved in protecting a like-minded community and the kind of lifestyle this community values, Spot is able to create more value for millennial consumers, beyond what traditional insurers currently offer.
3. Toggle Insurance
Toggle
 is a new, millennial-focused insurance brand launched by Farmers Insurance late last year. Currently a renters insurance product, with adds-on like credit building and coverage for pets and side hustles, Toggle has plans to expand its insurance offering to create an entire ecosystem of modern insurance products geared toward millennials. The name Toggle refers to the customer's ability to "toggle" different coverages on and off, and coverage levels up and down, to create completely customizable insurance that befits the individual customer's budget, lifestyle and coverage needs.
What we like about Toggle:
One of the mistakes we see players in the insurance industry make is to assume that simply having a digital product is enough to capture millennial consumers. For these players, innovation often ends here - at direct-to-consumer digital products that, while making buying insurance simpler and easier, fail to deliver value at the highest levels. What we like about Toggle is that they understand that a digital product is simply a foundation. To deliver value to millennials requires going beyond digital. In fact, our research found that in the age of Facebook, data breaches and digital burnout, millennials are increasingly wary of new digital products, and autonomy and transparency are more important than ever to securing their loyalty and trust. Toggle takes both autonomy and transparency to the next level. Rather than simply packaging various coverages at different price points for customers to choose from, Toggle provides consumers with true autonomy, allowing them to select exactly which coverages they want to include (and those they don't), and giving them control over precisely how much coverage they want. As far as transparency goes, the product goes above and beyond to ensure that customers are never caught off guard by any "gotcha moments." Rather than burying limits and exclusions in the fine print, Toggle calls them out from the get-go and allows customers to "toggle" on more coverage where it might be needed.
See also: The Great Millennial Shift  
4. Jetty
Jetty
 is just one of a handful of new renters insurance startups geared toward millennials. Founded in 2015, Jetty has set out to not only make renters insurance easier, faster and more affordable, but to make the overall experience of renting simpler, safer and more accessible for everyone. What makes Jetty unique from other startups in the renters space is the way the company is going beyond insurance to solve the most pressing problems for renters. In addition to a renters insurance product, the company also offers Jetty Deposit, a way for renters to bypass the financial burden of coming up with a security deposit by paying a one-time percentage fee of the would-be deposit amount, and Jetty Lease Guarantee, a service by which Jetty will act as a renter's guarantor, for a small percentage of the yearly rent. In May, the company launched Student Housing Express, which enables student housing properties to "instantly approve qualifying students who aren't able to get a traditional guarantor." While Jetty may not be the cheapest renters insurance on the market (most policies start around $9-10 a month compared with Lemonade's $5), the company's service offerings beyond insurance demonstrate an understanding of the more holistic experience of being a renter, building loyalty with renters before they even start thinking about insurance.
What we like about Jetty:
Jetty first caught our attention a little over a year ago when we learned about Jetty Deposit and Jetty Lease Guarantee. To us, these products appeared to be novel solutions to the significant financial hurdles facing millennials (about 70% of whom are renters) and unlike anything other players in the industry were doing. At the time, a lot of the millennial-related insurance products we saw on the market seemed to ignore the financial realities of millennials, many of whom are burdened with student debt, have little money saved (millennials under 35 have a median savings of just $1,500 ) and haven't had opportunities to build credit. While many of these insurance products were catering to elite millennials with disposable income, when we surveyed millennials last summer, we found that the two greatest challenges they face are financial security and stability and uncertainty in the future. While insurance products can certainly help create more certainty, Jetty's supplementary products truly address the challenge of financial security and stability in a way that few other insurance products are able to do, freeing up capital that might otherwise be spent on a security deposit to help millennials do things like build up their savings, pay down debt or save for a major life purchase. __ While all of these products boast seamless digital experiences that make buying insurance faster, easier and more convenient, what makes these four companies special isn't fancy technology, low prices or convenience, but the way they connect with higher-order millennial values to offer tangible solutions to real-life problems, ultimately cutting through the digital din to deliver more value to millennial consumers.
To learn more about the insights from our millennial research, download our report, Millennials & Modern Insurance.
The article was originally published here.