About 30 years ago, Adrian Gore and Barry Swartzberg harbored an intuition that introduced a different perspective on people's well-being. This approach, known as Vitality, has since matured into a methodology primed to serve as a fundamental competency for any insurer in the future.
The insurance sector has wholeheartedly embraced the notion of incorporating preventive measures, as aptly expounded in the Geneva Association's publication titled "From Risk Transfer to Risk Prevention." Cultivating less risky behaviors among policyholders in personal lines and among frontline employees in commercial domains is the indispensable path toward realizing this aspiration.
The conventional medical approach centers on employing medical interventions once a disease has manifested. This approach entails prolonging life by extending the period spent in somewhat suboptimal health, albeit with variations contingent on the nature of the disease. Conversely, Vitality's behavioral paradigm concentrates on promoting healthier lifestyle choices capable of elongating the duration of the policyholder's time spent in a state of optimal well-being, thus further extending their lifespan.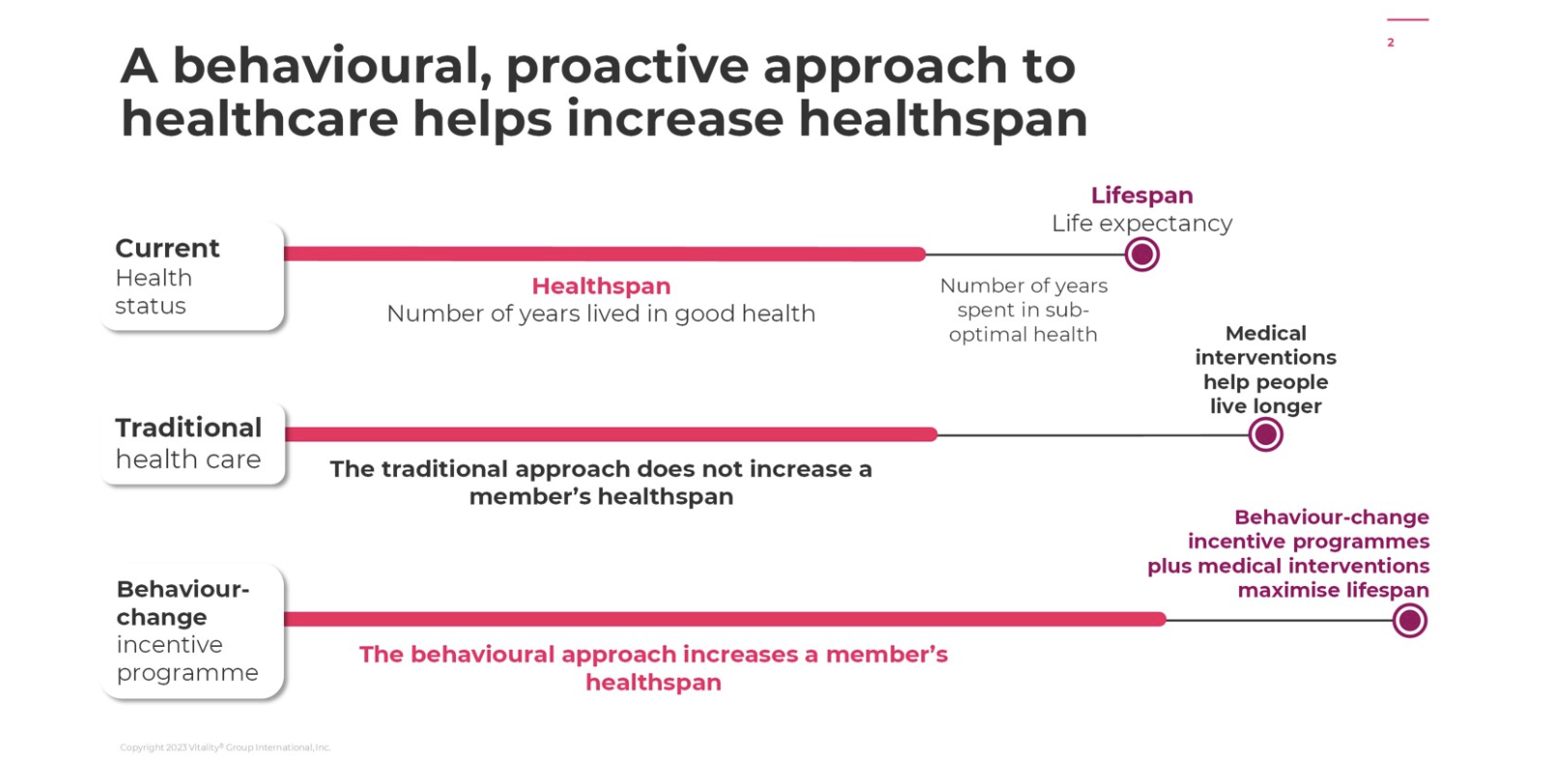 Source: Discovery
See also: Are Health Engagement Programs Worth It?
The frequency and severity of claims will diminish for the insurer. This savings are then partially channeled toward funding the expenses of the behavioral change program: At its core, the Vitality program involves promising rewards to individuals exhibiting enhancements in their conduct. 
Over the past decade, this approach has been replicated in different markets, with different nuances program by program. One international partner has even used Vitality as a stand-alone, fee-based offer open to customers without a policy with any insurer. Vitality has already attracted more than 30 million individuals globally.
This journey has showcased an astonishing capacity to engage policyholders. Across numerous Vitality portfolios, more than two-thirds of the members have engaged in both physical and non-physical activities that provide verified information. Nowadays, more than 100,000 new devices a month are connected by members to the Vitality program.
Discovery has accomplished an enrollment rate ranging from 50% to 80% in their Vitality program among their South African policyholders. This remarkable achievement has been realized even with a monthly fee exceeding $17 charged to the insured for enrollment.
The international partnerships are yielding consistent evidence, as well, demonstrating penetration rates of up to 70% for Vitality in partners' new business programs deployed in mature nations – even with a fee for joining the program -- and up to 80% in emerging economies. Analogous outcomes have been replicated in corporate wellness initiatives, where as many as two-thirds of eligible employees have participated, in contrast to the industry's average of 30% participation.
Policyholders crave to share their healthy behaviors with their insurers and enjoy substantial advantages, with benefits that can be higher than the premium paid. Simultaneously, this shared-value model allows the carrier to achieve superior results, while generating benefits for society at large.
The foundation of the Vitality approach resides in promoting behaviors directly contributing to delaying diseases. Discovery's three-decade journey provides robust evidence that a significant increase in the level of physical activity reduces by 49% the mortality for individuals aged 45 to 65, and a remarkable 61% reduction for those older.  Positive impacts have further manifested within annual medical expenditures, where the most engaged participants have 15% lower claim costs than the less engaged, risk-adjusted by age and medical conditions. A longitudinal study on the people who showed a low level of physical activity during the initial six-month period showed a subsequent 14% reduction in hospital medical costs for the subgroup that notably elevated their engagement levels over the ensuing four and a half years.

Source: Discovery
See also: Data-Driven Transformation
As you would expect, a program as successful as Vitality attracts and retains customers. Discovery's latest data pertaining to their South African health portfolio showed that 31% of the economic value the insurer garners through the Vitality approach comes from the attraction and retention of younger members and that 20% stems from the attraction of individuals more likely to exercise. 
The benefits are a direct outcome of Discovery's continuous innovation effort, which has honed their mastery in behavioral modification, seamlessly applying it across various geographical regions and lines of business. As illustrated by the figure below, the dynamic use of active rewards and loss aversion mechanisms (such as the mechanism to reimburse the Apple watch —methodologies systematically tested and incrementally implemented across all programs over recent years—has showcased extraordinary efficacy in engaging members. This, in turn, directly leads to the embrace of the desired healthy behaviors among Vitality's members.
Active Rewards and Apple Watch benefit impacts on the UK portfolios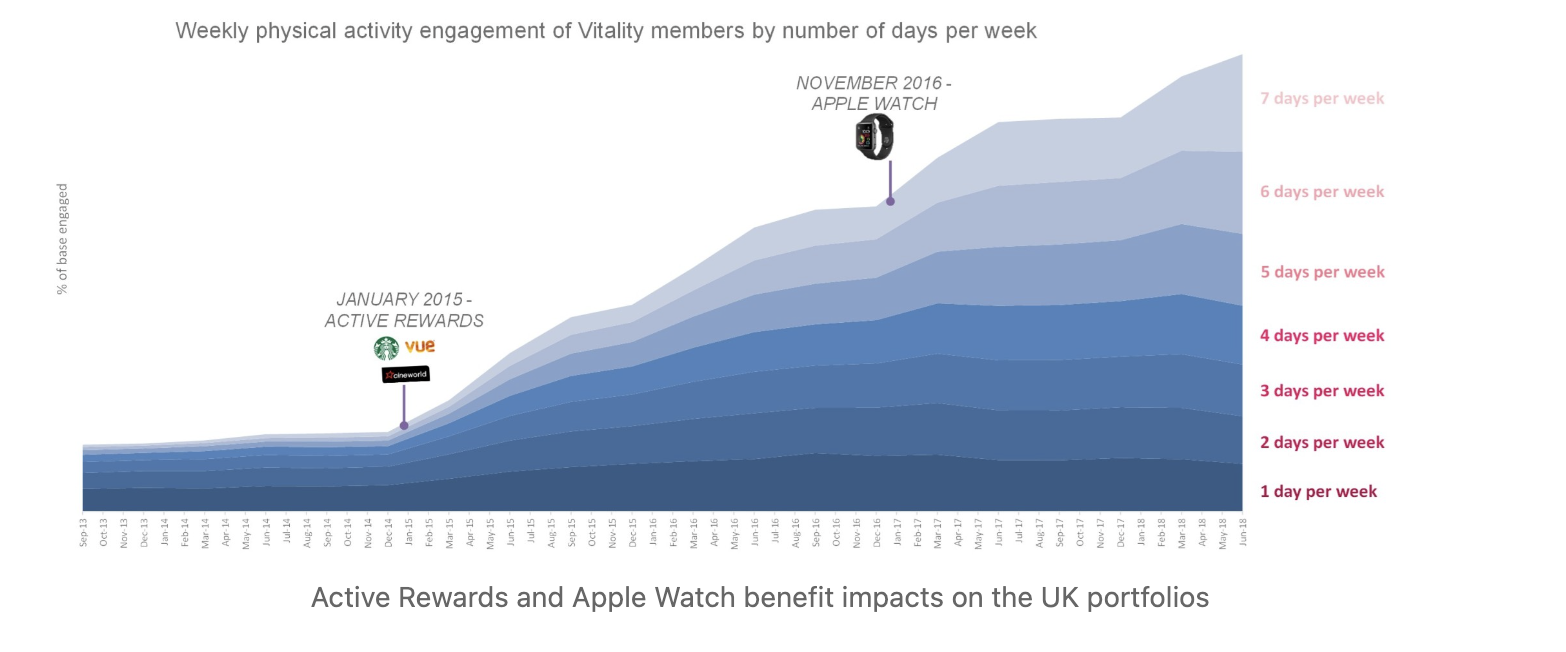 Source: Discovery
Members who participated in active rewards saw more than a 20% increase in physical activity days regardless of their health status. This increase is observable across the entire spectrum of well-being, encompassing individuals categorized as "healthy," "with stable chronic condition," "with significant chronic condition" and "with complex chronic condition."
Following exposure to active rewards, the average activity level exhibited a commendable upswing of 18%. Moreover, with the added incorporation of Apple Watch benefits, this average activity escalation escalated to an impressive 35%. This enhancement is consistently observed across diverse generational segments, with all age brackets showcasing increments surpassing 20%. Individuals aged 50 and above displayed a particularly substantial uptick of 51%. Similar outcomes have been measured in South African, U.K., U.S. and Australian portfolios.
The greater the proportion of engaged members, the higher the impact created on the insurer's technical results. A Swiss Re "Health and Wellness Engagement Impacts" study examining a life insurance behavior change program estimated a threshold of 25% engagement as requisite to ensure a positive ROI for the insurer. More than 90% of Vitality's markets with more than one year of maturity have already achieved engagement levels surpassing this specified threshold among members. One of the most effective international programs – a mature market – has reached a remarkable 64% engagement rate among its members. 
The evidence underscores the effectiveness of this approach—founded on technology and data shared by policyholders—in enhancing the profitability of the insurance portfolio. The approach also provides benefits satisfying the other three requirements in my 4P framework for evaluating insurtech initiatives. Vitality increases persistency (boosting retention), proximity (producing more frequent interactions with customers) and productivity (improving the top line).
All Vitality portfolios have consistently demonstrated superior retention rates when contrasted with the broader market. Furthermore, the churn levels observed within the most engaged members typically range between one-third and half of those observed in clusters exhibiting less healthy behaviors. This phenomenon exerts an exceptional influence on the lifetime value of a policyholder cohort—what actuaries quantify as new business value—resulting in a shift in the quality of the insurance book.
Several of the Vitality life portfolios have encountered an average above 20 touchpoints per month (app usage, push notifications, emails, …) with policyholders, a marked departure from the traditionally minimal touchpoints associated with life portfolios. In one Vitality portfolio, the usage of the insurer's digital channels among members has surged more than fourfold after the introduction of active rewards. 
See also: Lemonade's 'Synthetic Agent' Nonsense
One of Discovery's international partners has disclosed the effect on cross-selling: The count of policies per customer is fivefold greater among Vitality members compared with the conventional portfolio. Among those members with over five years of engagement, the most engaged maintain an average of 50% more policies in contrast to their less engaged counterparts.
Sales are influenced by a multitude of factors, encompassing the insurer's strategy and initiatives, contingent market conditions and competitive dynamics, so achieving an exact quantification of the impact of the Vitality approach is difficult. Nevertheless, there is a plethora of anecdotal evidence:
A life portfolio growth four times the market, with market share rank rising from 11

th

to 7

th

in four years (mature country)

;

Health carriers with 33%

top-line growth

over six years compared with a shrinking market (mature country);

Life bancassurance player that increased market share from 2% to 7% in four years (emerging economy)

.
This detailed overview demonstrates the effectiveness of the Vitality model – achieving adoption and engagement among the entire spectrum of well-being and being replicated in all the geographies. 
This approach effectively rewards policyholders to disclose verified behavioral information. This shared-value mechanism optimizes policyholder engagement while yielding superior outcomes for the insurance enterprise, a portion of which is shared back to the policyholders. 
Discovery has meticulously cultivated a suite of specialized competencies, encompassing the adept guidance of behavioral change, adroit engagement with policyholders, the skillful orchestration of an ecosystem of retail partners to sustainably deliver appealing rewards and a comprehensive array of supplementary aptitudes required to ensure the seamless integration and alignment of the Vitality approach across actuarial, marketing and distribution functions. This prowess has been perpetually honed through collaboration with international partners and an unwavering commitment to continuous innovation.
This methodology applied to health and life transcends the scope of a conventional wellness program. It signifies an emergent insurance paradigm that holds the potential for extension across diverse insurance business lines. (In South Africa, Discovery has successfully applied it to auto insurance.) This extension aims to foster less risky behaviors among policyholders and, when deployed within commercial lines, extends its influence to encompass front-line employees.