We're talking a lot these days about the future of work. We're not talking enough about the future of health insurance. Most Americans have historically gotten health insurance through their employers. But the number of self-employed Americans including independent 1099 contractors, freelancers, gig workers and sole proprietors is skyrocketing. According to studies by the Freelancers Union, 57 million of us are fully or partially self-employed today, and more than 50% will be by 2027. What will be the #1 concern of self-employed Americans? Access to affordable healthcare. What's driving this change in how we work? Some people are deciding to step away from traditional employment to pursue what they love. Others are being pushed out of traditional W-2 employee roles by automation, corporate downsizing and rising labor costs. As the U.S. workforce changes, its insurance needs are changing, too. How will self-employed people get comprehensive and affordable health insurance? How will healthcare plans evolve to better serve this growing population? And as a broker, how can you serve them? [caption id="attachment_36665" align="alignnone" width="550"]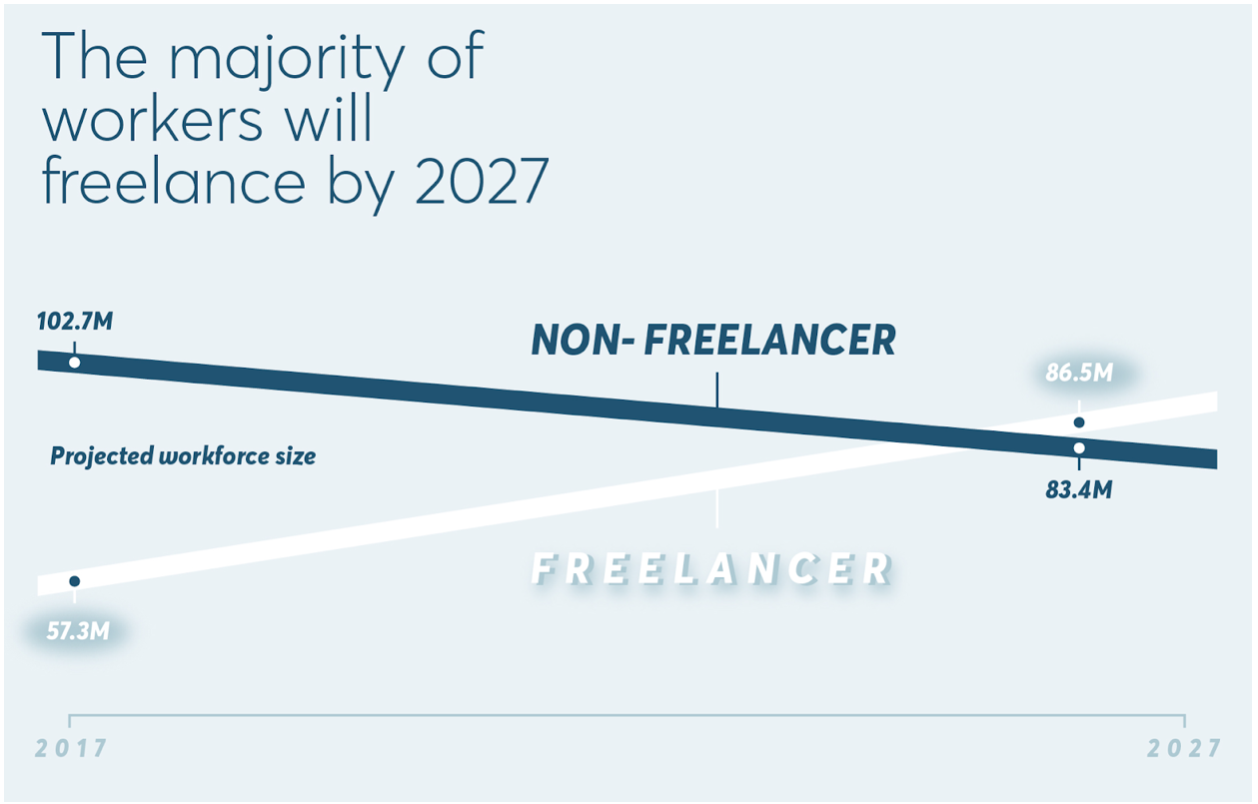 The future of work is coming. Where is the future of insurance? Source: Freelancers Union.[/caption]
Why does health insurance for the self-employed matter?
I am a licensed broker and a former freelancer, so this issue is personal for me. I spent most of 2018 working as a self-employed growth consultant. I did paid projects from a desk at a coworking space and got to know the other people there — gifted technical, creative and business professionals with the courage and skills to bet on themselves. And I learned what every self-employed person already knows: This work can be exhilarating, but it's not easy, and the lack of affordable health insurance hurts not only individual workers but their families, and their long-term health.
See also: Empathy Transforms Health Insurance  
Self-employed people including 1099 contractors can't get coverage in most group policies. They can buy comprehensive individual plans during open enrollment, but it gets more expensive every year, and those earning more than $50,000 per year don't get subsidies to offset the price. Outside of open enrollment, there are no comprehensive healthcare options for the self-employed–which is a massive problem. How does this affect you? If you sell group plans to organizations with a large base of independent 1099 contractors, you already know the answer--you've got a large and growing population, and nothing great to sell them. The most innovative and successful brokers in the next 10 years will be those who can figure out how to serve this massive and growing population of self-employed workers.
The future of work deserves the future of health insurance. How can healthcare plans evolve?
Brokers and self-employed people both need better options. Luckily, we're starting to see some new options come online that are getting traction. Self-employed people can buy short-term plans, but these plans typically cap payouts and don't cover preexisting conditions or many essential health benefits. They can join health-sharing ministries, typically composed of religious people who aspire but do not commit to sharing in each other's healthcare costs, but their care may not get covered, and monthly payments are not tax-deductible. Decent, which I founded, recently launched in Austin, Texas, in partnership with the Texas Freelance Association, offering the most affordable comprehensive plans on the market for self-employed people and their families. All plans include unlimited free primary care with a personal doctor. Decent sells year 'round, including to people without a qualifying life event, and will be expanding throughout Texas and beyond soon.
So what is the future of health insurance?
Whatever products eventually win in the market, getting employers out of the health insurance equation will make the healthcare market work more like other markets, where suppliers compete to serve customers on quality, price, and convenience.
See also: 5 Health Insurance Tips for Small Business  
America's self-employed workforce is relatively healthy, wealthy and politically active. A revitalized individual market will encourage regulators to make subsidies available for insurance purchased in the private market, not just on government exchanges. At the end of the day, capitalism is about choice. People want more and better options. As a growing number of Americans choose the insurance they want rather than taking the insurance their employer gives them, suppliers and brokers will provide what the market needs. At Decent, we anticipate that the future of health insurance is refreshingly similar to the future of other markets that have evolved to serve the consumer: more choices, more customization and better deals for the diverse population that makes up our country, including the rising tide of the American self-employed.