My friend Adrian last month shared a McKinsey deck from 1993. (You can find it here.) One of the last paragraphs of the 38-page paper says: "These principles are obvious. Why do so few companies follow them? Because the senior management commitment required is substantial while the payoff is down the road." That line has aged really well!
It is a pity for an insurer not to use data and technology to do their job better nowadays. All the insurers (that survive) will be #insurtech: meaning players using technology as the key enabler for achieving their strategic goals. So, let's take a look at the current state of insurtech to see why you should focus your innovation efforts on the basics of the insurance business.
Since the beginning of the year, we have seen a new report almost once a week about the 2022 funding to insurtech startups:
The insurtech index (HSCM Public InsurTech Index ) has performed pretty badly: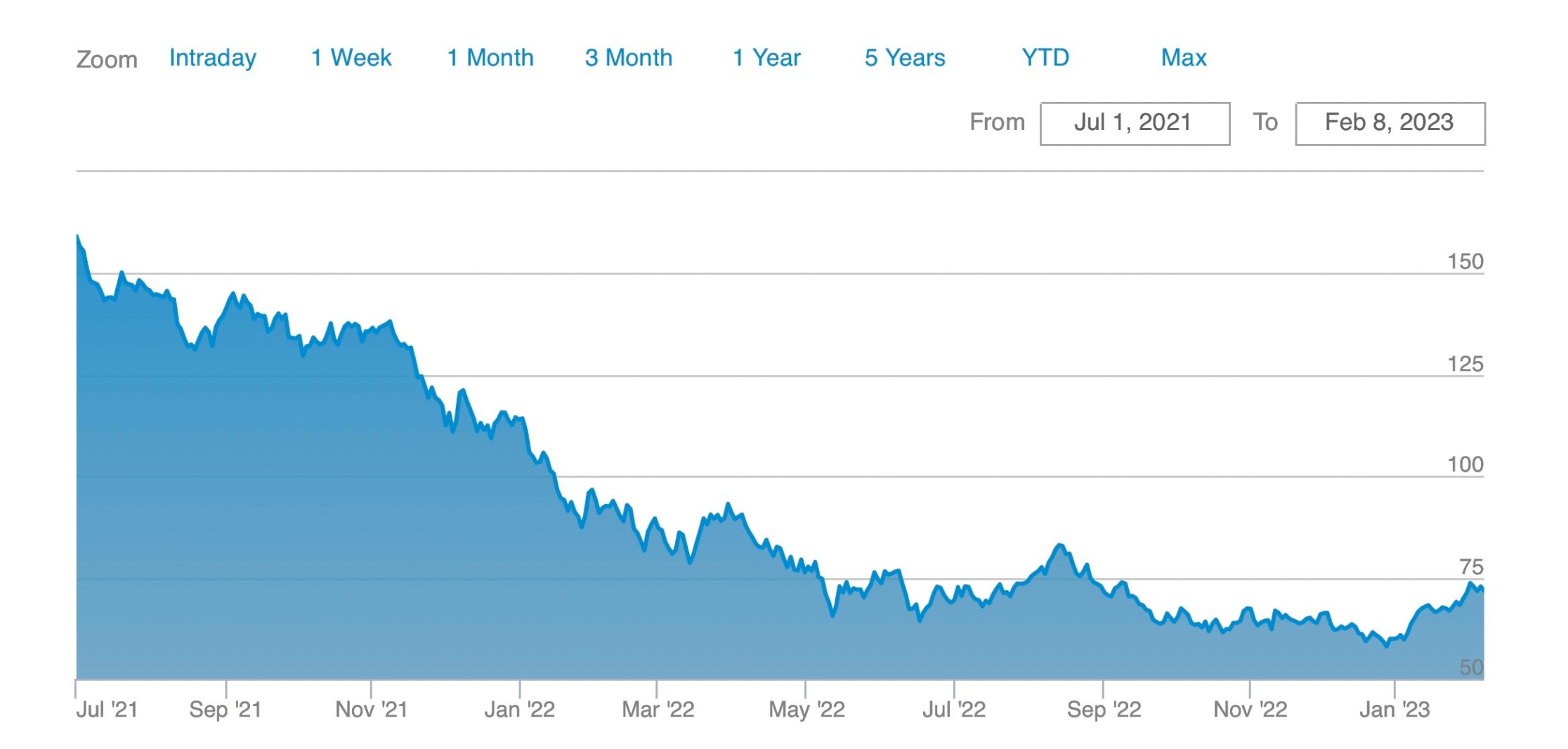 And you can find analysis saying that it is the worst-performing segment among all the fintech segments: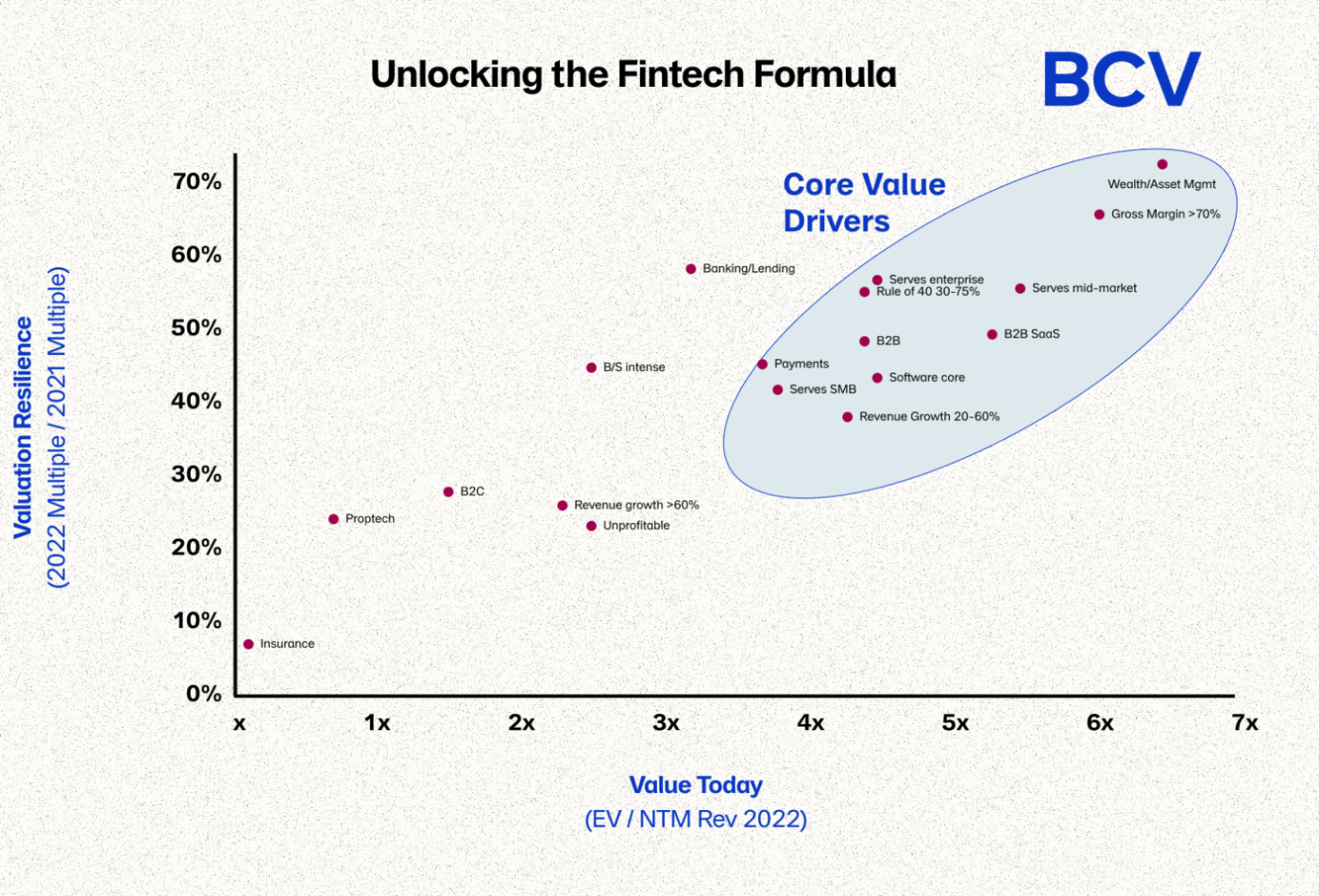 See also: Telematics Consumers Are Ready to Roll
At least, the insurtech listed segment has shown a perfect correlation with fintech: As I anticipated in the newsletter edition last June, the market has NOT turned its back to insurtech!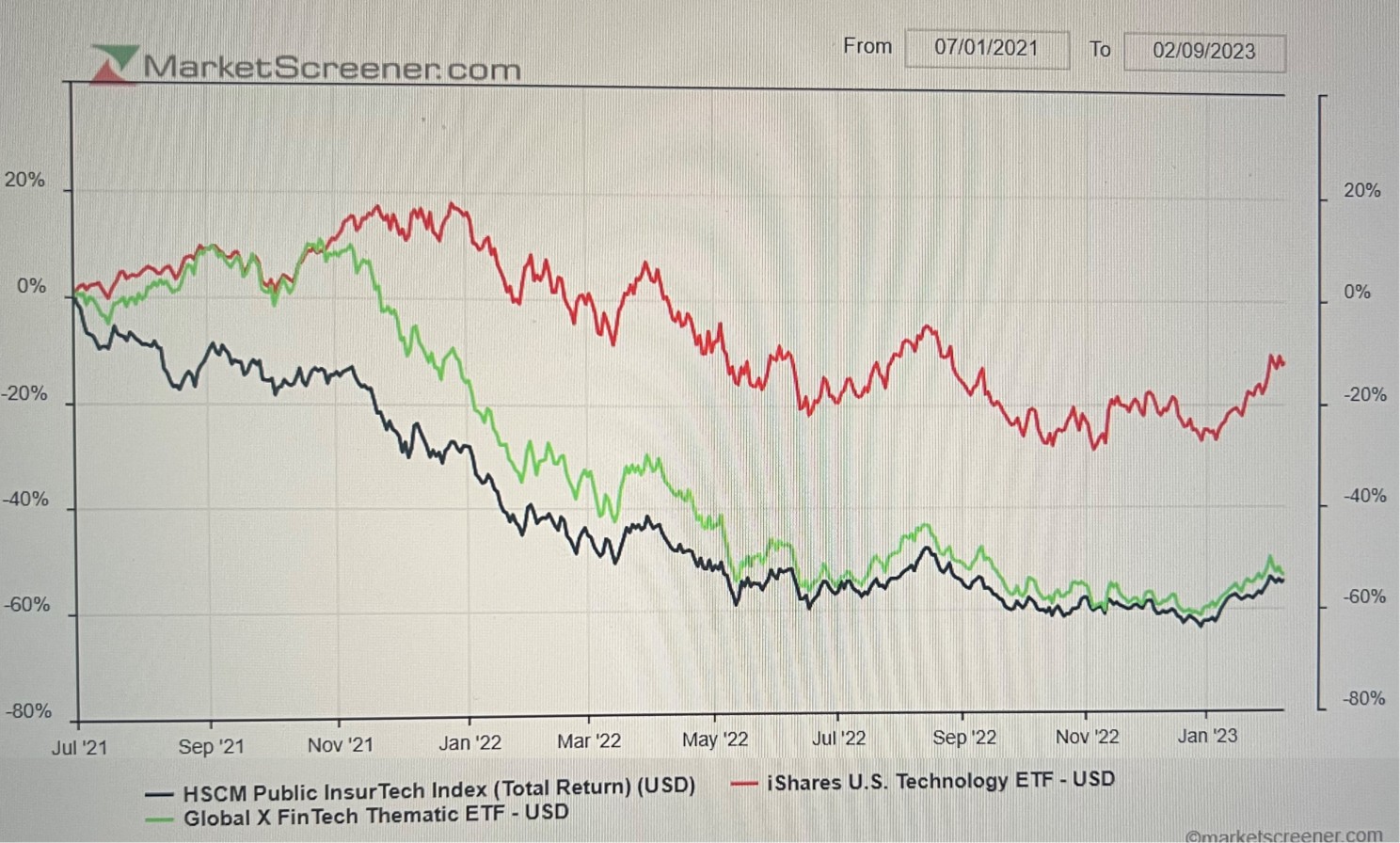 The drop in the evaluations is not about insurtech, it is more about fintech.
Looking at the individual securities that make up the HSCM Public InsurTech Index, we can appreciate a diversified spectrum of performances.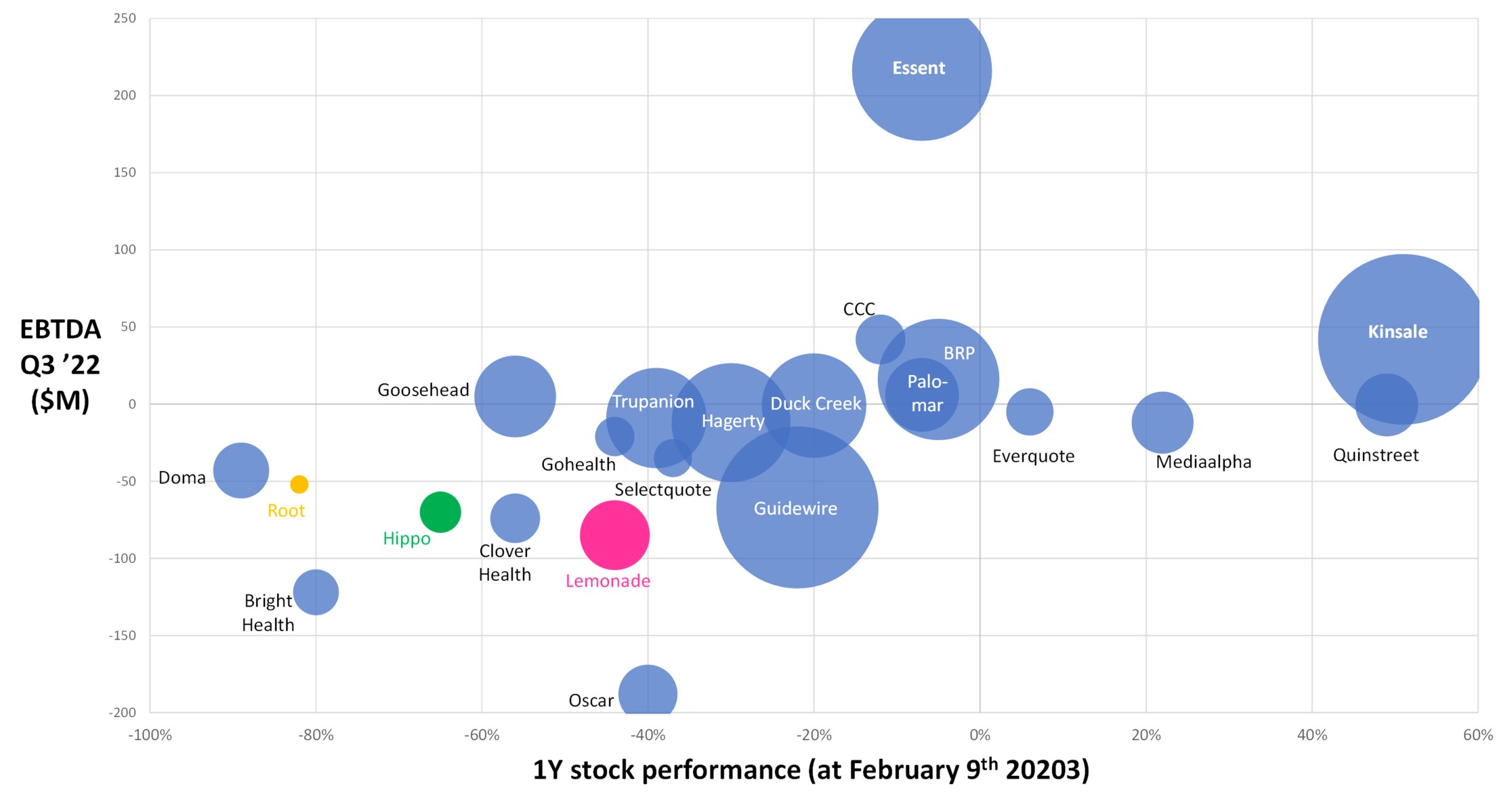 Source: Google Finance
Let's take a closer look at one of the outliers: Kinsale Group, a specialty line insurer known...for frequently beating analyst expectations.
This 14-year-old insurer has generated a TSR (total shareholder return) of 43% a year for the past five years. Their market cap is almost $7 billion today, and they underwrote about $800 million in premiums with fewer than 450 employees in 2021.
Is Kinsale Group an insurtech? Was HSCM right when it decided to include them in the basket of the insurtech index?
The answer depends on your definition of insurtech. If you mean "players with a bloody loss ratio," no, they aren't. Their combined ratio was an awesome 80% in the first nine months of 2022.
Instead, my definition of insurtech is "players using technology as the key enabler for achieving their strategic goals." So, they definitely are an insurtech player. One with solid insurance foundations.
Looking at their recent analyst presentations, you can feel it: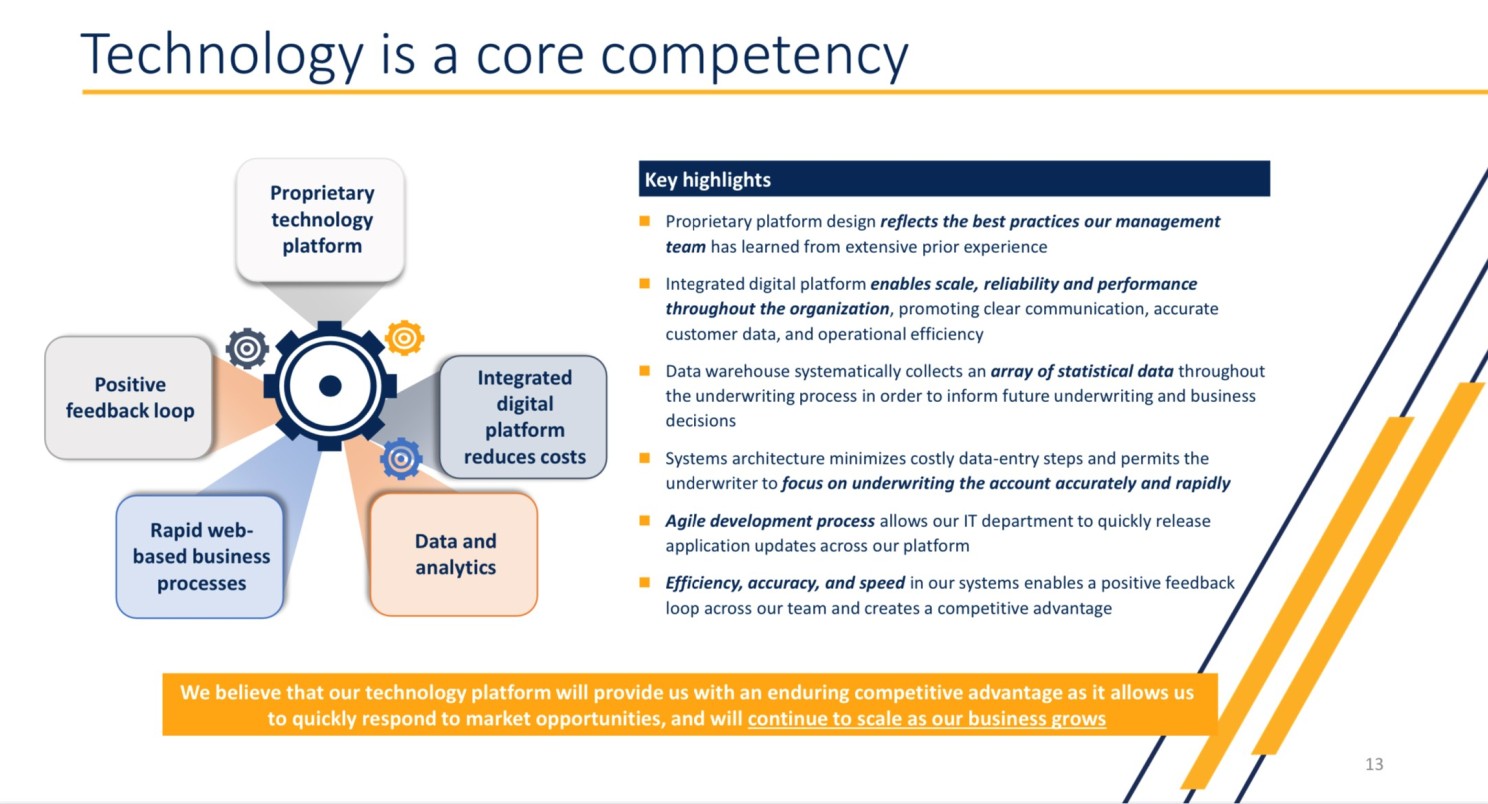 Source: Kinsale Group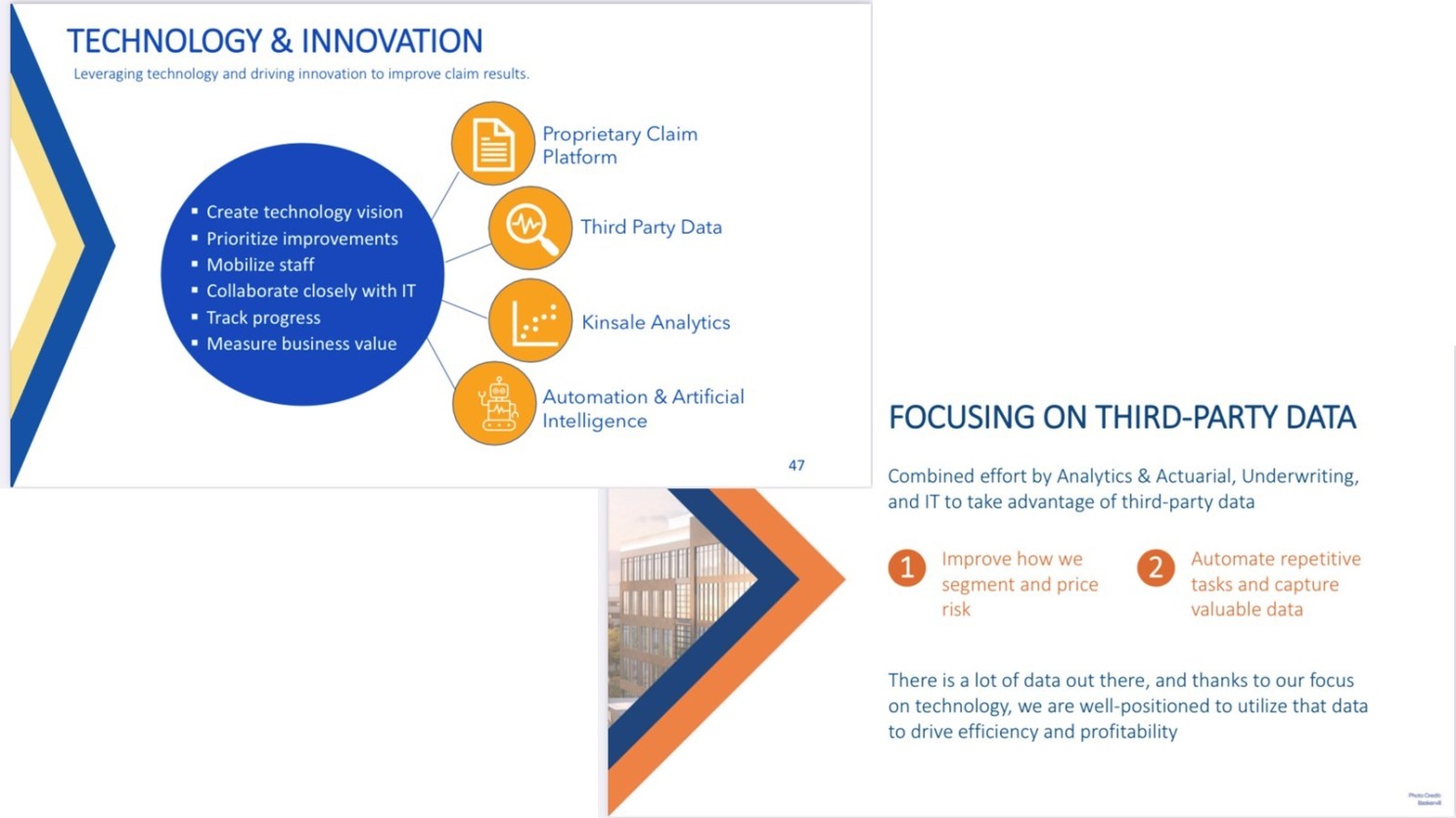 Source: Kinsale Group
Kinsale's story is about the focus on the basics, and yours should be, too. Your insurtech approach makes sense only if it allows to overperform the traditional approach on one or more of these KPIs: stronger underwriting returns, leaner capital or higher asset leverage. 
Let's look at a (BIG) failure. In one of the first editions of this Insurtech Facts & Figures newsletter, I analyzed Root, a player known for being telematics-based. I concluded by affirming that "Root is not using telematics data well for pricing and risk selection. Moreover, they have even denied the usage of telematics data for claim management and for changing driver behaviors."
Looking at their last shareholder letter it seems they got it, gave up on their telematics approach and pivoted to embedded insurance:
Telematics is mentioned two times, the first on page 14 of 24. UBI is not even present.
Embedded is mentioned 18 times in the first 14 pages.
To have completely missed the development of adequate telematics capabilities -- while burning $1.5 billion -- has not been the only sign of Root's poor governance: There is the recent story of about $10 million diverted, according to a recent lawsuit, from advertising to buy luxury homes by an ex-executive at Root. Well, this $10 million represents less than 0.7% of the cumulative losses, but more than 12% of the Root market cap on Feb. 10.
To make even more evident the missed opportunity in Root's journey, I want to show the contrast with a telematics-based MGA that is doing pretty well: High Definition Vehicle Insurance (HDVI).
At the IoT Insurance Observatory peer discussion last September, Todd and Chuck presented their telematics approach to achieving a loss ratio 20 percentage points better than the average U.S. commercial auto business:
continuous underwriting obtaining relevant up-front self-selection, and more accurate pricing of the risks;
risk mitigation while drivers are driving, and a structured driving behavior change program;
usage of telematics data for a proactive and enhanced claim process.
HDVI is going through a journey where the company's processes are designed to exploit the value of telematics data, the telematics competencies are further developed and this improves the key profitability drivers of their commercial auto insurance business.
See also: Driving Into the Future of Telematics
Swiss Re together with the IoT Insurance Observatory did a survey on 10,000 policyholders around the world. The key takeaway has been that -- everywhere -- policyholders are ready to adopt telematics: 54% are absolutely positive about telematics, and only 21% are against it. Here are the results.
If you are a personal auto insurer, this is a concrete opportunity
However, you should not create a telematics program because it is cool or because some of your competitors have introduced oe. You should identify how to use the telematics data to affect your key profitability drivers, and you should adapt your business processes to do it. Step by step, you will develop the necessary telematics capabilities for achieving the results you are looking for, and you will start to do more with this data...creating a virtuous circle.
In a nutshell, be more like HDVI and less like Root.