July marked the 50th anniversary of the maiden moon landing, and the social media algorithms weren't going to let us forget it.
A truly incredible feat of human ingenuity, the moon landing proved to the world's 3.6 billion inhabitants that the sky was not the limit and that progress was coming, and coming fast. And so it has. What started with Apollo 11's landmark lunar mission, quickly blossomed into an era of explosive productivity (and reproductivity -- 4 billion extra people) for humankind. Medical advances wiped out deadly diseases, and wireless technologies connected us globally and allowed products, services and tasks to be accessed and accomplished from the palm of our hands. Fifty years ago, MRI scanners didn't exist; today, wristwatches can take ECGs. The last half-century has witnessed a frenzy of technological innovation in almost all facets of human life. Well, almost all.
Houston, we have a problem child.
The insurance industry didn't get the memo. It seems implausible that you could write
$5 trillion
 of premium globally without riding the wave of technological change; but, in relative terms, the techniques used and services offered by the industry have by and large remained static ever since the moon landing. [caption id="attachment_36533" align="alignnone" width="500"]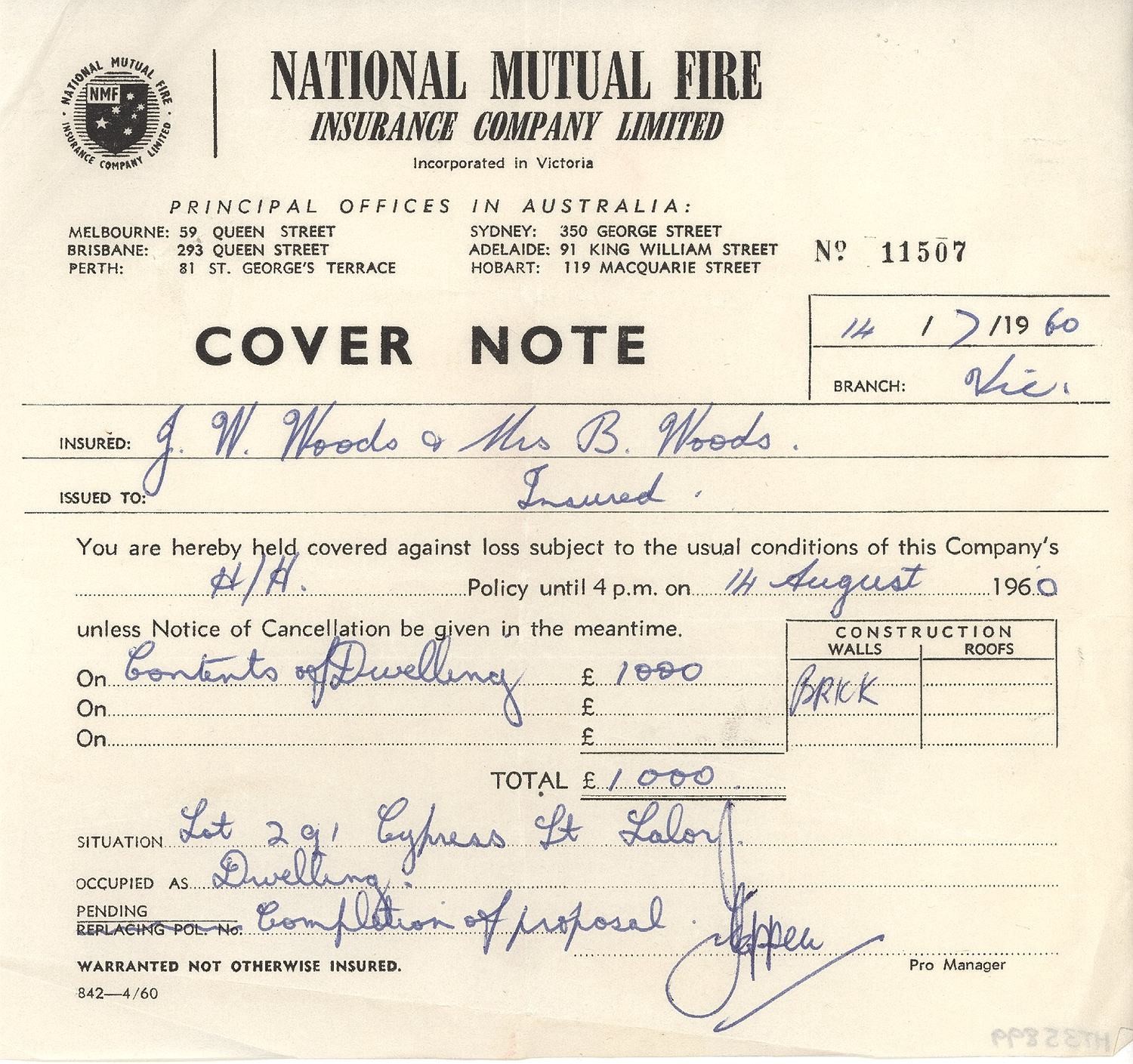 A 1960s insurance cover note — the form was likely quicker to complete than today's equivalent.[/caption] In 2017, the incoming Manulife CEO Roy Gori succinctly summarized the state of the industry with refreshing honesty:
"We need to transform our business to be much more of a technology-driven company…We need to become a much more customer-orientated organization and quite frankly the entire industry does. In many ways, if I'm absolutely honest, our industry is still in the dark ages."
The insurance industry has managed to get away with remaining product-centric and making incremental marginal gains. Incumbents have benefited from business model inertia with high barriers to entry, such as minimum capital requirements and exacting regulatory standards. In the time it took the music industry to go from vinyl to tape to CD, through piracy, downloads and on to today's streaming services -- insurance added questions to forms and put them on websites.
"If you apply for an insurance product, you'll get a 16-page application form with 120 questions, more often than not. It's still very paper-based, very manual, and, as a result, our industry net promoter scores are really very poor" (Roy Gori)
But things are about to change.
Countdown Initiated
The good news is that filling in endless forms to get an insurance policy may soon be a thing of the past. An armada of over 600 insurtech companies has assembled and raised a total of $8.5 billiion in funding over the last five years. (
source
: fintech global database) [caption id="attachment_36534" align="alignnone" width="570"]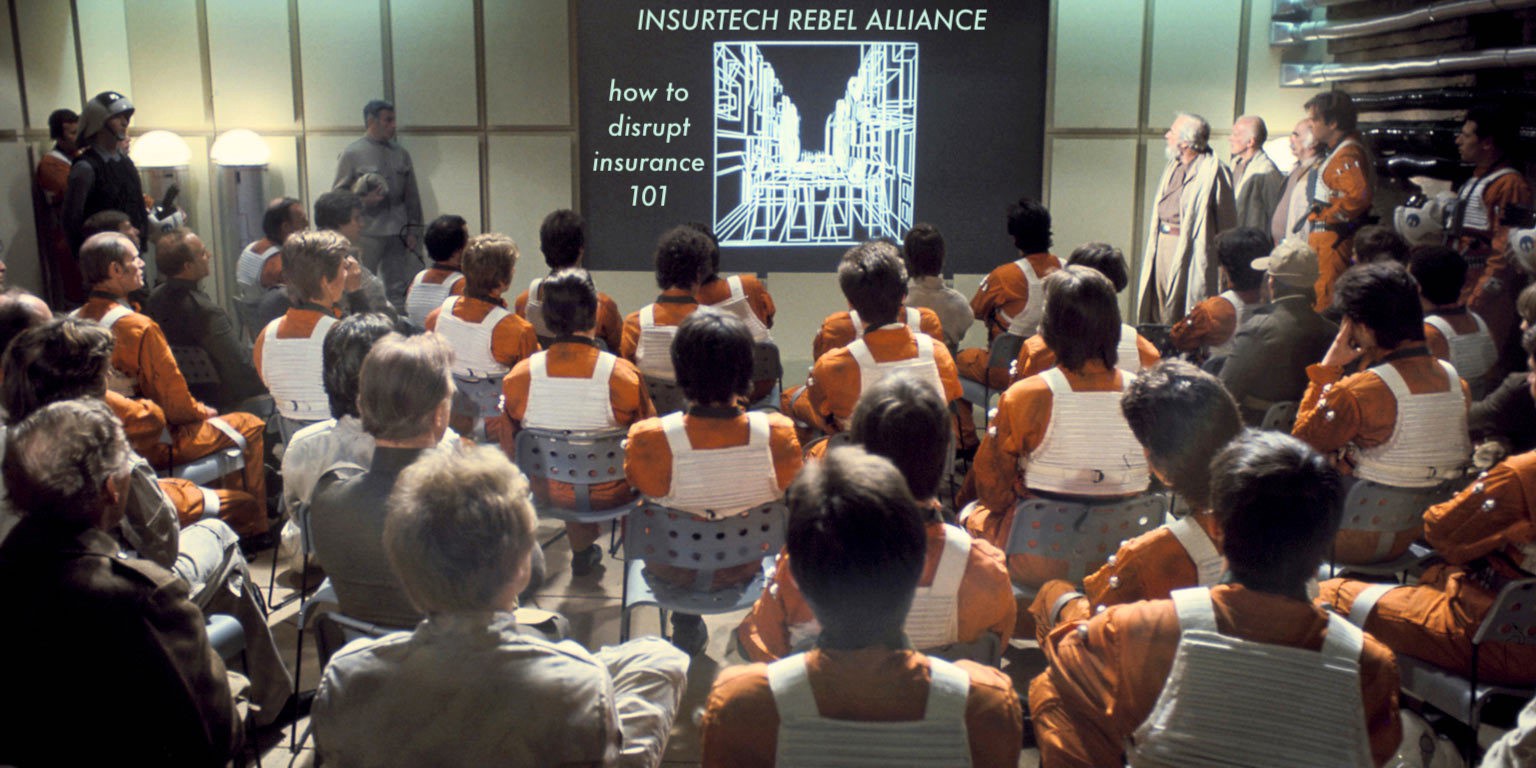 A group of plucky insurtech founders plan their next sortie.[/caption] Last year, over $3 billion of rocket fuel was invested in insurtech alone, double the 2017 total investment.
"Venture investors have recognized the scale of the opportunity being addressed and are allocating larger sums to invest in rapidly growing insurtech solution providers. At the same time, incumbent insurance companies have joined the scramble to back companies that are developing and integrating new technologies in ways that could either threaten — or enhance — incumbent business models." (source: Global Insurtech Summit)
The second quarter of 2019 has seen over $800 million sunk into four insurtech players:
Lemonade
raised $300 million at over a $2 billion pre-money valuation; 
Collective Health
secured $205 million at approximately $1 billion pre-money; and
PolicyBazaar
and
Shuidi Huzhu
bagged $152 million and $145 million, respectively. (
source
: Willis Towers Watson)
With seven-figure money pouring into multiple unicorn scale-ups, (re)insurance industry eyebrows are rising almost as fast as insurtech valuations.
For the first time, incumbents face a new breed of tech-savvy, customer-obsessed startups that are unencumbered by legacy systems and starting to aim at their customers. But, the imperial old-guard isn't going to move aside for insurtech rebel insurgents. The race to adopt new best practices has already begun, and smart (re)insurers are investing heavily in modern tech approaches, with data analytics top of the wish list.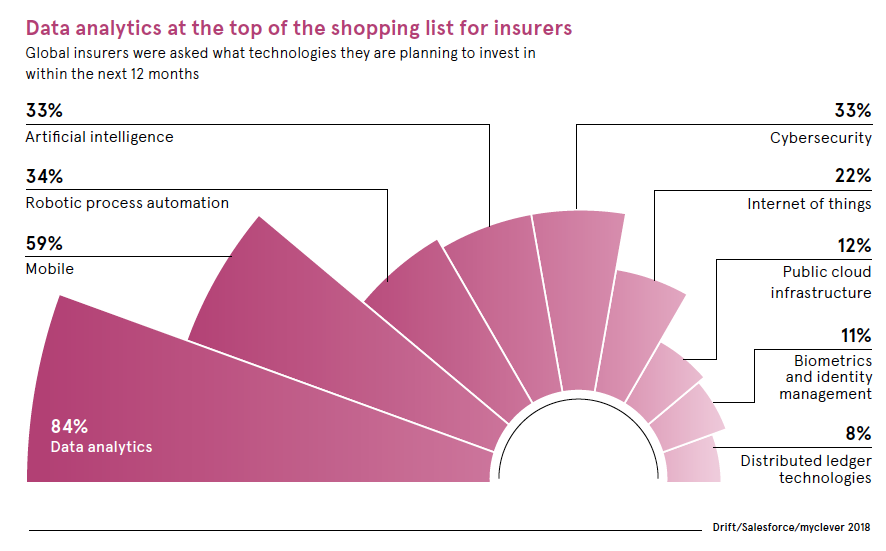 This critical industry software update certainly won't download overnight.
"Making this shift is much easier said than done. Underwriting has historically been slow to change, yet clients — and the perils they face — are rapidly changing. Making transformational investments to reinvent the role of underwriting has never been more important." (source: McKinsey & Co.)
But, fortunately for the industry behemoths, for every insurtech competing with an incumbent, there is another offering to empower them. The question comes down to "what's next?"
From the Dark Ages to the (White-) Space Age.
Insurance leaders embark on this voyage of technological discovery just as the industry faces a paradigm shift, as human risk migrates to machines. It's too early to know precisely how autonomous cars will affect motor insurance, but KPMG predicts that the market will shrink 60% by the year 2040. While the likes of Tesla may prove to be insurance kryptonite, another of Musk's iconic companies, Space-X, is helping accelerate a revolution that will give them a new super-power: geospatial analytics. [caption id="attachment_36537" align="alignnone" width="530"]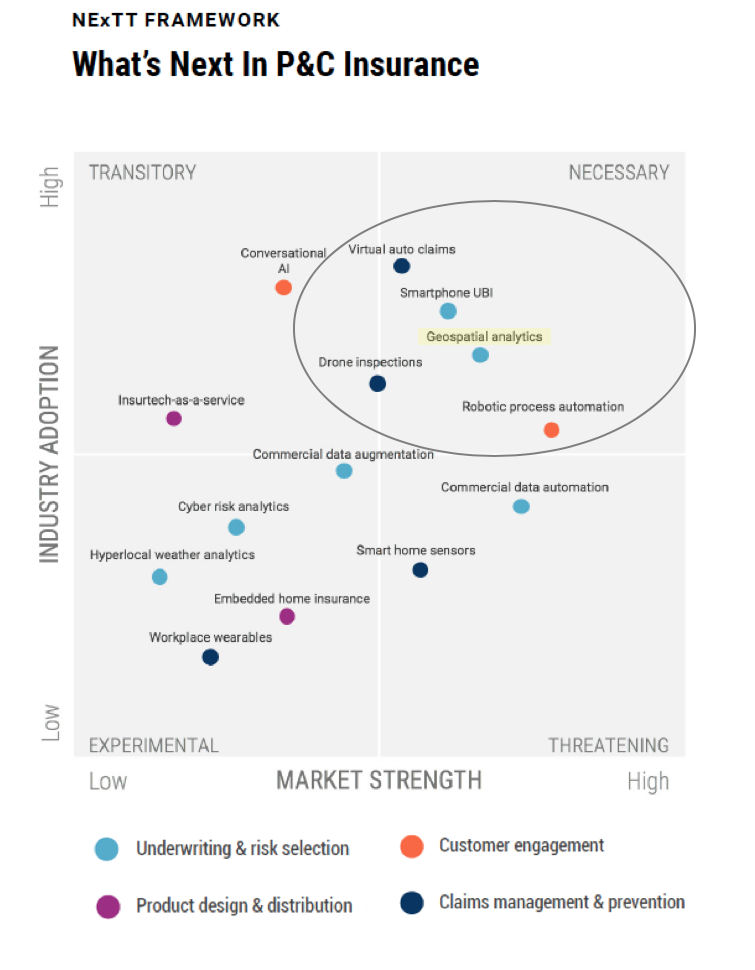 source: CB Insights[/caption] Only five years ago, there were approximately 15 commercially useful earth observation satellites in orbit. Today, thanks to SpaceX and other new launching options, over 350 observation satellites encircle the Earth, and the insurance industry is on the cusp of unlocking the potential thanks to branches of AI, such as deep learning and computer vision.
"What was once niche has today become a booming business, with estimates putting the number of small satellites to be launched between 2018 and 2027 in the range of 6,500–7,000." (source: Geospatial World)
The outcome of this space renaissance is unprecedented levels of high-quality, reliable and regularly updated data, in every nook and cranny of our planet. Thanks to recent advancements in branches of AI, such as deep learning and computer vision, these rich data sets are now cost-effective and ready for prime time, with the insurance industry a willing benefactor.
See also: Insurtech's Approach to the Gig Economy  
Critically, insurers don't need to attempt to build and manage this advanced capability in-house. Many leading names have already partnered with geospatial players, initially on the catastrophe response side. To see a real-life case study on how geospatial visual intelligence improved claims response in the aftermath of Hurricane Harvey, take a look
here
. Data-hungry (re)insurers have discovered that these evidence-based insights can tip the scales in their favor long before an event or claim, by pre-underwriting the risk. Starting today with property insurance.
Death to Forms: Frictionless Property Insurance
In a world where we can summon a car, or our favorite Mexican restaurant's veggie burrito, at the touch of a button; shouldn't we be able to get insurance cover for our homes by just providing our address? One of the fastest-growing insurtech ventures in the U.S. certainly thinks so.
Hippo
recently joined the unicorn insurance stable, raising 100 million Series D at a $1 billion valuation.
"We launched Hippo to transform the outdated and often frustrating relationship people have with their home insurance provider into one that's approachable, modern and always adding value," (Assaf Wand, co-founder and CEO of Hippo)
Traditional insurers can't change their onboarding process overnight, but one company is providing them with insights to better understand the characteristics associated with individual properties or large portfolios, from a simple address input. [caption id="attachment_36538" align="alignnone" width="570"]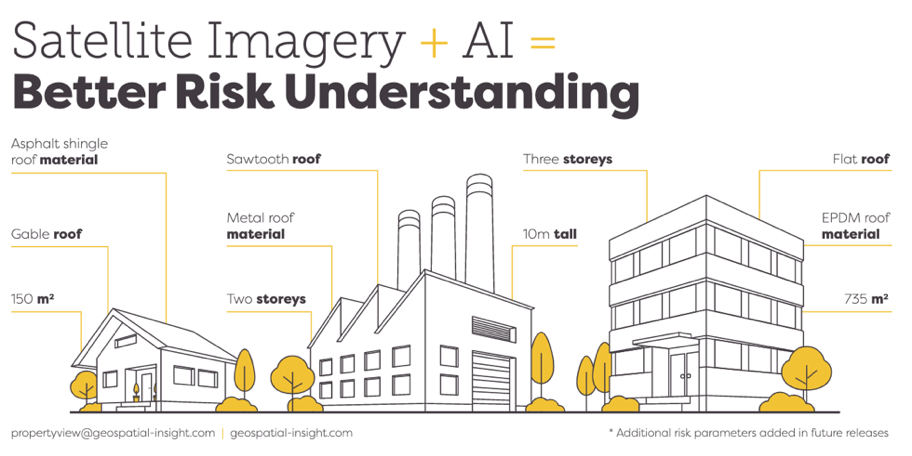 Machine Learning / Computer Vision + Satellite Images = Property Insights[/caption]
Geospatial Insight
is a U.K. company pioneering the use of artificial intelligence on satellite imagery to improve decision-making in insurance (full disclosure -- we liked them so much, I led their Series A investment round with
VenturesOne
). Their latest product,
PropertyView
, delivers new insights and enriched data to help insurers, reinsurers and brokers better understand characteristics associated with individual properties or large portfolios, supporting more confident risk selection and more accurate pricing and coverage.
See also: Insurtech Needs a Legislative Framework  
With machine learning that is constantly evolving, the company has created feature extractors detecting buildings, cars, driveways, solar panels, roads, containers and more. For residential and commercial property, the information includes building size, building height and number of stories, total floor area, roof type and material.
AI-Powered Roof Material Identification
"The key is that we can do it at scale and at a reasonable price. Similar technology exists in the U.S. but is either more costly or is driven by drone, use which is considerably more difficult to scale up." (Dave Fox, CEO of Geospatial Insight)
The use of geospatial big data analytics by property insurers and reinsurers offers to improve risk understanding in a globally scalable, rapidly deployable and affordable manner. It also allows insurers to rapidly populate risk-focused property databases, reducing the burden on clients to provide this information and aiding client on-boarding and retention. Innovative approaches prove that, 50 years from the moon landing, insurance might just be about to join the space race. One small step for insurtech; one giant leap for an industry.