The flash flooding in Texas over the weekend and into Monday crystallizes a concern that has increasingly troubled climate scientists, something that might be called "super rain." 
The issue is partly the sheer amount of rain that can fall in a single storm because global warming lets summer air carry much more moisture. Even more, the issue is how fast that rain can fall. The flooding in Texas, for instance, occurred not just because more than 15 inches of rain fell in parts of Dallas in a 24-hour period on Sunday and Monday (more than two summers' worth of rain) but because three inches of that rain fell in a single hour on Sunday -- almost half a summer's worth of rain, just like that.
Hotter weather exacerbates the problem by baking the ground, creating conditions where more water runs off rather than being absorbed. Wildfires increasingly expose more ground to the effects of that hotter weather. And, as cities grow, they pave over more ground that could absorb rain, yet sewer systems haven't been upgraded.  
Sounds like a job for insurance, right? By pricing the growing risk accurately, insurers can send important signals to policyholders, and risk managers can counsel cities, business and individuals about how to better protect their properties against "super rain." 
"The infrastructure we have is really built for a climate we are not living in anymore," said Andreas Prein, a scientist at the National Center for Atmospheric Research (NCAR) who studies extreme precipitation.
The Washington Post article that quoted Prein also said that "an analysis of weather data by the nonprofit group Climate Central found that nearly three-quarters of locations the group examined around the country have experienced an increase in the amount of rain falling on their annual wettest day since 1950 — particularly along the Gulf Coast and Mid-Atlantic. The numbers show that 2021 was a record-setting year for extreme rainfall events, with dozens of places logging their wettest day in generations."
"Super rain" exacerbated the flash flooding late last month in eastern Kentucky and St. Louis. The Washington Post reported:
"'What happened was way more than the system — any system — can handle,' Sean Hadley, spokesman for the Metropolitan St. Louis Sewer District, said of the recent storms that dumped more than 9 inches of rain there in a matter of hours, shattering the previous daily record from 1915.
"The record-crushing rain in St. Louis inundated storm drains and creeks. Sewage backed up into homes. The River des Peres swelled beyond its banks. The area's sprawling drainage systems, parts of which date to the 19th century, were quickly overwhelmed.
"'It was just too much water,' Hadley said."
The article added:
"The problem of more frequent and extreme precipitation is not only national but also global. Europe saw deadly flooding after severe rains last summer. Parts of Australia have endured tremendous rainfall in recent days, putting Sydney on track for its wettest year on record. Parts of China have experienced devastating floods this summer, fueled by rainfall that, at least in one area, dumped 3.3 inches in a single hour."
A CNN article says the flooding in Texas occurred partly because of what it calls "flash drought." The state had suffered from its second-longest drought since weather records began to be kept in the late 1800s, then, whoosh, the rock-hard ground gets hammered by a massive rain storm.
Even Texas' cherished football fields fell victim. The picture below is from the SMU stadium, where that artificial turf is going to need some work.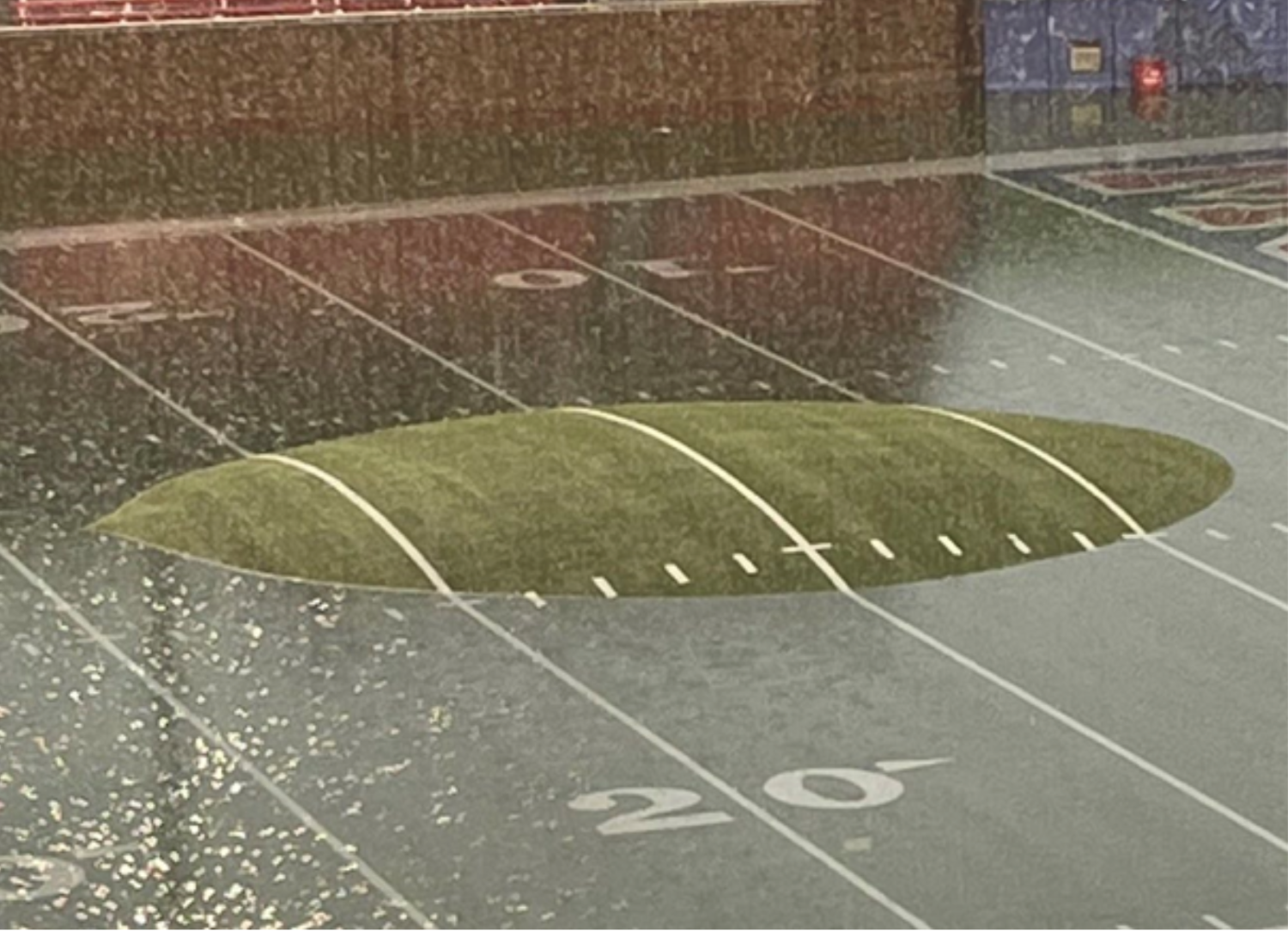 The CNN article adds: "A larger share of precipitation in recent years has come during 'intense single-day events,' and the likelihood of sudden shifts from severe drought to heavy rain will become more common on a warming planet, scientists say. Indeed, nine of the top 10 years for extreme one-day precipitation events have occurred since 1996."
A problem as large and complex as "super rain" won't be easy to address. Cities will have to update their sewer systems and rethink how water runs off after a storm -- some cities have begun removing pavement in certain areas and are experimenting with other ways to have land soak up water in a storm. Weather forecasting will need to continue to improve, so businesses and people get more warning and can get valuable assets -- including themselves -- out of harm's way. 
But insurers can play a leading role. They can identify areas that are becoming increasingly vulnerable and, through pricing, signal the dangers to those who work or live there or are considering doing so. Insurers can also continue the steady -- but too slow -- progress on flood models to identify dangers. Many areas that haven't been designated as in flood plains are, we're learning, actually vulnerable, and models can incorporate much more information about elevation than they have historically -- if your house and mine are both in a high-risk area, but your house is built on ground just 15 feet higher than mine, you're in much better shape. 
Insurers, sometimes in concert with governments, can also counsel businesses and individuals about how to harden their properties against flooding threats, including those from "super rain." In addition, insurers can set up systems to warn clients of approaching weather dangers, as some auto insurers have begun to do when hail is possible. 
In a small first step, FM Global said recently that it will provide a 5% reduction in annual premium to policyholders to encourage them to better protect their property against wildfire, floods, hurricanes and other risks. The company estimates that the credits will total $300 million.
Others will, I hope, also experiment with ways to encourage prevention and protection. It'll always be a losing proposition when two summers' worth of rain hits you in a 24-hour period, a fifth of that in a single hour, but the problem figures to just keep getting worse, so we need to start tackling it.
Cheers,
Paul