Early in the year, I was working on an assignment and needed a change management maturity model. I was surprised that, with the exception of one from Prosci and another from the Change Management Institute (CMI) (slide 9 of the presentation here), there didn't seem to be much out there.
Neither of the big-name versions quite hit the spot for me. For me, the Prosci version has some good content in the accompanying article, but not so much in the model itself. And I personally don't find the CMI's three dimensions of Driving, Receiving and Implementing very helpful for telling me how to improve an organization's change management capabilities.
It was a short assignment, and time was pressing, so I made do with what I had. But for the past few months I've been waiting for a chance to have a go myself. And now that chance has come.
Here, then, is my own change management maturity model: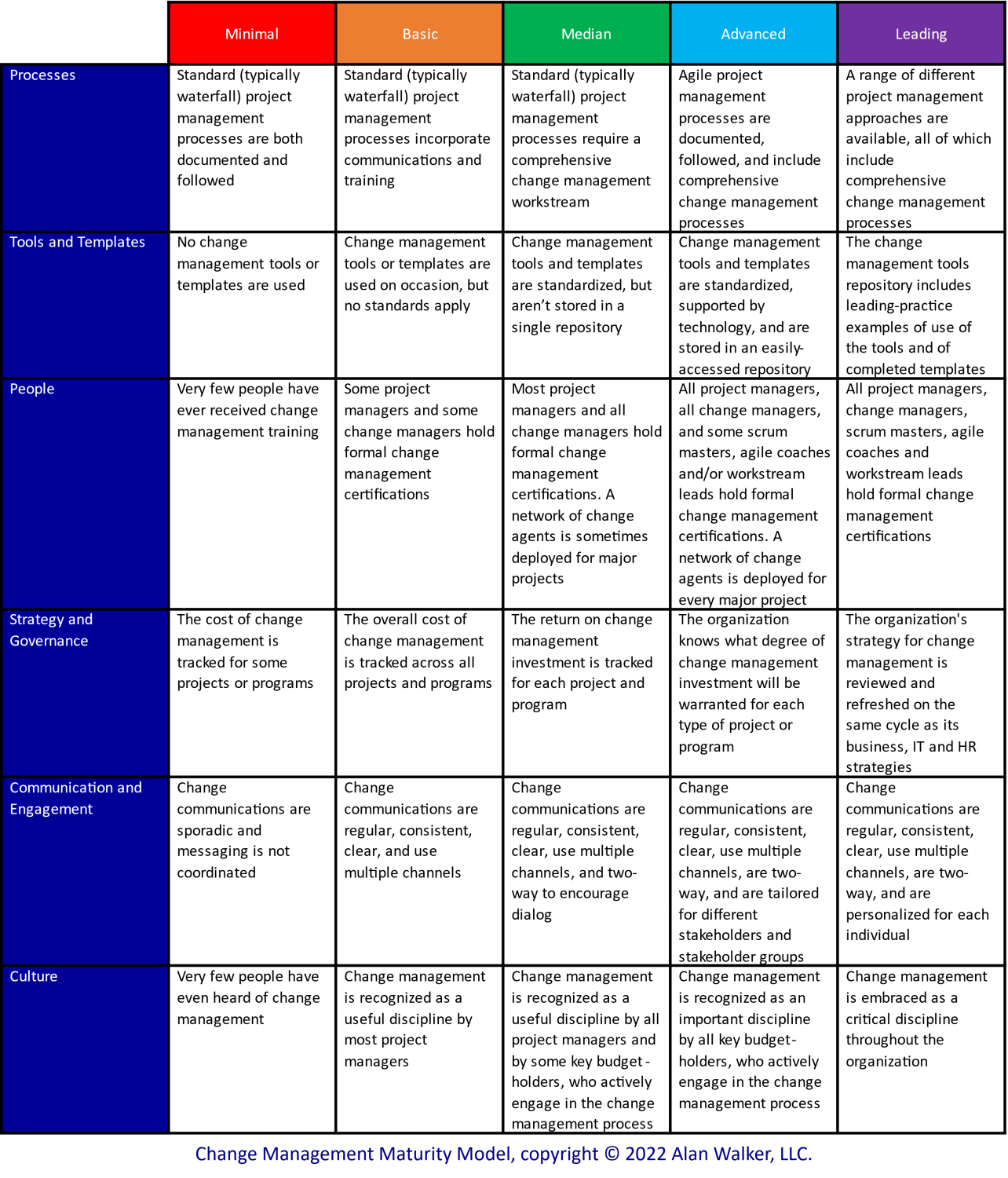 See also: COVID-19: Implications for Business Models
As a dyed-in-the-wool management consultant, I couldn't help but start with the three old stalwarts of People, Process and Technology. Though for change management, I felt that useful Tools and Templates, in whatever formats, should be the focus rather than technology in the IT sense. That's not to say that technology is ignored – it just comes in at an advanced level of Tools and Templates maturity.
Process and People are, as you would expect, covering the "how" of change management and the extent to which people have the skills and expertise to drive it.
However, I did feel it important that the Process dimension reflect both:
The importance of having proper project management in place before trying to add change management; and
The need to support non-waterfall delivery approaches such as agile, and to be able to accommodate those from a change management perspective.
At this point, I shared my thinking with my friend Katherine Rozakis of Toptal, and she persuaded me that:
Where People, Process and Technology are found, Strategy and Governance are likely to be needed, too; and
Communication and Engagement are such critical components of change management that they demand a dimension of their own.
So I added those as my fourth and fifth dimensions.
From my many years seeing the change management aspects of projects and programs being de-scoped, de-funded or just downright ignored, I also believe that an organization's Culture, specifically in relation to its understanding and acceptance of the need for professional change management, is often the critical missing piece. So I made Culture my sixth, and final, dimension.