The term VUCA (volatile, uncertain, complex, ambiguous) was coined by the U.S. military as a reaction to an increasingly complex situation, with many frontiers and unknowns around the world.
For business, the pandemic crisis has taken the VUCA elements of the corporate environments to a whole new level and even suggests adding a V, for "virtual," as the world has gone virtual in literally weeks.
Introducing VUCA+V: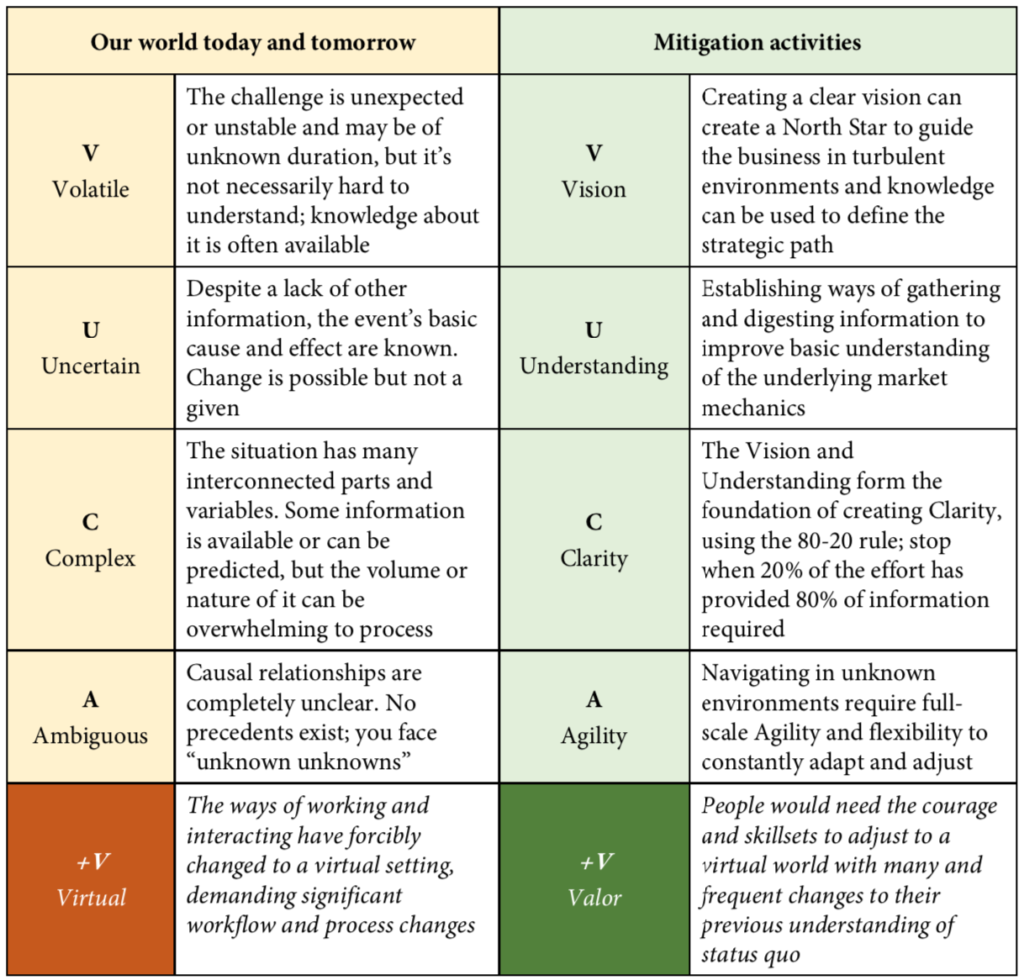 Successfully navigating the current VUCA+V environment, and preparing for the new normal bound to follow the end of the pandemic, require insurers to develop a wide range of new skill sets and rethink their operating models that up to now have been based on cumbersome processes, manual workflows and significant paperwork.
"It worked yesterday" does not mean it works today – or tomorrow.
Staying home, doing business, have forced us all to go digital. This has developed our virtual meeting skills, our online shopping savviness and our ability to handle our daily tasks and administration work online – we're looking at a seismic shift of everyone's readiness for digital products, services and ways of doing business.
The virtualization of the way we live, work, shop and interact directly affects the future demand for products and services, and people skills and competencies – we will see jobs, products and competencies becoming obsolete as the virtual ways no longer require them. As a result, companies and people will need to redefine who they are and what they offer.
The pandemic and lockdown have almost completely changed the playing field all over the world – and this means the players have to adapt if they want to stand a chance to win in the future game.
In a world they haven't seen before, insurers must do what they haven't done before if they want to stand a chance to succeed.
The world's virtual habits have changed profoundly, so insurers must adapt to serving customers virtually. Now and post the pandemic.
The virtual insurer's toolbox
Successfully competing in a new VUCA+V world requires insurers to develop a new set of tools and methods and apply them swiftly and thoroughly. Here's a brief overview of some of the most essential:
Strategic savviness (Vision)
Artificial intelligence (Understanding and Clarity)
Organizational agility (Agility and Virtual)
Strategic savviness — Vision reduces volatility
Navigating through troubled waters requires a firm leadership team, constantly focusing on the company's North Star – the strategic direction and goal. For a North Star to be effective, it must be specific, and reaching it must be realistic. It makes little sense to have a North Star set on conquering new markets if the insurer is struggling in the current one. The North Star therefore changes over time as the insurer progresses. The key to a successful use of this concept is to make sure everyone in the company is aware of the direction and believes in it.
Scenario-based ability to analyze and forecast market developments under various circumstances is another key element in creating a sustainable company, as this enables the insurer to prepare for the various outcomes and act swiftly when required.
Swift reaction requires a fast response mechanism, an "if this happens, then we do..." preparedness.
See also: Building a Virtual Insurer Post-COVID  
Deployment of artificial intelligence — Understanding and Clarity help navigate through Uncertainty and Complexity
Predictions of trigger events identified during the strategic scenario planning can be done by using artificial intelligence to constantly gather information and analyze the market developments, thereby enabling the insurer to act faster and with greater confidence.
To extend the insurer's ability to predict market changes, artificial intelligence can be expanded to create an early warning system (EWS), analyzing key financials from the insurer and comparing the trend in these with the trends found in the market.
A simple example could be monitoring the development of claims costs for car repairs and comparing this with macro-economic parameters (import index, exchange rates, etc.) to predict changes in, for example, spare parts prices and then cascade this down to expected development in claims costs and further into the underwriting models.
Advanced analytics will therefore be able to suggest corrective actions to keep the insurer solvent and on the right track earlier, as the AI will analyze large datasets constantly at a pace humans cannot keep up with.
This information could be directly used in advanced underwriting models that, if automated, would provide customers with immediate quotes and improve the customer experience and deliver on the here-and-now expectations in the new normal.
Organizational Agility — Agility and Valor improve adaptability to Ambiguous environments in a Virtual setting
It is imperative for insurers to keep agile and flexible not only during the pandemic but also after, as several aftershocks in the markets can be expected – we're in a recession, and it will take time before the markets stabilize, if they ever do.
One thing is clear; once the markets have returned to a more stable state, we will be facing a new normal that everyone has to adapt and adjust to.
The two most significant factors that cripple insurers' flexibility and ability to adjust quickly to internal and external events are fixed costs and workforce rigidity, with a certain amount of interdependence between these.
It is difficult to keep profitable in a market with very fluctuating demand and price indexes – to do so, the insurer must at a minimum be able to adjust the cost base to reflect the changes, and to do so immediately. It is of little help if it takes several quarters to adjust the cost base to changes that happen overnight.
The insurers therefore have to relook at fixed costs like rent and other long-term commitments, once being the permanent staff. It is advisable that the insurer offshores as much back office and operations as possible to enable faster adjustments to the cost base – this may come at an initial cost premium, but this will be more than offset by the increased ability to adjust expenses to market developments.
Incumbent insurers are organized in silos with a high degree of independence and little direct interaction. This provides a stable organization that works like a well-oiled machine in stable times.
However, the machine is rigid and not very ready for the process changes required to keep up with constant market fluctuations, and changes will not be carried out fast. This must change if the insurers are to stand a chance to survive – and thrive – in the new normal.
It goes without saying that the future insurer must digitize all processes and ways of working and become truly virtual. It's not enough just to "add electricity" to existing processes, as this will just digitize the old – the insurers must redesign and digitize all processes to accommodate the demands for agility and flexibility.
Supporting – or enabling – the organizational changes must be done by a new way of thinking about technology – insurers cannot get rid of their aging legacy systems overnight, so it is necessary to explore ways of working with "two-speed" IT, building a flexible layer on top of the legacy systems.
This will provide the insurers with the needed agility to adjust processes and customer- facing applications at the speed needed to keep up with the changes in consumer behavior and expectations.
Implementing changes at the scale discussed here can almost be likened to establishing a brand-new insurer – it's not a little task and must be carried out wholeheartedly and with absolute full and unanimous support from the entire management.
Initiatives like these – that are required – are board-level material, as they will require investments and many unpopular decisions to work. It usually takes a crisis before changes of this magnitude are approved and can be done.
Now is the time.
Stay safe and good luck.