We often get asked where you should go when you want to be inspired by insurance innovations. We always answer that people should look at Asia more seriously.
Think of giants like Ping An and Zhong An leading the way. Think of innovative solutions in the health sector such as Ping An's Good Doctor and Tencent's Waterdrop. Or ecosystem plays such as Rakuten, Grab and GoJek.
An important catalyst in developing the Asian insurance market is Invest Hong Kong. Hong Kong is one of the world's leading fintech and insurtech hubs. Hong Kong has 165 authorized insurers (as of August 2020), and the total gross premiums of the industry was $74.4 billion in 2019 (9.1% growth compared with 2018). With 34 insurers having their regional headquarters in Hong Kong, the city serves as a breeding ground for fintechs and insurtechs that aim to conquer Asia. InvestHK plays an instrumental role in making all of that happen. That is why we sat down with Stephen Phillips, director-general of investment promotion at InvestHK, and King Leung, head of fintech at InvestHK, to have them share their thoughts on the flourishing insurance industry of Asia.
In your view, why is Asia taking the lead in accelerating digital transformation in the insurance industry?
Stephen Phillips: "The Asia-Pacific region is home to nearly one-third of the world's population and several of the fastest-growing economies. Because of the sheer population size and growth, Asia is already playing a key role in shaping the future of insurance. More importantly, insurance penetration is less than 5% in India, Indonesia, mainland China and Malaysia, signaling a significant amount of unmet demand in Asia-Pacific's developing markets. In Asia, the insurance industry is all about an inclusive growth mind-set, customer relevance and speed. Growth is established by expansion beyond the traditional distribution channels, product innovation and building new business ecosystems. Regarding customer relevance, in Asia, insurance is not seen as a compulsory product but as a primary product for savings and protection, playing a very relevant role in the lives of clients. Customer expectations in the Asia-Pacific region are the highest in the world, especially around digital interaction and experiences. Because of the growth mind-set, insurance markets in Asia are evolving quickly. To stay on top of fast-changing customer needs and market landscape, Asian insurers have learned to make decisions fast."
Let's talk about the Greater Bay Area, set up by the Chinese government to integrate Hong Kong, Shenzhen, Macau and eight southern mainland cities into a 72 million population market and a leading hub for innovation and economic growth. Can you share a bit more?
Stephen Phillips: "The Greater Bay Area (GBA) Initiative encourages further internationalization of China, where mainland Chinese customers can access more international financial products through Hong Kong. Likewise, overseas companies can access financial products and RMB assets from China. In May this year, the People's Bank of China and the mainland Chinese regulators have announced an updated framework of four core areas and 26 specific segments of financial services where different extents of opening up and transformation among the 11 cities in GBA are encouraged going forward. With a GDP of $1.68 trillion in 2019, the GBA would be the 11th largest economy in the world, just behind Canada and ahead of Russia. There are endless possibilities in this exciting development!"
Which role will Cyberport play in the development of the startup ecosystem in Hong Kong?
King Leung: "Cyberport functions as Hong Kong's digital technology community. It is home to about 1,400 digital tech companies, including more than 380 fintechs. It is the largest fintech and insurtech community in the city. This community also consists of many startups, including several of the newly licensed virtual banks, as well as established enterprises such as insurtech unicorn ZhongAn, AWS and Microsoft. These tech companies focus on several areas: AI, blockchain, big data, cybersecurity, insurtech, wealthtech, etc. Cyberport also runs its own Cyberport Macro Fund, where it co-invests in promising companies with other private investors."
We've been there. It's huge. Almost a city quarter.
King Leung: "Yes – it's a big business park consisting of four office buildings, a hotel and a retail entertainment complex. Cyberport is wholly owned by the Hong Kong government. The mission is to help youth, startups and entrepreneurs to grow in the digital industry. Cyberport is connecting them with investors and strategic partners such as local and international business partners, established insurance companies. Cyberport is Hong Kong's flagship digital technology hub. It is committed to inspire innovation and accelerate digital adoption. We all believe in the importance of ecosystems. To develop and enhance the fintech and insurtech ecosystem, Cyberport provides local and overseas fintech companies a jump start to success, for instance, by offering full-range entrepreneurship support and value-added services."
Apart from Cyberport, are there any other key stakeholders that help the overseas insurtech companies launching in Hong Kong?
Stephen Phillips: "The Insurance Authority (IA), the Hong Kong insurance regulator, has been closely monitoring the development and application of technology in the insurance industry and proactively assisting market participants to tackle insurtech-related regulatory issues. IA's Fast Track program offers a dedicated channel for new authorization applications from insurers using solely digital distribution channels (i.e., without the involvement of intermediaries) to provide insurance products with a simple structure and high protection element. Between December 2018 and May 2020, IA has granted four digital insurance licenses (two life and two non-life). In addition, the IA launched an insurtech sandbox in September 2017 to facilitate a pilot run of innovative insurtech applications by authorized insurers to be applied in their business operations. In addition to IA, Hong Kong Science and Technology Park (HKSTP) also acts as an important facilitator to Hong Kong fintech businesses. Its Incu-App program, for instance, provides startup support to companies working on business innovation during their inception stage, with a full range of tailor-made support services and facilities that will help drive their business to the next level of development."
How will China's insurance industry benefit from the flourishing insurtech ecosystem in Hong Kong?
Stephen Phillips: "The Greater Bay Area will introduce more and more opportunities. In May 2020, the People's Bank of China and the leading regulators announced an updated blueprint for opening up the financial services sector in the GBA across four core areas and 26 financial services segments, including insurance. As the population in the Greater Bay Area has one of the highest GDP per capita in China and are more aware of insurance, demand for insurance will naturally increase. This trend will lead to more insurance companies setting up and expanding their presence in GBA. As more international competitors enter the market, more choices are made available to the GBA customers. At the same time, the intensified competition will lead to more innovative digital features and better customer-centered solutions. To get a piece of China's booming insurance industry, insurers must leverage technology. To ensure that insurers market growth and scalability, digital distribution channels become a crucial success element."
The flourishing Asian markets are obviously attractive to fintechs and insurtechs …
King Leung: "Definitely. The Hong Kong fintech and insurtech scene has experienced incredible growth in recent years. As of 2019, more than 600 fintech companies have set up their businesses in the city, among which 53% see Hong Kong as a base for global expansion and 51% operate/plan to expand in the Greater Bay Area. The world-class capital and private investment market in Hong Kong also provide the necessary fuel to accelerate the growth opportunities. From 2014 to 2019, private investment in HK-based fintech companies reached a total of $1.5 billion. In addition, over $10 billion have been raised through fintech IPOs. In 2019, Hong Kong also invested $1.3 billion in nurturing local tech talent, and $64.1 million in attracting overseas tech talent. To support the fintech community on employment amid the COVID-19 pandemic and nurture talent, the government launched the Fintech Anti-epidemic Scheme for Talent development (FAST), where fintech companies will be entitled to a subsidy for talent recruitment. With a total funding amount of $15.4 million, the scheme is designed to create 1,000 fintech-related jobs. Hong Kong (and surrounding cities in the GBA) are home to a huge and diverse talent pool in finance and technology. The local education system is also internationally acclaimed; many universities and institutions have launched fintech-specific programs from BSc to PhD to online professional training in recent years. This talent pool equipped with the latest skills and knowledge in finance and technology provides Hong Kong with a strong foundation for further fintech development going forward."
As a global city, Hong Kong is attracting people from all over the globe.
Stephen Phillips: "Hong Kong also enjoys an ideal geographical location in Asia. This enables businesses to seize opportunities in the Greater Bay Area and throughout the rest of the region. Many people are drawn to Hong Kong because of the vibrant lifestyle, beautiful scenery, convenience and welcoming international community. The international business community reflects this, allowing businesses of all types to thrive in the city. Hong Kong is also one of the safest cities in the world to live in due to its relatively crime-free society."
Hong Kong has been recognized as one of the world's most competitive economies. The ranking reflects Hong Kong's consistent strides in building a favorable business environment. Can you describe the benefits of Hong Kong's open business environment?
King Leung: "Opening businesses, for instance, is easy and remains inexpensive. Foreigners can be sole directors or shareholders in a Hong Kong company. There are no restrictions of nationality. InvestHK makes it easy for companies to open up their offices in Hong Kong with all sorts of free facilitation services. InvestHK assists with opening bank accounts, arranging work visas and work permits, helping you find the most optimal office space, etc. and introducing you to the key insurtech stakeholders. We also just kicked off a Global Fast Track program in mid-August for startups around the world as a key element of our flagship annual Hong Kong Fintech Week event on Nov. 2 to 6. We invite fintechs from around the world to participate in the FastTrack program, where we offer support from government funding for business matching with financial services institutions and private fintech investors. The Hong Kong government also encourages business development by providing one of the most tax-friendly systems in the world. And, most importantly, business opportunities can be maximized by taking advantage of the business infrastructure in place. People are open to do business. We're more than happy to help make the right connections and help you succeed in Hong Kong."
About InvestHK
Invest Hong Kong (InvestHK) is a department of the Hong Kong Special Administrative Region Government tasked with attracting foreign direct investment to Hong Kong and providing overseas and mainland companies and entrepreneurs with information, advice and services they need to succeed in the city. It works with companies of all sizes, from startups and SMEs to multinationals, and it supports them in every stage from planning, setting up to promotion and expansion.
The staff stationed in 32 offices in key markets worldwide reach out to potential investors and work to strengthen and promote Hong Kong's status as Asia's premier investment destination. All of the services are free, customized and confidential and based on the core values of passion, integrity and professionalism. InvestHK strives to provide the best customer service combined with business friendliness and responsiveness.
When the Hong Kong government decided to step up the focus on fintech and insurtech promotion, InvestHK set up a dedicated fintech team with physical presence in Hong Kong, Guangdong-Hong Kong-Macao Greater Bay Area, London and San Francisco to engage with fintech and insurtech companies to raise the profile of Hong Kong as a fintech and insurtech hub. With their vast network in the private sector, they are a conduit for business.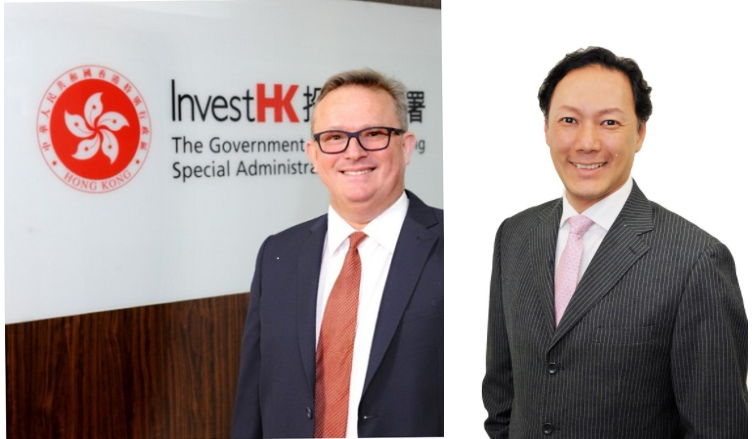 Written by Roger Peverelli and Reggy de Feniks, Founder of The DIA Community. Originally published here.