Digital transformation initiatives have become an imperative for businesses in the modern age, but many organizations struggle to reach their objectives. Based on a survey of 200 respondents (the majority in the financial services field) conducted by IDG Research Services,
more than half
of organizations have been forced to pause or completely abandon digital transformation projects. Where the insurance industry is concerned, the struggle is real. Friss, a risk assessment and detection services provider, discovered that only 69% of insurers offer some form of online distribution. On the surface, it appears that the industry is moving in the right direction, with more than half of insurers on the digital track. However, this number has risen only
4%
 since 2016, even though as many as
80%
 of consumers use digital channels during the purchasing process, according to some research. Survey findings indicate a strong disconnect between insurer expectations and objectives. In 2016, 25% of insurers that had not introduced online distribution expected to do so within a year. Had they been successful, the current number of online insurers would now be around
75%
. Currently, only
69%
 of insurers report offering some form of digital distribution. Through its research, IDG discovered that organizations stall or fall short because they have failed to lay the groundwork for successful transitions. Sixty-two percent have not documented or communicated their plans across the organization, and 64% have no plan for dealing with outdated or legacy technology. To put the insurance industry on a contemporary path toward digital prominence, insurers need to plan for the obstacles they face and implement a strategy that ties legacy systems into future-proof distribution designed to reduce internal costs and meet the needs of consumers.
Understanding Digital Transformation Opportunities and Challenges
According to Forrester, implementing digital technology "dramatically alters the balance of power between customers and companies." Customers gain the upper hand with better information and choice, but insurers succeed by lowering the cost of doing business. Digital leaders find it a factor of 10 cheaper and faster to engage customers and provide them with an experience that meets their rising expectations than those
relying on traditional practices
. Considering the benefits, digital transformation tops the agendas of many executives, but businesses across the board find it difficult and costly to modernize their operations. In IDG's research,
64% of companies
cited legacy technology as a top transformational impediment, followed closely by technology silos (59%) and cost (50%). At least half don't know where to start. It's interesting to note that businesses in general experience many of the same top challenges as insurers when it comes to digital transformations. Often, policy administration is handled in silos operating on outdated technology stacks. With so much data at stake, it's difficult to create a plan of attack for uniting back-end systems. However, it's a situation where the effort is worth the price. Bain prioritized 30 fundamental values that, when in place, can elevate the customer experience and push insurance products above the commodity status. Values were divided into four categories: social impact, life-changing, emotional and functional. Each category is defined by consumer needs, such as "saves time," "reduces anxiety" and "avoids hassles." Insurers that rank high in more elements of value achieve higher Net Promoter scores and realize above-average growth,
according to Bain
.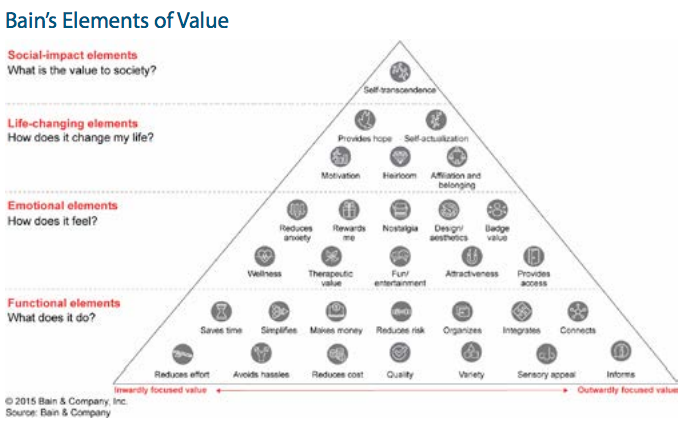 To excel in these categories, however, insurers need to establish relationships with customers. According to Bain, staying in frequent contact, digitizing purchasing and servicing and offering ancillary services are the primary components of an insurer's relationship-building strategy. However, legacy technology and product silos impede insurers' ability to swiftly react to customer inquiries and issues. Accessing the necessary information is often limited or time-consuming, and, when it comes to offering additional products or services, insurers are unable to extract the necessary insights quickly enough to make real-time product recommendations a reality. Beyond technology considerations,
62%
 of organizations have failed to lay a solid foundation for transformation by establishing a plan and effectively communicating it to relevant stakeholders. Planning and communication become necessary in light of the impact digitization has on the organization, particularly where resource management is concerned. As insurers engage in digital transformations, processes within the organization change, affecting job functions and the people who perform them. McKinsey says that up to
25%
of current business processes could be automated, resulting in the consolidation or elimination of up to
25% of full-time positions
.
See also: Culture Side of Digital Transformation  
Technology and automation also open doors to new roles and occupations. McKinsey points out that 25 years ago jobs in areas such as IT development, hardware manufacturing and app creation did not exist. Just as new employment opportunities arose out of the technology revolution, automation will generate demands for new skills, creating job roles in insurance that we can't imagine today. Part of a successful transition is understanding what processes will change and how those changes will affect existing roles across the organization. Envisioning new roles at the beginning allows insurers to identify existing talent that can be upskilled or reskilled to fill new vacancies.
Making for Successful Digital Transformations
At the heart of successful digital transformations is a focus on the customer. Digital leaders understand this, with
92%
 reporting that customer experience is central to their strategy. Digital leaders, such as Amazon, become industry giants because they can tie revenue outcomes to specific measures of customer satisfaction and tweak or completely revolutionize their business approach accordingly. According to Forrester, digital leaders succeed by adhering to four basic principles: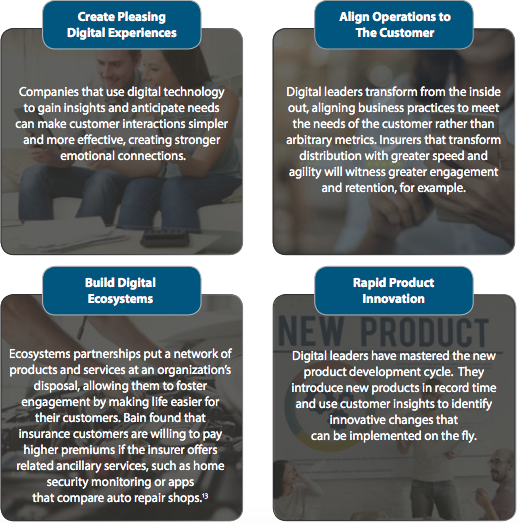 A customer focus during digital transformations ensures that outcomes meet the intended objectives. Insurers can plan from the outset to build the necessary speed and efficiency into digital channels while ensuring cross-functional capabilities. A recent consumer study conducted by Facebook and comScore revealed that the typical insurance-buying journey is short.
Thirty percent
of consumers made a decision within a day, while the same number took less than a week to select their insurer. That gives insurers a short window of opportunity to engage with consumers and secure their business.
According to J.D. Power
, a preference for digital interactions is on the rise. In their surveys, over 60% of consumers use online channels when researching insurers, but
only 42%
 use these channels to purchase. Pitted against consumer expectations shaped by the Amazon experience, too many insurers fail in speed, efficiency and convenience,
 J.D. Power says
, forcing consumers to seek out more digitally proficient insurers or to switch to other channels when purchasing coverage.
Filling the Gap with Digital Transformations
When it comes to improving the customer experience, insurers are filling the gap between expectations and reality by ramping up their digital capabilities. In a recent survey of industry executives conducted by SAP,
85%
 were prioritizing the development of digital and mobile channels. Findings like these indicate that insurers understand the need for digital engagement. However, there is no indication that insurers have conquered the impediments to creating an efficient omni-channel environment. To do so, they need to unite back-end systems to obtain a complete view of the customer, including every policy on record, as well as consumer data and related insights. With legacy technology and siloed systems at the top of executive concerns, it's no wonder that business leaders are partnering when it comes to gaining digital capabilities. Respondents to the IDG study expect
more than 1/3
of their transformation initiatives to be handled by a third party. This approach is particularly applicable to the insurance industry where overhauling systems is risky and problematic. "In a time of disruption, the smartest insurers recognize they can't do everything on their own. They're teaming up with insurtechs and other companies to modernize their operations, from distribution to claims processing," said Dr. Henrik Naujoks, head of Bain & Co.'s financial services practice in Europe, the Middle East and Africa. Integrating third-party solutions with existing technology puts insurers on the digital fast track without the worry of disrupting data held in traditional systems. According to Rick Huckstep, chairman, Digital Insurer, the insurer's existing system becomes the system of record, while digital distribution platforms supply the digital front end. In the process, back-end systems are connected through a single point of access, providing clear visibility across policies to all channels. This capability is necessary to ensure an efficient omni-channel experience for the customer. By connecting all policy silos, agents and customers are able to quote, issue and bind multiple policies from a single application. Through automation, the process is completed in minutes, ensuring that insurers capture customer purchasing intentions at the moment they are ready to buy.
See also: Future of Digital Transformation  
Digital distribution platforms also simplify the approach to ecosystem environments, providing insurers with a ready platform for connecting with ancillary service providers or other insurers. Bain's in-depth consumer research reveals that digital leaders are excelling with three main capabilities. These core components of a leading digital strategy are all easily addressed with the application of a digital distribution platform:
Core Business
High-quality products are delivered at competitive prices. Customer experiences are simple and digital.
How a Digital Distribution Platform Helps:
Automating much of the quote-to-issue lifecycle reduces insurer costs and provides an ecosystem environment where insurers can connect with other insurance companies. By using products from other insurers to meet price points or when there is no appetite for the risk, insurers can always fulfill the needs of their customers.
Going Beyond Insurance
Insurers foster engagement and a sense of affiliation by offering ecosystem services from third-party providers.
How a Digital Distribution Platform Helps:
Outside vendors can be connected to digital distribution platforms, allowing customers to move freely from the insurer's website to third-party applications. Customers can simply and easily take advantage of ancillary services right from the insurer's website.
Prioritize Innovation
Insurers understand the urgency behind digital initiatives and push for speedy digital transformations.
How a Digital Distribution Platform Helps:
Digital distribution platforms provide insurers with a complete digital environment, from online storefront through back-end integration, in a matter of weeks. Connecting with digital distribution platforms drastically improves the odds of transformation success. Aside from implementation simplicity, insurers gain the benefit of expertise. Platform providers are well-versed in the impacts that transforming to digital distribution have across the organization and are equipped to lead insurers through the process. They advise on staff changes and have resources on hand to fill talent gaps, thereby increasing the odds of success.