According to McKinsey's Global Innovation Survey, 84% of executives agreed that innovation is critical for their business and is an important component of their growth strategy, but only 6% are satisfied with innovation performance. This gap between strategy and results can be felt across the commercial insurance industry. While commercial lines carriers and brokers have focused intensely on digital transformation initiatives for the past several years, many lines of business, core operational processes and manual workflows have not been modernized in a meaningful way in 30 years.
We all know that digital transformation is a journey, not a destination. Large-scale change doesn't happen overnight, and digital strategies can take years to develop and implement.
"I've been in the insurance industry for 20 years, and, as long as I've been here, we've been transforming," says Stacey Brown, head of global technology innovation, AXA XL, a division of AXA, and founder at InsurTech Hartford. "And I'm certain that, long after I've retired, we will still be transforming. Change is the only constant. There is always resistance to change. Everyone in an organization can know they need to change, but they can't agree on how."
We also know that change agents at all levels of the organization play an important role in sustaining the momentum of any innovation initiative.
Change agents are essential to overcome organizational inertia and resistance to change; they help motivate and align people around the "how and why." But what qualities define an insurance change agent, and how can insurers identify and nurture those qualities? To help answer these questions, we reached out to several insurance industry leaders and subject matter experts who know first-hand what it takes to roll out successful digital strategies and mobilize internal change agents to embrace – and lead – meaningful change.
Change Agents Stand Out
A common theme is that identifying internal change agents isn't an issue; they're easy to spot.
"Innovative change agents often think outside the box, leveraging knowledge and experiences from a wide variety of areas – from different jobs, roles and industries to reimagine the possibilities," says Denise Garth, chief strategy officer at Majesco. "Because of this background, they are often considered rebels or rabble-rousers who too often are discounted but instead should be embraced by leaders."
Brown agrees: "Change agents are vocal for the most part. They tend to stand out in organizations because they are outspoken about how they see that things could be different. If you want to empower change agents and teams to embrace or lead change, you need to give them a reason. Help them understand why innovation is important and how it fits into the organization's strategic goals. Find out what motivates them. The intrinsic and extrinsic motivators to embrace change will differ from person to person. Sometimes, 'your job will suck less' can be a motivator. Sometimes it's incentive plans, promotions or opportunities to advance in their career and take on new challenges."
The real challenge for insurers is how leadership responds to change agents – whether companies encourage challenges to "the way we've always done it" or attempt to ignore or suppress them.
"I would argue that one of the greatest roadblocks to digital transformation in commercial insurance is a lack of organizational courage," says Jason McDermott, president and CEO of Chisel AI. "In an industry composed of professional risk managers, courage to challenge the status quo is not a natural strong suit; it must be purposefully cultivated and nurtured."
It takes courage to step up and speak about the need to change and improve. "You need to be comfortable with challenging people, with being the only person at the table who thinks one way and who isn't going to get swayed the other way automatically," says Mark Rieder, senior vice president, head of innovation at NFP, a leading insurance broker and consultant.
Any type of organization can transform its culture, according to Kris Østergaard, author of Transforming Legacy Organizations: Turn Your Established Business Into An Innovation Champion To Win The Future. "But it doesn't happen by itself, and it is probably also the most difficult endeavor that organizations can set out on – much more difficult than getting to know and apply technology. Culture is the 'hard problem' of corporate innovation. It demands that companies transform their entire systems away from misaligned key performance indicators, legacy IT and business models, ineffective work methods, too-high-risk averseness built into strategies and business plans and short-term thinking. It has far more to do with this than it has to do with people's lack of willingness to change. Of course, there is human resistance to change. It is a real thing. But human beings are actually remarkably adaptable to change – if they have the right conditions to change under."
See also: Bright Prospects for 2022
Building a Culture of 'Change Resiliency'
"It all comes down to two things," says Kacie Conroy, director of IT at M3 Insurance, one of the top insurance brokers in the U.S.: "Merge the IT and business worlds together to innovate and to experiment early and often. This means you need to build a culture of experimentation and change resiliency. That also means that the term 'failure' needs to be redefined. The only failure is not trying, not experimenting, and not learning. This approach allows you to learn, adapt and ultimately bring more value to your business.
"When cultivating innovation in your organization, locate those 'intrapreneurs' who thrive on change, are curious and think creatively to establish a foundation of innovation. Use this newly formed community to participate in pilots of new, innovative technology.
"Technology is the easy part. The focus, and the hard part, is all about HOW you innovate, HOW you implement the change. With seemingly unlimited options, it requires businesses to think more creatively like an artist when it comes to painting the picture of their innovation strategy."
"What isn't changing?" asks Amy Radin, author of The Change Maker's Playbook: How to Seek, Seed and Scale Innovation in Any Company. "Today's pressures are not defined by any one trend; they are the sum, with compounding effects, of multiple parts of the business model changing simultaneously, unpredictably and at times in conflict with each other."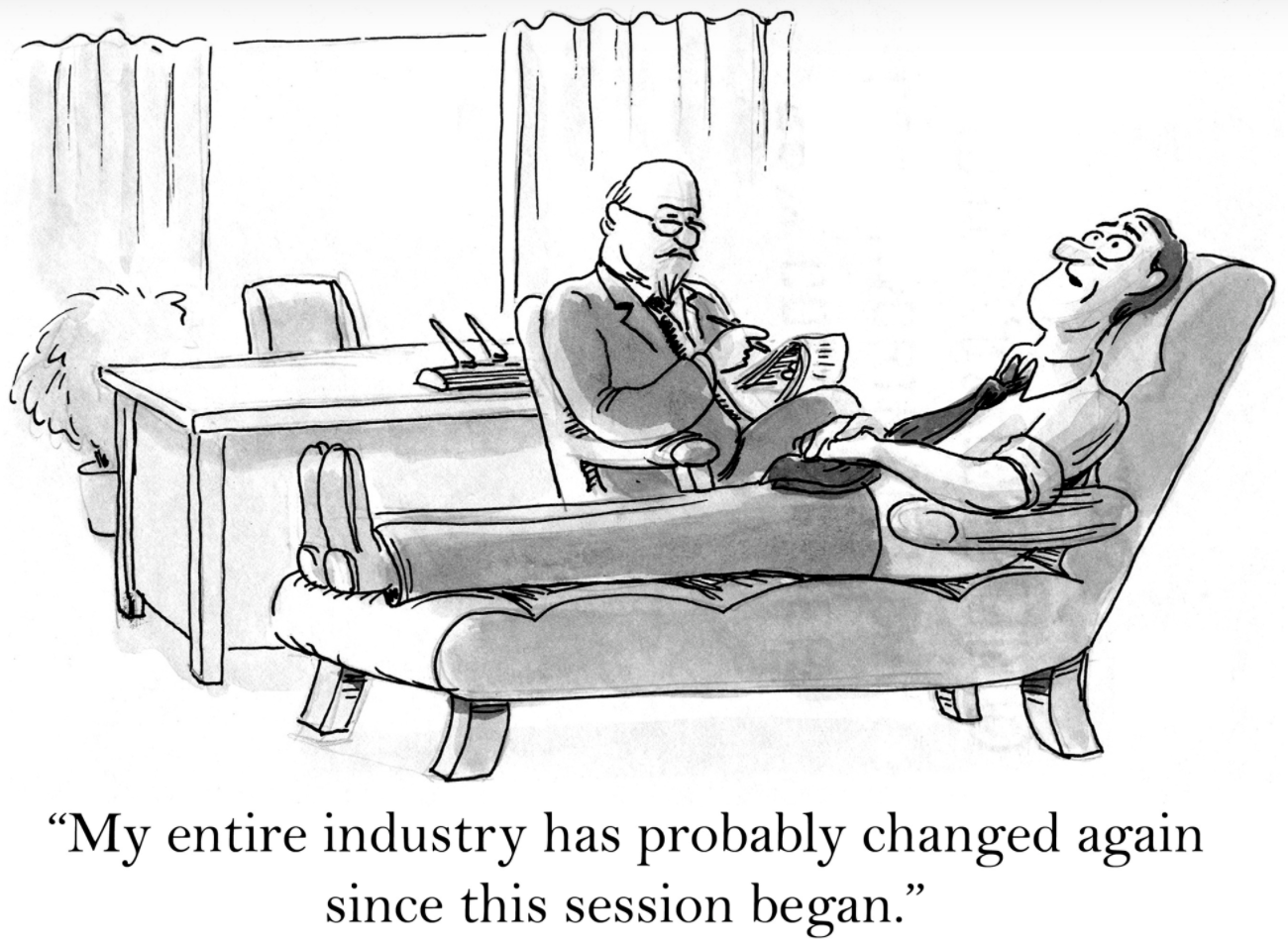 "Change agents are people at the top and throughout an organization who provide leadership and direction that motivate, inspire and empower others to execute toward a new future state," Radin says. Based on Radin's experience, these leaders:
Recognize the inevitability of change and demonstrate urgency to act
Visualize a purpose and North Star direction
Magnetically attract diverse talent – intellectually curious, continuous learners and collaborators
Create a culture where people are empowered to execute, take risks and bring forth new thinking
Ensure people have access to required capabilities and resources
Establish governance that is fit for the purpose of transformation
Are decisive and role models of agility
Are customer- and partner-focused, letting market insights drive strategy 
NFP's Rieder believes that insurance leaders who are effective at leading change and motivating change agents possess the ability to help people "come to a decision on their own and allow them to be the ones bringing the ideas to the table." Innovation leaders need to "be comfortable with being behind the scenes, pushing people 'towards the light.'"
Tapping Into an Innovation Ecosystem
While we've focused primarily on internal change agents, insurers often look to distribution partners and insurtechs for guidance and solutions to help accelerate change. The emergence and maturation of a robust insurtech ecosystem has generated ideas and innovative solutions that insurers can tap into. Dan Keough, chairman and CEO at Holmes Murphy & Associates and co-CEO at BrokerTech Ventures, stresses that insurance innovation is collaborative, requiring industry-wide cooperation and alignment both within and beyond the insurer's walls:
"At the highest level, there should be alignment around change, and the solution impacting change to achieve end-results we are working toward, together," Keough says. "Effective change agents are action-oriented individuals who have a great understanding around the problem we are collectively trying to solve, and those who are relatable to the individuals with the task [change] at hand. Transformative change needs to be supported and led out by senior leadership, and then activated through and by internal entrepreneurs [e.g., labs by BTV & Holmes Murphy].
"As an example, in our first BrokerTech Ventures Cohort, we were able to learn about Broker Buddha – an insurtech company that is addressing the insurance application process, activating technology to create ease and efficiency, demonstrating a smoother process for our service teams, ultimately delivering a greater client experience for our carriers and to the end-client. The success of such change/transactional transformation was predicated around the alignment of stakeholders along the insurance value chain, who all worked together to produce a better outcome for our client.
"Ultimately, alignment around change, and integration throughout the stakeholder value chain, delivers a culture of innovation and one which is open for lasting and transformative change." 
Bold Is Beautiful
If there's a common denominator in the perspectives above, it's that change is constant and inevitable. How insurance organizations manage change is critical.
"Change is always scary, uncomfortable and harder to accept than the status quo," says Chisel AI's McDermott, "but it can also be tremendously rewarding. Having spent 30-plus years of my career working with technology startups, I've experienced firsthand how it feels to take a leap of faith and stand on the ledge of uncertainty. So, we need change agents with the courage to provoke change, to act as the catalyst for change and to emphatically guide co-workers and peers through the transformation. With technology as the enabler, it takes individuals with grit and determination to thrust innovation forward within their organizations, rally others for the change ahead and reimagine new approaches to drive tangible business outcomes."
See also: 3 Reasons for Insurtechs, Agents to Collaborate
"Technology moves at such a rapid pace, and the insurance industry is now seeing this firsthand," says M3 Insurance's Conroy. "In some ways, insurtech is challenging our risk management roots. We need to get more comfortable with change, specifically the unknown, and stop striving for perfection."
"I also think we as an industry need to be bolder," Rieder says. "I see a lot of people get caught in 'pilot hell,' where they're doing 12 technology pilots at once. Well, how's that impact top-line revenue growth or bottom-line efficiency if you just test a bunch of stuff and never pull the trigger? You need to get into the game. You've got to get off the edge of the pool and start swimming."
Further Reading
Check out this recent article for more perspectives on change management and how to cultivate a culture of innovation in commercial insurance. Industry leaders and change agents -- including Tony Fenton, vice president of commercial lines underwriting and product, Nationwide; Brian Falchuk, author of The Future of Insurance: From Disruption to Evolution; Ryan Collier, chief digital officer, risk placement services; Tina Osen, president, Hub International Canada; Abel Travis, vice president and head of Fundamental Underwriters, a division of AF Group; and Bob Frady, vice president, HazardHub at Guidewire Software -- provide their insights on how insurers can embolden change agents and embed courage into their culture from top to bottom.