Technavio expects the insurance technology market will grow 45% annually. Let's consider technology trends that will determine the growth and development of the insurance industry.
AI for predictive analytics in insurance
The profitability of an insurer largely depends on how the company works with information, analyzing it and making forecasts. Therefore, firms are trying to implement data analytics on a large scale. Artificial intelligence is one of the technologies that help to do this efficiently.
McKinsey estimated that in 2030-2040, 10% to 55% of insurance processes will be automated (underwriting, claims processing, record keeping, invoicing). The introduction of AI will make it possible.
By analyzing a large amount of data, AI in insurance can help you take preventive actions: to set better prices for services; identify insurance policy candidates with high risk; detect fraudulent activities; anticipate trends in the insurance business; and process claims faster.
Some digital banking research companies show that firms using predictive analytics reduce their loss ratio by 3% to 9%.
In addition, AI allows insurance companies to achieve a decent level of personalization, which is something that 80% of customers want so much. A smart algorithm evaluates the behavior of an insurance company's client on social networks and websites to offer more favorable and convenient policy conditions.
AI enables faster underwriting and claims processing, which is a big step forward in improving customer experience (CX). For example, insurance companies reduce premiums for careful drivers who have not been in an accident for three to five years. They also offer discounts to drivers who drive less than 7,000 miles a year. Such personalization increases customer loyalty and commitment to a brand.
The Internet of things for loss prevention
The IoT connects smart homes, smartphones, smart watches, speakers, self-driving cars and a range of other devices and generates valuable data for the insurance industry.
Long before the advent of IoT devices, insurance companies gave discounts to homeowners who had security systems installed. Now. insurers can offer profitable policies with IoT equipment. When a policyholder installs such a device at home, an organization can track any anomalies on the premises.
A connected device will notify agents if an incident occurs. Thus, an insurance company can prevent damage -- for example, from a faulty boiler in a commercial building. The insurer warns the client to take action before the appliance breaks down or explodes. The insurer protects the client and prevents large losses.
Insurers are interested in connected devices, and Allied Market Research predicts that the global insurance IoT market will grow from $8.63 billion in 2019 to more than $300 billion in 2027. Clients will be able to directly influence the cost of policies, and insurers will influence costs and profitability.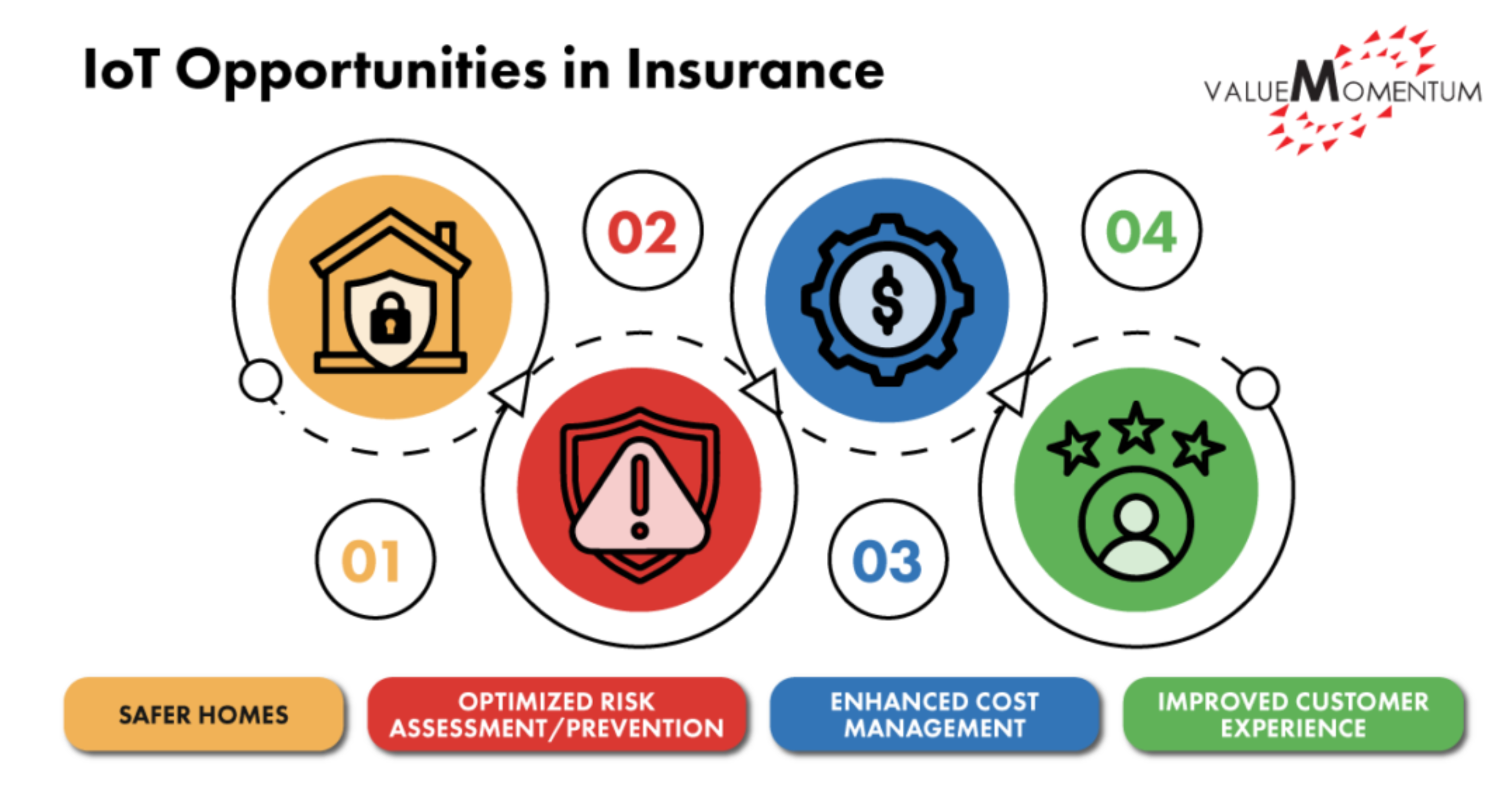 Chatbots for 24/7 communication with customers
Although chatbot technology is based on AI and machine learning, we have decided to put this trend in a separate category. A virtual assistant communicates with a client and accompanies them in case an insurance agent is unavailable. Servion predicts that, by 2025, 95% of all consumer interactions will be carried out through virtual assistants (by phone or chat).
A chatbot advises policyholders in a chat, and customers do not need to wait until an agent is free. The virtual assistant answers questions at any time of the day or night, on weekdays, weekends and holidays. 64% of users appreciate the round-the-clock availability of bots and are ready to communicate with them instead of a person. Operators freed from heavy workloads can deal with more complex issues or create more interesting proposals.
Chatbots can accompany clients at all stages of applying for a policy or claim. Thanks to virtual assistants, policyholders report incidents from anywhere and at any time. Applicants do not have to hold the line waiting for an agent. Instead, they turn to personal assistants that put customers in touch with the right person to process applications further.
The information about an insured event collected by a chatbot is recorded in documents. Therefore, an applicant needs to fill out fewer paper documents to file a claim. At the same time, a smart algorithm evaluates validity and legitimacy to avoid fraudulent false claims.
For example, an insurance company in Zurich implemented Zuri, a virtual assistant. As a result, the firm was able to automate 84% of customer interactions, provide instant solutions to 70% of problems and increase website visitor engagement by 10%. The use of chatbots in insurance plays a decisive role. According to NMSC, the global chatbot market in BFSI will increase from $586 million in 2019 to nearly $7 billion in 2030.
See also: Insurance Technology Trends for 2022
Drones for risk and loss assessment
Unmanned aerial vehicles are gradually being adopted not only in rescue operations and cargo delivery. They are successfully used in research operations in the insurance business. Insurance organizations are learning to use drones to assess risk before issuing a policy, calculate the number of losses after incidents and suggest preventive maintenance of insured objects.
Insurance companies already use 17% of all commercial drones, and they will deploy more aerial assistants in the coming years. UAVs are needed in insurance when adjusters cannot get to the scene of an incident due to dangerous conditions. Drones are sent there to ensure the validity of a claim and avoid delays in processing.
They enter dangerous areas, such as destroyed houses after natural disasters, to confirm the credibility of claims and assess the damage. According to Intellias, a drone can process three houses in an hour. An adjuster needs a whole day to carry out this task.
Drones assess the condition of roofs, plumbing or heating systems and send data to the cloud so that agents can use it. Experts analyze the information and assess the risks of breakdowns or damage.
In some cases, drones help conduct an entire investigation. For example, an insurance company used Dronotec devices to determine the cause of a fire on the French coastline. The fire destroyed more than 80 homes, and a client of the insurance firm was blamed for the loss. Insurance agents used drones to create a 2D map of the area. Based on meteorological data, experts determined the direction of the wind and identified the hotbed of fire. It turned out that the client was innocent. Thus, the company saved itself from paying compensation of 100 million euros. In such cases, drones are "insurance" for insurers.
Conclusion
Technology trends are transforming the insurance industry into insurtech. They enrich the digital experience of customers, reduce operating costs, improve service and take capacities to a new level. Given the competition in the insurance market, companies following these trends can become leaders.
Information technology is bringing insurance firms into untapped markets, helping to improve business models. Innovation builds the next generation's entrepreneurial culture.