This is the third in a four-part series. The two first parts can be found here and here.
It's well established that insurers understand the need to innovate. Accenture's Technology Vision for Insurance 2017 revealed that "86% believe they must innovate at an increasingly rapid pace simply to retain a competitive edge," and a full "94% of insurance executives agree that adopting a platform-based business model and engaging in ecosystems with digital partners are critical to their business."
See also: 10 Insurtech Trends at the Crossroads  
Increasingly, insurers are turning to insurtech, whose digital products and platforms can help them in their quest to innovate quickly and at scale. While the bulk of global investment in insurtech is still coming from outside the traditional insurance space, we do see a significant increase in investment from insurers over the past two years.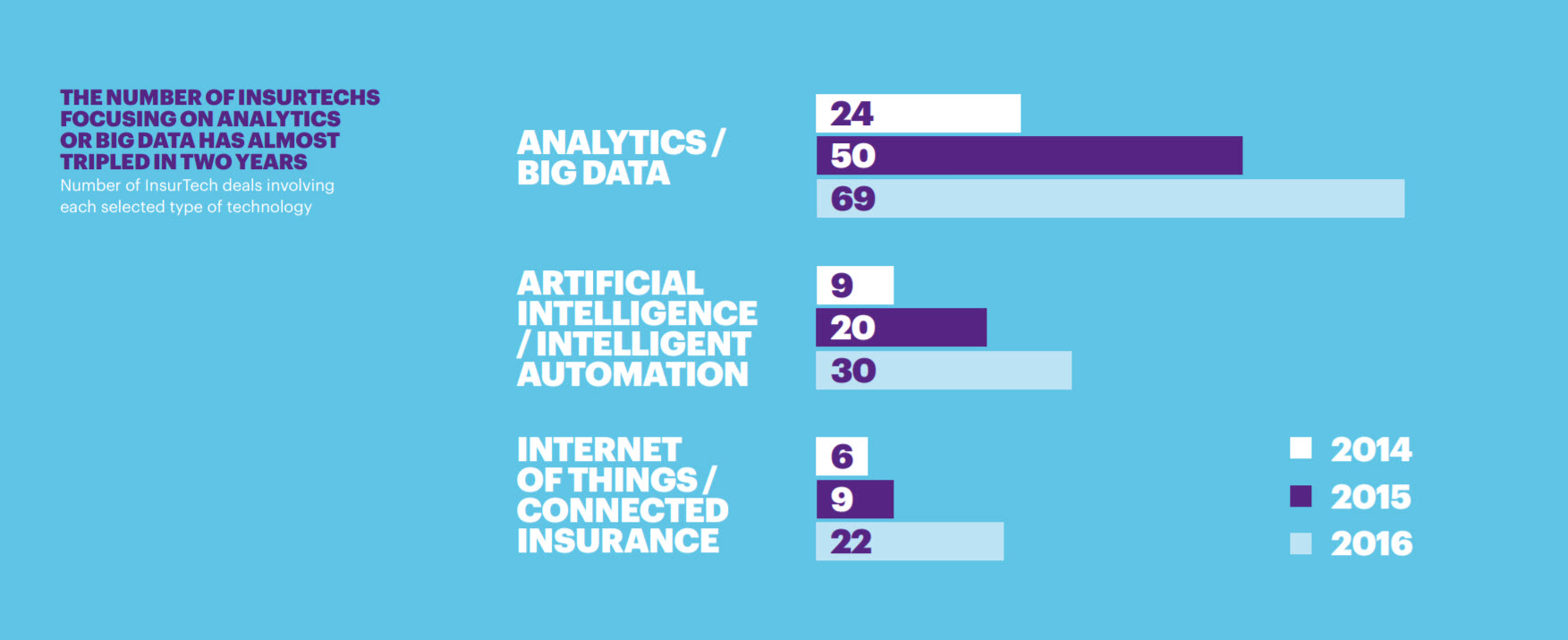 Which technologies are attracting the biggest investments? Accenture's report, The Rise of Insurtech found three key areas which accounted for more than half of the overall investment in 2016:
Analytics
Artificial intelligence (AI)
The Internet of Things (IoT)
Let's look at a few interesting examples of how insurtechs are leveraging these digital technologies to help them connect with customers in new and innovative ways.
U.S. insurance startup Lemonade uses AI as an intermediary at multiple touch points throughout the customer journey. At the beginning of the client relationship, the homeowners and renters insurance company has an algorithm to assess a new customer's risk level (by cross-referencing neighborhood data, past claims and other factors).
While most insurance claims still require some level of human interaction, the bots are improving. Lemonade's "AI Jim" helped the insurer set the standard for the fastest processing time when the bot reviewed, ran multiple anti-fraud programs on, then settled a claim for a policyholder's stolen winter coat in three seconds. It typically takes traditional insurers 30 to 45 days to close a similar claim.
Lemonade launched quickly and attracted $60 million in stable investment by the end of 2016; insurers and investors are watching the company closely.
SPIXII is both the insurtech business and the name of its chatbot, a virtual blue parrot that "sits on the customer's shoulder and talks to you." It's an automated digital agent that assists customers on their retail journey via a chat window on their smartphones. As with other AI tools we've seen, SPIXII learns from its customer interactions and can offer personalized insurance products in real time.
SPIXII's interactions are friendly and conversational, making for a customer experience that is convenient and even pleasant.
Digital Fineprint uses analytics and social media data to provide insurers with insights into customer risk profiles and relationships. The startup uses digital technology to connect with customers where they are online, via social media, providing convenient and customized offerings and increasing sales by targeting a larger network. After receiving initial seed investment from venture capital, the insurtech is attracting attention from Allianz, which invited the company to its accelerator initiative.
What makes these startups such interesting entrants into the insurance space? They're using digital technology to interact with and reach their customers where they are. They're offering a customized, personal and interactive service, and investors and incumbents alike are paying attention.
See also: Top 10 Insurtech Trends for 2018  
If you'd like to read more about insurance innovations, I recommend this series on the 2017 Efma-Accenture Innovation in Insurance Awards winners. You can register to read Accenture's report The Rise of InsurTech here.