P&C insurance carriers have witnessed a lot of changes in the past decade, but few have been as surprising as the shift of power currently taking place across the industry. According to Dennis Chookaszian, the former CEO and chair of CNA, carriers maintain only 40% of profits today, representing a drop of 20 to 25 points 
from the 1960s
. An equal share now goes to the distribution system, as carriers line up to acquire and maintain more customers. What's behind this shift in profitability can't be summed up in a single word, but increasing competition, new market entrants, improving technology, changing customer expectations and continued consumer price sensitivity all play a role. To remain competitive, carriers will need to gain more control over distribution, a goal that even Chookaszian admits will not be easy to achieve.
Why the Power-Shift Toward Distribution
In the mid-part of the last decade, insurance carriers required two primary competencies to operate: data and capital. Because neither was easy to acquire, competition was less robust, and incumbent carriers found greater profitability, taking in roughly two-thirds of insurance transaction profits. Today, data is everywhere, and through the use of analytics, simpler than ever to understand and use. Capital is also easier to acquire, as is evidenced by the growing number of insurtech players in the industry. According to Willis Towers Watson, $2.3 billion was invested in new insurance tech companies
in 2017
. According to Chookaszian, the core competency for insurers now lies in distribution and control of the customer. "It's become so competitive that the carriers basically are always out looking for new accounts," Chookaszian says. That means higher commissions are paid to agents as carriers battle it out for market share, resulting in shrinking margins. "Given the shift in profitability to distribution, the carriers that will be better off will try to regain some control over distribution," Chookaszian says. Admittedly, that is not an easy thing to do. The agent enterprise is part and parcel of most insurance operations. Directly selling insurance to consumers will require insurers to set up their own distribution systems, while still supporting their vast networks of independent or captive agent forces.
See also: The Future of P&C Distribution  
Distribution Goes Digital
When Benjamin Franklin started the first successful U.S.-based insurance company in 1752, he was dealing with a localized Philadelphia population, but, by the end of the 18th century, citizens were moving westward, making it necessary for insurers to
expand their distribution networks
. The Hartford made the first foray into direct distribution by offering insurance through the mail, but few consumers of the time were willing to give up the personal services of an agent when it came to purchasing something as critical as insurance. Carriers of the time faced a similar dilemma as carriers do today: how to acquire customers in a changing marketplace. According to the J.D. Power 2018 US. Insurance Shopping Study, insurers are aggressively
courting customers
with new options and amenities as auto insurance rates remain stagnant and the number of consumers seeking coverage declines. "We're entering an era of consumer-centric insurance that will likely be marked by a surge in new digital offerings and serious efforts by insurers to improve the auto insurance shopping experience," says Tom Super, director of the property and casualty insurance practice at J.D. Power. This shift is happening across all lines of coverage, even small commercial. While citizens on the new 17th-century frontier may have been hesitant to buy coverage without the guidance of an agent, many 21st-century buyers have no such qualms. Nearly half of consumers responding to a survey conducted by Clearsurance said that they would purchase an insurance policy online, while 65% believe this will be the primary channel for purchasing coverage
within the next five years
. According to research conducted by Accenture, consumers are open to a number of new possibilities when it comes to buying the policies they need:
Power in the form of profits may have shifted to distribution, but consumers are making a power play of their own, demanding greater service and amenities and taking their business to the carrier most capable of meeting preferences and price points. In a world of shifting power, creating an active, online distribution channel puts more of the profit back into the carrier's bottom line and allows it to attract more customers in three distinct ways.
Cutting Transaction Costs
According to a report from the Geneva Association, the leading international insurance think tank for strategically important insurance and risk management issues,
40% of P&C premiums
are absorbed by transaction costs, leading to inflated policy pricing that drives away potential customers. PwC pegs distribution as a heavy culprit, reporting that
30%
of the cost of an insurance product is eaten up in distribution. On the other hand, Bain predicts that insurers could cut the cost of acquisition by as much as 43% through digitalization. Underwriting expenses could drop as much as 53%. Reducing these costs allows insurers to present a more attractively priced product to consumers, an important consideration given that 50% of customers base their loyalty with an insurer on price. To understand how costs are reduced through digital distribution, it helps to understand how a leading digital distribution platform works to raise efficiency. According to PwC, up to 80% of the underwriting process can be consumed by administrative tasks that require manual workarounds, such as re-entering information into multiple systems. Much of this re-inputting of data is due to the siloed nature of insurers' administration systems. Digital distribution platforms create a layer between the front-end online storefront, where customers enter application data, and the back-end systems used to store information. As consumers enter their personal details into the online application, all back-end systems are populated automatically, eliminating the need for manual work-arounds. Everyone across the organization has the same view of the customer and access to any information that has been provided. Digital platforms are also masters of straight-through processing, automating the quote-to-issue lifecycle and reducing the need for manual underwriting. By automatically quoting, binding and issuing routine policies, insurers reduce costs and also provide a more "informed basis for pricing and loss evaluation," according to PwC. As costs drop, insurers are also able to more competitively price insurance coverage. Lower prices win more customers allowing insurers to take back some of the profitability of distribution.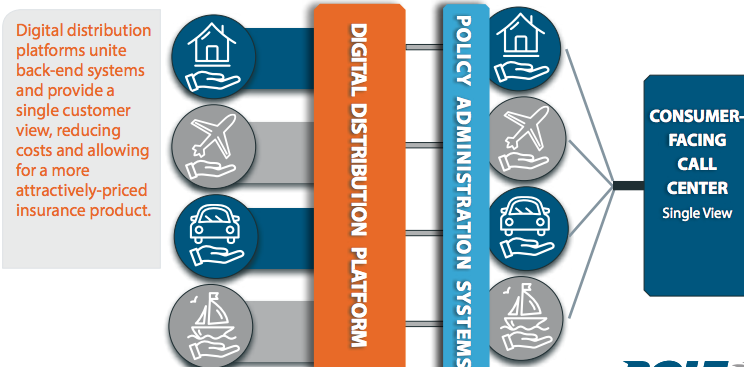 Improving Customer Experiences
When it comes to insurer-insured relationships, there is a gap between what consumers want and what insurers provide. Consumers rate the following points as very important aspects of the insurance buying experience:
Clear and easy information on policies
Access to information whenever it is needed
Ability to compare rates and switch plans
A wide range of services
But few consumers agree their insurer is meeting these expectations: 27% see clear and easy information on policies 29% report access to information whenever they need it 21% say there is the ability to compare rates and switch plans 24% see a wide range of services The customer experience is becoming a key differentiator across the insurance industry. McKinsey reports two to four times higher growth and 30% higher profitability for insurers that provide best-in-class customer service, but here's the rub. Only the top quartile of carriers fall into this category. Becoming a customer experience leader requires insurers to understand that the separate functions associated with policy sales and distribution appear as a single journey to consumers. They expect to quote, bind and issue multiple policies through a single application, using as many channels as they feel necessary to get the job done. While 80% of consumers touch a digital channel at least once during an insurance transaction, 45% of auto insurance shoppers use multiple channels when making a purchase. They expect to be recognized across these channels, picking up in one where they left off in another. The multiple back-end systems employed by most insurers present a strategic dilemma here, as well as in the area of cost containment. Without transparency between channels, consumers are forced to restart a transaction every time they change their engagement method. "It amounts to a great deal of frustration for the consumer," says Tom Hammond, president U.S. operations, BOLT. "You start an application online and then call the customer-facing call center, and they can't see what you did through the online storefront." Hammond explains that digital distribution needs to be omni-channel distribution, seamlessly integrated with a single view of the customer. It's the only way to meet consumer experience expectations now and into the future.

Thanks to advances in analytics and artificial intelligence, the amount of data that is available to carriers has grown significantly, and consumers expect that information to be leveraged for their benefit. Eighty percent of consumers want personalized offers and pricing from their insurers. Progressive is one of the 22% of carriers currently making strides to offer personalized, real-time digital services, having recently released HomeQuote Explorer. From an app or computer, consumers can enter information once and receive side-by-side comparisons from multiple homeowners insurance providers. According to the company, they leverage a network of home insurers to make sure customers can find the coverage they need at a comfortable price. Oliver Lauer, head of architecture/head of IT innovation at Zurich, believes these collaborative networks are an integral part of the digital future of insurance. "Digital innovation means you have to develop your insurance company to an open and digitally enabled platform that can interface with everybody every time in real time – from customers to brokers, to other insurers, but also to fintechs and insurtechs," Lauer says. Using a digitally enabled market network, insurers can fill product gaps and even meet customer needs when they don't have an appetite for the risk. The premise is simple. By offering coverage from other insurers, they maintain the customer relationship and reap the rewards of loyalty. As society changes and consumer needs evolve, the ability to personalize bundled coverage to the needs of the individual will become increasingly important. Consumers are now looking for coverage to mitigate risk in previously unheard-of areas, such as cyber security, identity theft and even activities related to legalized marijuana. When an insurer is unable to provide the coverage a customer needs, it risks forfeiting that relationship, and any other policies bundled with it, to another carrier. But when the carrier takes part in a market network, it can bundle the appropriate coverage from another insurer with its own products, personalizing the coverage to better fit the needs of the customer.
See also: Key Strategic Initiatives in P&C  
Digital platforms offering market networks also set the stage for insurers to offer ancillary services, such as roadside assistance, that make their insurance products more attractive to consumers. We see this happening with increasing frequency as carriers seek to improve the customer experience and lift their acquisition efforts. DMC Insurance, a provider of commercial transportation insurance solutions, recently announced a partnership with BlackBerry Radar. The venture would provide transportation companies with real-time data on vehicle location, as well as cargo-related information, such as temperature, humidity, door status and load state. Information like this will help companies better manage risk. In the personal lines market, insurers are partnering to offer services that enhance the life of their customers. Allstate's partnership with OpenBay allows consumers to review repair shops and schedule an appointment from an app. Allianz is helping home owners safeguard properties by partnering with Panasonic on sensors that monitor home functions and report issues. Customers can even schedule repairs through the service.
Digital Distribution Benefits All
J.D. Power reveals that digital insurers are winning the intense battle for market share in the insurance industry, starting a shift that could help level the profitability field between distributors and carriers. In a recent insurance shopper survey, overall satisfaction was six points higher for digital insurers over those that sell through independent agents. This lead grows to 12 points when compared with carriers with exclusive agents. According to research by IDC, digital succeeds on the strength of its data. The ability to collect and analyze the vast stores of data available through these interactions, including such variables as the time of day the consumer shopped for coverage, the channel the consumer used, and stores of information collected from third-parties as part of the automated application process, provides the key to improved customer service. "By analyzing this data, insurers can understand each customer's lifestyle, behaviors and preferences in order to engage with them at the right time and place, offer personalized service and offers and more," says Andy Hirst, vice president of banking solutions, SAP Banking Industry Business Unit. As insurers create omni-channel engagement, they're strengthening distribution from every angle, giving consumers the option to quote coverage online when it's most convenient for them, and then buy it right then and there or to seamlessly call an agent to discuss their options and their risk. Customer experience is rapidly becoming the foundation of success in the industry, and digital distribution provides the first link in building that base of core customer satisfaction. By providing consumers with multiple channels of engagement and the ability to meet more of their needs at any time, day or night, carriers are taking back the lead on profitability.