CHAPTER 4: Roadmap to Creativity
Culture of Creativity
Creating a culture of creativity is an essential building block for a successful product development company. To succeed, every profit center leader should ingrain a culture of creativity into every aspect of its daily routine. The start of this creative journey begins with the support, process, rewards and goals.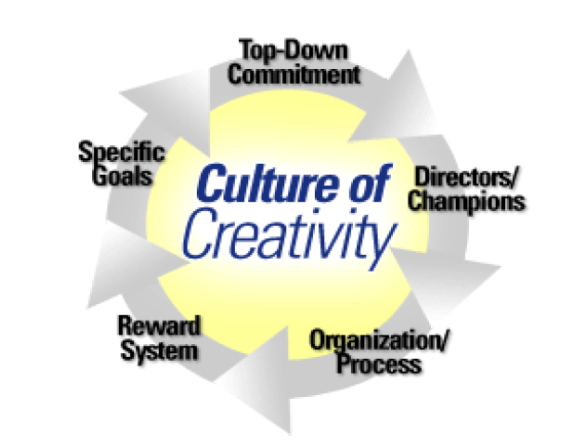 Each of these steps is discussed in this chapter.
New Product Directors
It is advantageous for each profit center or business unit to appoint a new-product director as a resource charged with overseeing product idea generation and development. This can be a full-time or part-time position. Responsibilities could cover a wide range of activities, including:
Idea generation – Interact with staff, brokers and clients about product needs.
Idea validation – Review ideas with the product innovation council.
Project oversight – Assign a product champion to each new idea.
Post-launch performance review – Track new product sales.
Having a new-product director who is responsible for this journey -- "the navigator" -- can be extremely helpful to a profit center's success. Experience has shown that it is most effective if the new-product director is a full-time, dedicated employee who is an experienced executive who can command respect and attention. If the organization has a centralized new-product department, this department partners with each new-product director and assigns a staff member who will provide support and assistance.
Product Innovation Council
The formation of a product innovation council in each profit center can provide the company and its new-product director with an organized approach to finding and vetting ideas. The new-product director will lead and organize the product innovation council within that division and should consist of managers from each of the profit center's major product lines. Regional, legal and marketing participation should also be included. The purpose of the product innovation council is to find new products ideas, review ideas submitted and recommend to senior management developed ideas for evaluation. For smaller organizations, a single product innovation council, sometimes called a product innovation steering committee, can be very satisfactory.
New-Product Champion
Finally, for each individual new product, the profit center should choose a champion who steers a particular product through development. The new-product champion will be a crucial part of the product development team. Usually, the new-product champion is a manager or underwriter who will have the ultimate responsibility for the product once launched.
Product Development Process
The key to the success of a creative culture is the establishment of a methodology to develop, design, test, launch and confirm the validity of a new product.
New-Product Award Program
To maintain momentum on this creative journey, it is important to recognize profit center participants who contribute to the development process. Therefore, it is advantageous to have some standing reward program. A program might look like this:
Idea Accepted for Development, $100
Launched Product Idea, $500
Financially Successful Product, a percent (usually very small) of the first-year revenue, up to a fixed amount, such as $10,000
Non-monetary rewards, however, should not be underestimated. Psychologists tell us that a nice letter of recognition from the CEO or an acknowledgment in the company newsletter can often be more valued by the employee than a $100 gift card. Some companies use sophisticated surveying techniques to find the most optimal combination of rewards, often finding that the monetary rewards do not have the level of impact they were thought to have. The following are a few examples of items that could be offered:
A letter of appreciation from the profit center executive
Recognition in the profit center newsletter
Lunch with the profit center executive
A photo with the CEO
An additional personal day off
Specific New Product Goals
That which is measured is that which is done. It thereby goes without saying that a product in development must have specific, measurable goals before launch. Also, however, the entire organization should have specific, measurable goals for product development. How much are new products contributing to the top line? To the bottom line? What are the other measurements such as speed ("cycle of development"), account retention, cross-selling impact, etc.? Once the firm has its overall goals, these must be incorporated within the budget and goal setting of every profit center so that the goals and strategies of the profit center align with those of the firm as a whole.