On Nov. 1, CMS (the federal Centers for Medicare and Medicaid Services) released its heavily anticipated 2023 Hospital Outpatient Prospective Payment System (OPPS) and Ambulatory Surgical Center (ASC) Payment System Final Rule, after receipt of extensive public comment received by the agency in response to its draft proposal, which was issued back in July.  Although the final rule will become effective on Jan. 1, the agency will continue to receive public comment on the finalized draft for 60 days following its Nov. 1 publication date.  A detailed fact sheet is available from CMS for review. The entire 1,764-page finalized rule text (with instructions for providing public comment) is also available for review. 
Although many of the provisions contained in the November Final Rule mimic the proposals outlined in the July Proposed Rule, there are several significant modifications. The following sections provide an overview of some of the more salient provisions, as well as discuss their potential impacts on the workers' compensation sector.
Outpatient Hospitals Will Receive a Net 3.8% Overall Rate Increase 
In the July Proposed Rule, CMS indicated its intention to put forth a proposed overall rate increase of 2.7%, reflecting a 3.1% projected hospital market basket percentage increase, reduced by a 0.4 percentage point productivity adjustment. The final rule outlines a much steeper overall increase rate of 3.8%, reflecting a projected hospital market basket percentage increase of 4.1%, reduced by 0.3 percentage point for the productivity adjustment. With workers' compensation systems in 18 states at least partially relying on Medicare/CMS for reimbursement rates, coupled with an additional four states plus the District of Columbia (as of March 4, 2021) that essentially rely solely on Medicare as a basis for reimbursement, this 3.8% net overall increase will be felt in the workers' compensation sector. However, considering that the U.S. overall inflation rate stood at 8.2% for the 12 months ending September 2022, it is unsurprising that the American Hospital Association (AHA) referred to the 3.8% overall increase as "insufficient given the extraordinary cost pressures hospitals face."
A New Facility Type of 'Rural Emergency Hospitals' Will Be Established 
The 2023 Final Rule will now designate "Rural Emergency Hospitals" (REHs) as a new provider type for eligible critical access hospitals and small rural hospitals. The payment model was originally introduced conceptually in 2021 in the Consolidated Appropriations Act. The OPPS 2023 Final Rule solidified the proposed payment model, covered services, conditions of participation and quality measurements for REHs. Creation of the provider type was designed to help Critical Access Hospitals (CAHs) and small rural hospitals to avoid closures and preserve care access in underserved and rural areas. Details on the new REH provider type can be viewed in the CMS REH fact sheet. 
See also: The Key to Cutting Workers' Comp Costs
Facility-to-Outpatient Behavioral Health Services Will Continue Indefinitely 
On Oct. 13, the U.S. Department of Health & Human Services (HHS) opted to extend the Public Health Emergency (PHE) that has been in place since Jan. 31, 2020, for an additional (and widely anticipated, FINAL) 90-day period, to Jan. 11, 2023. Since the onset of the pandemic, several emergency public policies have been in place, including several provisions expanding the availability of telehealth services. One PHE provision, relevant to outpatient facilities, provides Medicare reimbursement coverage for behavioral health services furnished from an outpatient facility to beneficiaries in their homes.   
On March 15, President Biden signed the $1.5 trillion Omnibus Spending Bill, which contained a provision that extends the PHE telehealth flexibilities to 151 days (approximately five months) after the expiration of the PHE. With the current looming PHE expiration date of Jan. 11, that would mean that all PHE-related telehealth provisions (including the outpatient clinician-to-home-based-patient extension), would suddenly end on June 11, reverting back to Medicare's original, 2019 restrictive rules for the delivery of healthcare by telemedicine. Telemedicine advocates have referred to this sudden expiration as the "telehealth cliff."
Telehealth Cliff Timeline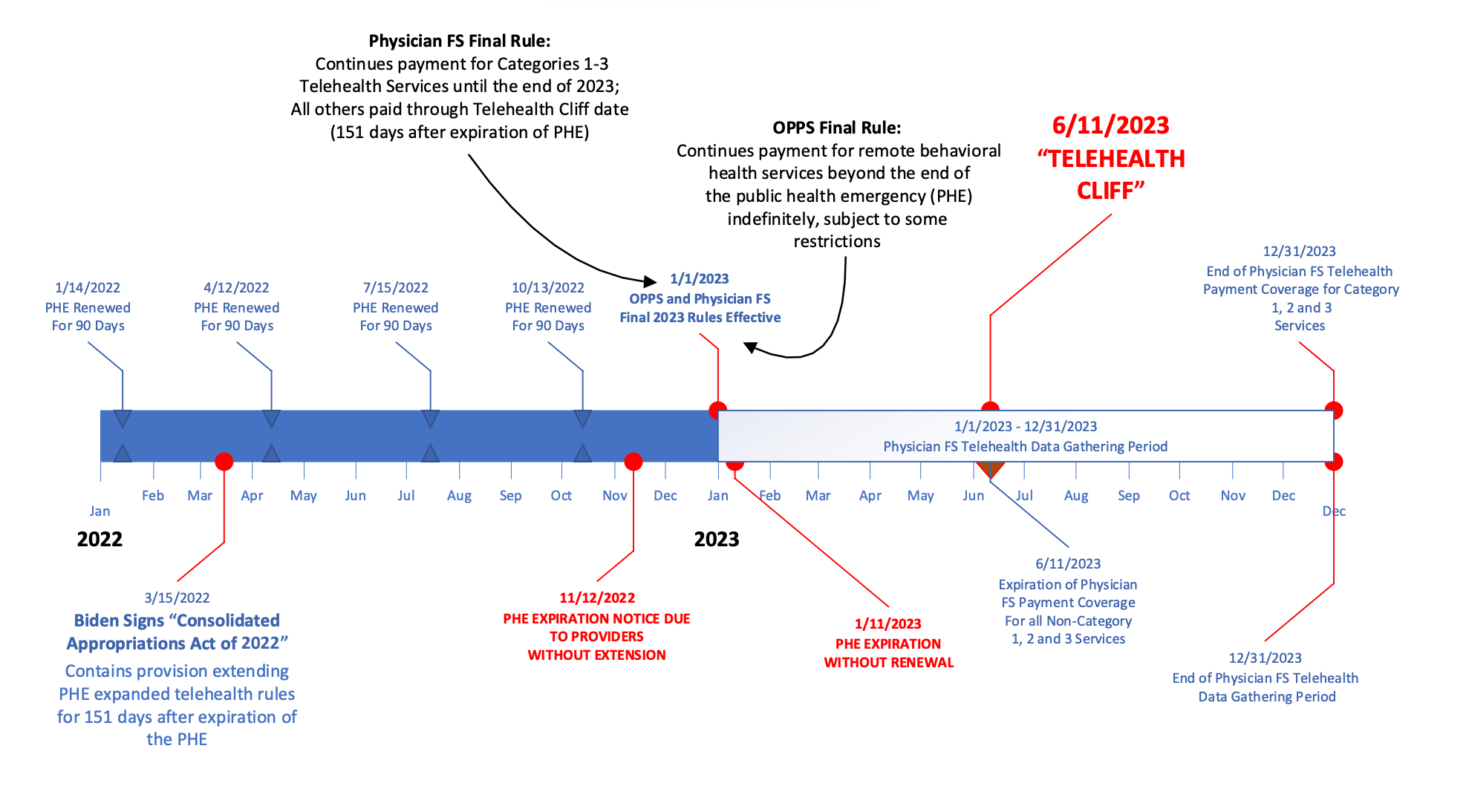 In an attempt to mitigate the "telehealth cliff," the OPPS 2023 Final Rule contains language that extends the coverage for outpatient facility-to-home-based beneficiaries indefinitely for behavioral health services, with a few important restrictions. First, the facility must have seen the beneficiary in person sometime in the six months preceding the telemedicine behavioral health visit (for new behavioral health relationships). Secondly, there must be an in-person service without the use of communications technology within 12 months of each behavioral health service furnished remotely by hospital clinical staff (for continuing behavioral health relationships). An exception is built in for situations where both the outpatient clinician and the beneficiary agree that the benefits of an in-person visit are outweighed by the risks.  
Furthermore, the rule clarifies that if a clinical relationship existed between the beneficiary and the outpatient facility at the time the PHE ends, only the 12-month, "continuing" in-person requirement applies, and not the six-month "new" restriction. Finally, the rule addresses audio-only services, permitting their use "…where the beneficiary is unable to use, does not wish to use, or does not have access to two-way, audio/video technology." The audio-only flexibility has been included to help "…advance equity, since many rural and underserved communities lack stable access to broadband services, making two-way, audio/visual communication difficult."
From a workers' compensation perspective, states that have strictly adopted Medicare payment policies will theoretically apply these same restrictions to behavioral health telehealth services furnished to injured workers. Careful coordination between providers and injured workers will be necessary to document consent to waive in-person visits, as well as agreements to use audio-only visits, to help facilitate reimbursement.
See also: Will Medical Inflation Hit Workers' Comp?
Prior Authorization Required for Facet Joint Interventions 
Of particular interest to workers' compensation stakeholders is a new requirement in the OPPS 2023 Final Rule for facet joint interventions to require specific pre-authorization to be reimbursable. In recent years, HHS and CMS have sought to endorse non-opioid-based treatment regimens for chronic and acute pain management. An HHS report released in December 2020 noted, "Given concerns regarding opioids, non-opioid pharmacologic and non-pharmacologic therapies hold promise and have become increasingly accepted as first-line therapies…[and] interventional approaches [are] an important nonpharmacologic option. Data indicates that interventional procedures are frequently used in this population (~5 million procedures annually in Medicare fee-for-service)."
The 2023 Final OPPS Rule has adopted an entirely new service category to encompass these interventional pain management services, named the "Facet Joint Interventions Service Category." Facet joint injections, medial branch blocks and facet joint nerve destruction procedures are all covered by the new service category. The decision by CMS to require prior authorization for services has been driven by an explosive growth in the number of services billed in this category. For example, a 47% growth rate overall was observed for facet joint interventions from 2012 to 2021, reflecting a 4% average annual increase, contrasted with a 0.6% annual increase observed in overall outpatient services. As outlined in the Final Rule, "for the facet joint injection and medial branch block services… [CMS] observed an increase of 27% between 2012 and 2021, reflecting a 2.5% average annual increase. For the nerve destruction services…we observed an increase in volume of 102% between 2012 and 2021, which was an average annual increase of 7%. Both the facet joint injections/medial branch block Current Procedural Terminology (CPT) codes and nerve destruction CPT codes, with 2.5 and 7 percent annual increases, respectively, demonstrated higher average annual increases in claim submissions between 2012 and 2021 than the 0.6 percent annual increase for all Outpatient Department (OPD) services over the same time period." 
Unfortunately, along with the explosive growth in appropriate use and billing of these procedures, a sharp uptick in fraudulent usage and billing has also been observed. The OPPS Final Rule cited several HHS Office of Inspector General (OIG) reports finding "questionable billing practices, improper Medicare payments and questionable utilization of facet joint interventions." OIG noted that the improper payments occurred because of inadequate oversight on the part of CMS for these procedures. For example, in March 2022, the Department of Justice reported on a $250 million healthcare fraud scheme that took place from 2007 to 2018 involving physicians from multiple states who allegedly subjected their patients to medically unnecessary facet joint injections to obtain illegal prescriptions for opioids. The physicians required the patients to receive facet joint injections due to their high reimbursement rates [from CMS].  
In the July 2023 OPPS Proposed Rule, CMS indicated that it would begin requiring pre-authorization for all services in the Facet Joint Interventions Category for dates of service beginning March 1, 2023. After receipt of significant public comment, in the final rule, the pre-authorization requirement start date was moved back to July 1, 2023.  
As with the telemedicine policies outlined above, states that strictly adopt Medicare payment policies for workers' compensation may now enforce pre-authorization requirements for facet joint intervention procedures. Use of procedures in this category is not uncommon in the workers' compensation space, although medical opinions as to their efficacy vary.  
2023 Changes to the Inpatient-Only List; ASC Covered Procedure List 
The OPPS "Inpatient-Only List" (IPO) is a list of procedures that CMS has determined are only appropriately performed in an inpatient setting (and will not be reimbursable if performed in an outpatient setting). When CMS resumed use of the inpatient-only list after a brief hiatus in 2021, the agency decided to reevaluate procedures on an annual basis to determine which CPTs, if any, could appropriately be performed in an outpatient setting, using the following criteria:
Most outpatient departments are equipped to provide the services to the Medicare population. 

The simplest procedure described by the code may be performed in most outpatient departments. 

The procedure is related to codes that we have already removed from the IPO list. 

A determination is made that the procedure is being performed in numerous hospitals on an outpatient basis. 

A determination is made that the procedure can be appropriately and safely performed in an ASC and is on the list of approved ASC procedures or has been proposed by us for addition to the ASC list.
CMS does not require that a proposed procedure meet all five criteria to qualify for removal – in fact, meeting only one of the criteria may suffice. However, the greater the number of criteria met, the greater the chance that CMS will consider the CPT appropriate for removal.
In the 2023 OPPS Proposed Rule, CMS had originally identified 10 CPTs for consideration for removal from the IPO List (16036, 22632, 21141, 21142, 21143, 21194, 21196, 21347, 21366 and 21422). The majority of these codes were maxillofacial orthopedic procedures (which may have applicability to workers' compensation).  
After additional consideration and receipt of public comment, CMS settled on the following in the 2023 Final Rule:
CPT 16036 (relating to local treatment of burns) was originally characterized as an "add on" code (used with another primary procedure 16035, which was removed from the IPO in 2007) and was originally proposed to be moved to a status code of "N" (bundled/not separately payable). On reflection, CMS decided NOT to move it off the IPO.
Similarly, CPT 22632 (relating to additional interspace treatments in a spinal fusion) was also characterized as an "add on" code (usually billed with 22630, removed from the IPO in 2021) and was originally proposed to be moved to a status code of "N." CMS finalized that recommendation.
By contrast, all of the originally proposed maxillofacial procedures have been finalized for removal from the IPO list (CPT codes 21141, 21142, 21143, 21194, 21196, 21347, 21366 and 21422). All these have been moved to Status Indicator "J1," which indicates that they are reimbursable in an outpatient setting. From a workers' compensation perspective, these codes are not commonly seen but are occasionally used. All of them are listed under the heading of "Orthopedics" in the general category of "Repair, Revision and Reconstruction," except the latter three, which are in the "Fracture and/or Dislocation" subcategory.
Two additional changes were made in the OPPS 2023 Final Rule that were not included in the July Proposed Rule: 
CPT code 47550 (Endoscopy) has been moved to status indicator "N" for 2023 after receipt of public comment that it is a typical add-on code to a code in the range of CPT 47553 through 47541, all of which have already been removed from the IPO.

CPT code 21255 (an additional maxillofacial code) was moved to status indicator "J1" after receipt of public comment and is now payable in an outpatient setting.
Lastly, as medicine advances, the American Medical Association (AMA) continues to propose additional CPT codes to describe emerging technologies. Eight such new codes will be added to the IPO effective Jan. 1, 2023 (CPT codes 15778, 22860, 49596, 49616, 49617, 49618, 49621 and 49622).  
With respect to the ASCs, CMS originally proposed to add only one procedure to the ASC Covered Procedures list in its July 2023 OPPS Proposed Rule – CPT 38531. However, after receipt of significant public comment, where 64 different procedures had been submitted by various commentators for consideration to be added to the list, CMS settled on adding four additional CPTs to the list (19307, 37193, 38531 and 43774) from the OPPS Final Rule. None of the codes are commonly used in workers' compensation.