Today, more cars than ever are connected, and those connected cars are creating and transmitting a lot of data. This, in turn, has created a gold rush among automobile manufacturers (aka OEMs), insurers and others to find ways to monetize that data. For personal auto insurers, the stakes are greater than ever.
Connected cars create data primarily in three ways. The first is by means of specialized computer chips (ECUs) that control, monitor or record vehicles' systems and performance (e.g., the powertrain, steering, climate control, etc.). Second, vehicles increasingly also have telematics control units, which monitor and record typical telematics data (acceleration and braking, speed, location, etc.). Third, of course, connected cars create data through telematics apps on drivers' mobile phones.
OEMs have something of an inside track for accessing both the general operating data from the ECUs and the telematics control unit data, by means of cellular modems that are now installed in nearly all new cars. This is important because, the more types of data are available, the greater the likelihood that data scientists can parse the data for improving pricing, underwriting and claims decisions.
OEMs can monetize that data in a number of ways that benefit themselves and the vehicle owners. For example, using data to predict potential system failures and informing the vehicle owners to take their vehicle in for preventive maintenance.
Of greatest interest to insurers are OEMs monetizing connected car data by offering insurance—either as a distributor or as a licensed insurer or MGA. There are multiple examples of manufacturers distributing insurance. For example, Ford's licensed insurance agency, American Road Services Co., offers two telematics-based insurance programs, branded as Ford Insure and underwritten by Nationwide. Toyota's licensed agency, Toyota Insurance Management Solutions, offers insurance through eight insurers, including Travelers, Nationwide, Mercury and Farmers.
Today, examples of OEMs getting into the risk-bearing side of insurance are much rarer. However, Tesla is reported to be offering auto policies in certain states through its own licensed insurance companies: Tesla General Insurance, Tesla Property & Casualty and Tesla General Insurance. In a 2021 press release, General Motors stated: "OnStar Insurance [is] projected to have a potential revenue opportunity of more than $6 billion annually by the end of the decade." It is likely that a licensed insurer will be necessary to achieve that goal.
Auto insurers have a strategic imperative to not be left behind in the race to monetize connected car data. There are several ways insurers can do this.
See also: Automakers Build New Insurance Future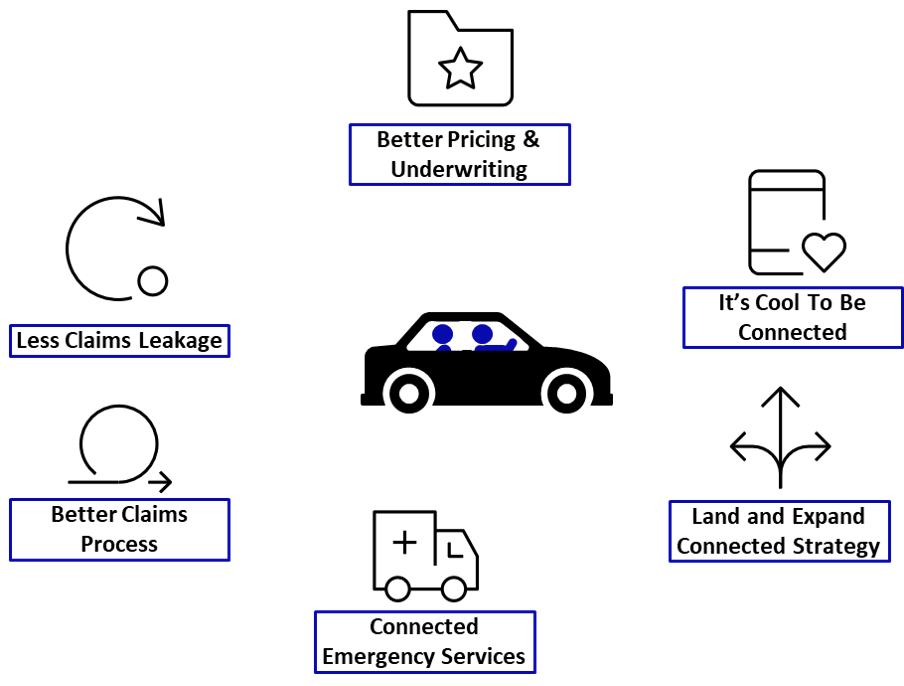 Source: Celent Report, "Rethinking: Will Insurers Be Connected to the Connected Car?" 
Telematics-driven improvements in pricing and underwriting are now widely understood—and being pursued by the largest personal auto insurers, and increasingly by insurers with smaller market shares.
There is also rapidly increasing interest in using connected car data to improve the claims process. These methods include automated first notice of loss (FNOL) for collisions, which can reduce claims cycle times and possibly result in more policyholders using an insurer's direct repair program. Another promising area is the use of telematics and other connected car data (e.g. deployment of airbags) to immediately dispatch emergency services for humanitarian purposes and also to potentially mitigate personal injury losses. The same data set could also support and accelerate subrogation claims.
A "Land and Expand Connected Strategy" is possible because nearly all personal auto insurers also offer homeowner policies. Connected homes are becoming more common. An insurer can provide various sensors to a homeowner to detect smoke, leaks and intruders and to monitor apparent losses in real time. Several of the value propositions to the insurer and the homeowners are broadly similar to the connected car insurer and policyholder: more accurate (and lower) pricing, loss avoidance and mitigation.
Last, but not least, as increasing numbers of new and older vehicles are connected, the segment of auto policyholders who want to be connected for the sake of being connected will gravitate to insurers that can meet those needs. Think of policyholders who want the newest iPhone, Alexa giving answers and advice anywhere and of course the brand new Apple watch with "crash detection," which Apple says will detect severe collisions and, if necessary, contact emergency services.
All auto insurers need a plan to be connected (in several ways) to the connected car
The top 10 auto insurers have natural advantages from scale and national presence. The next 90 or so auto insurers can stay in the game by promoting telematics apps and tapping into telematics data exchanges, by creating adjacent offerings (roadside services, connected homes), and certainly by providing a cool connected experience.
Note: This column is based on a Celent Research Report, Rethinking: Will Insurers Be Connected to the Connected Car?