When the pandemic hit nearly three years ago, the world didn't have a choice: Everyone who could work from home worked from home. And after we all sorted through the many kinks -- figuring out when to mute ourselves so colleagues didn't hear toilets flushing on Zoom calls, how to keep the cat from jumping onto the keyboard and in front of the camera, how to firmly signal to the kiddos that Mommy and Daddy are working, etc. -- work from home seemed to go well. Companies reported increased productivity, and employees appreciated the flexibility, as well as the time and money they saved by not having to commute.
The question was whether the trend would last. Certainly, some major companies indicated it would, by moving out of big chunks of office space. And employees who want to work remotely seem to still have considerable leverage, given the low unemployment rate and number of job openings. But some companies, especially in the tech world and in finance, have initiated returns to the office, and they are often bellwethers. 
So, where do we stand? Well, LinkedIn has weighed in with data based on a study of paid employment ads on their site, and the answer is: Yes, remote work seems to have peaked last summer.
Actually, the study isn't just from LinkedIn and based on 60 million paid job postings. It's from a longtime friend and colleague from my days at the Wall Street Journal, George Anders, who is now senior editor at large there. I trust LinkedIn's data plenty. I trust George implicitly.
Here is the basic finding: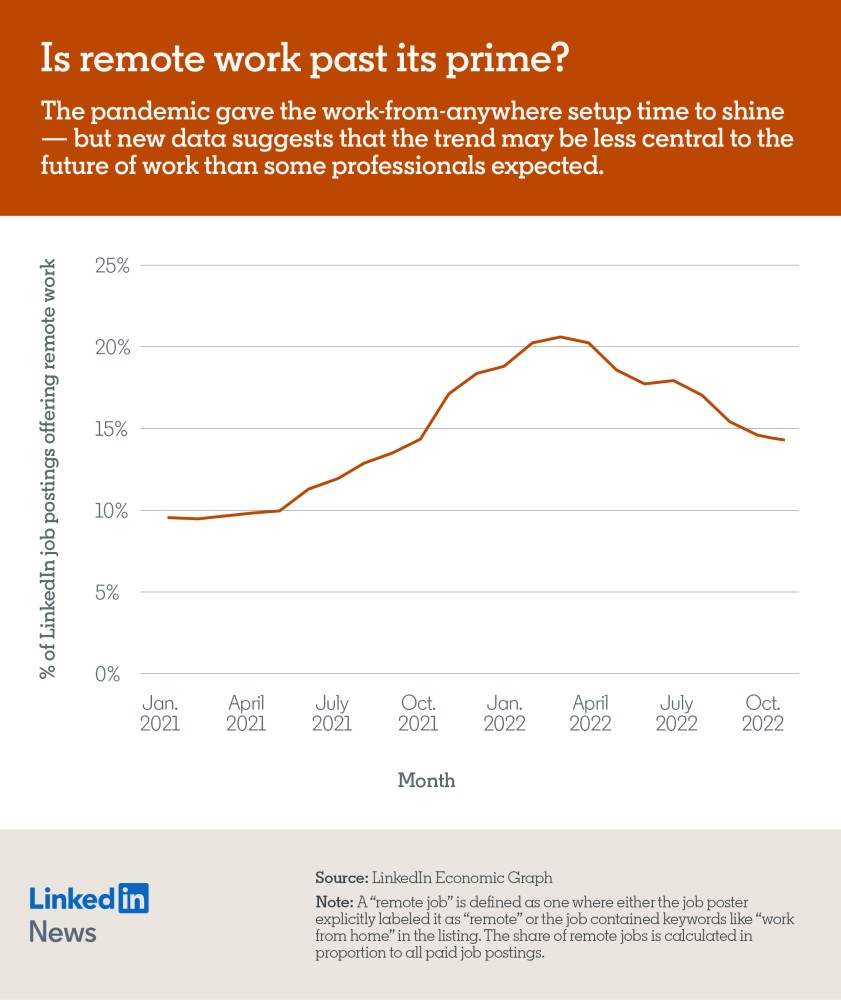 Now, the data don't even show that the percentage of job postings for remote workers has headed back down to where it was at the beginning of 2021, after vaccines had started to become available, let alone to where remote work was during the first, unrelenting wave. But it does show what looks to me like a significant trend. 
George quotes Marc Benioff, the CEO of Salesforce, who was an early enthusiast about remote work, as worrying in December about whether remote work "could undermine the cohesive, get-it-done culture of the physical workplace. 'Are we not building tribal knowledge with new employees without an office culture?' Benioff asked in an internal Slack message at Salesforce. He played coy in his note, saying he was 'asking for a friend.' But Benioff's message quickly leaked to the media, generating wide debate about whether remote work might not be such a win for employers after all."
That's not to say that a wholesale return to the office is a done deal. George reports that "LinkedIn's Economic Graph team tracked the intensity of application rates for what's now a shrinking pool of remote-focused jobs. Candidates' appetite for such positions is so keen that remote jobs in recent months have been getting as much as 50% of all job applications tracked by LinkedIn — even though such positions are barely 15% of the total jobs pool."
In other words, while employers may want everyone back in the office, that doesn't mean potential employees are ready to head there.
I, for one, am a big fan of remote work. That's pretty much been my work life since I became a reporter at the WSJ in 1986 -- you're expected to be out and about, and you're judged entirely by what you get into the paper, not by whether you're in the office. When I left the WSJ to become a partner at a consulting firm a decade later, I ran an organization of remote workers that was successful enough that our little publication was a finalist for the National Magazine Award for General Excellence. And I've been working remotely ever since. 
I also think that a large percentage of jobs in insurance are amenable to remote work, and that any serious effort to deal with the industry's talent crisis needs to lean into workers' desire for flexible work schedules. 
I just think it's worth noting that the peak for work-from-home appears to have past, at least according to the hopes of employers.
Cheers,
Paul