Introduction
Does the word "surgery" make you cringe as you consider the negative thoughts associated with the realities of surgical procedures? Despite advances in modern medicine, being on the receiving end of surgery is not without significant risk. This is why the concept of informed consent is embedded in every medical consent form patients are required to sign as a means of acknowledging and accepting the known or potential risks of the procedure. 
Even when the surgical outcome appears to have been successful, there is a risk of experiencing complications. Unfortunately, the outcomes of surgical procedures vary for many different reasons. Traditional methods of surgery achieve only average results in total when compared with the universe of surgical procedures profiled in MDGuidelines from the Reed Group, which provides average healing times for most procedures. The healing times are expressed in the expected duration of days of disability following the procedure. 
Traditional approaches will never achieve better-than-average outcomes in this model. The rising complexity of medical research and medical technologies offer the promise of improving surgical outcomes. However, without changing preoperative education and care, this promise will not materialize, and costs of surgical procedures will likely outpace medical cost inflationary trends. There is a need for innovation and breakthrough solutions to achieve cost containment in the way in which patients, employers, health insurance and primary care physicians and surgeons approach surgery differently. 
How Surgeries Affect the Workplace 
Surgery affects 5% to 10% of the population in any given year. Virtually 100% of employers have one or more employees undergo a surgical procedure each year and, thus, experience the costs related to outdated surgical approaches. In one estimate, over 50% of healthcare expenditures were the result of surgical procedures. And that analysis did not include the cost of common surgical complications, including opioid painkiller addiction, which affects 9% of post-surgery patients.
Employers are not immune from the complications and risks when employers choose elective surgical procedures outside the sponsored health benefit plan. Employers have a vested interest in employees receiving the best care when surgery is required for musculoskeletal, women's health, cancer or other health reasons. The incentives may vary somewhat depending on the setting of healthcare benefits. Yet, the end goal remains the same: helping employees to navigate a scary, expensive time and to get back to life as soon as possible. 
The Impact of Suboptimal Surgical Outcomes
Suboptimal surgical outcomes have consequences that are borne by both patients and their family members, as well as their employer organizations. The major adverse impacts from suboptimal surgical procedures include the following representative examples summarized below: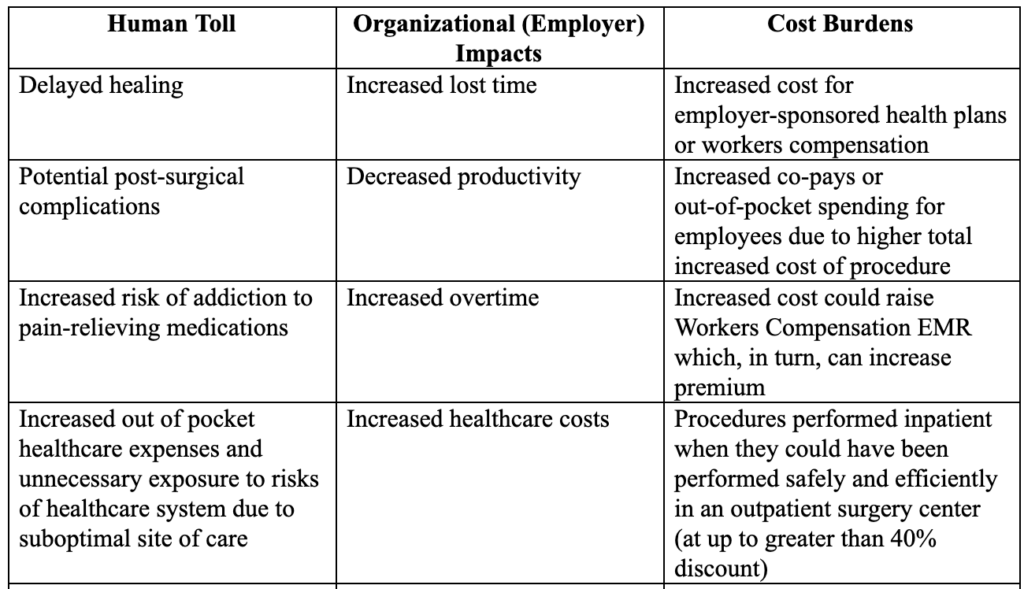 What Are Enhanced Recovery After Surgery (ERAS) Protocols? 
In the field of surgery, over the last decade advanced, innovative providers have separated themselves from their peers by implementing minimally invasive surgery as part of broader Enhanced Recovery After Surgery (ERAS) protocols. Such protocols can take many forms and include interventions before, during and after surgery. ERAS represents the entire surgical experience re-imagined with patients and their recovery front and center.
See also: 2021: The Great Reset in Insurance
Enhanced Recovery emerged in Europe over a decade ago. Since then, over 4,000 journal articles have been published enumerating the benefits of this approach across nearly every procedure type. ERAS protocols often include:  
tailored nutrition pre-surgery rather than lengthy fasting
multiple, non-addictive pain medications to get -- and stay -- ahead of surgery pain
techniques to prevent common surgical complications
strategies to improve the patient's ability to return to normal life function sooner
Patients experiencing ERAS-based care demonstrate:
30% shorter hospital stays
50% fewer complications
90% reduced opioid use
Thousands of dollars in savings per surgery
Faster return to normal life, including work
At a time when our society desperately needs solutions to the opioid crisis, ERAS provides one. In fact, it changes the picture entirely. What if you could change the underlying dynamic and prevent the first dose exposure to opioids? That's exactly what ERAS does.
Surgeons, anesthesiologists and surgical teams have come together across disciplines to implement these care pathways in countries around the world, including the U.S. However, the adoption has been inconsistent. 
As the writer William Gibson once said, "The future is already here—it's just not evenly distributed."
Three primary systemic barriers explain the lagging levels of adoption for ERAS protocols:
The reluctance of patients to ask their doctors hard questions about alternative treatments, less invasive surgical procedures and non-opioid pain management strategies
Conventional wisdom and long-standing industry orthodoxy
Slow adoption of innovation in many organizations, especially smaller and rural healthcare centers
SIDEBAR:  Opioid First-Dose Prevention 
A major benefit of the ERAS procedures has been the measured reduction in the amount of opioid pain medication both prescribed by surgeons and consumed by patients. In fact, adherents to ERAS protocols have shown verified reductions of up to 90% when compared with surgeries performed using standard/traditional pre-operative procedures. These evidence-based clinical findings are significant in that ERAS provides a direct pathway to reducing exposure to prolonged use of opioid pain medications. In turn, ERAS can reduce the probability of patients developing an addiction. Moreover, the potential downstream ripple effect of opioids being consumed by other family members is likewise reduced. ERAS protocols are a proven strategy for effectively preventing the first dose of highly addictive opioid pain medications and all the resultant potential side-effects, complications, misuse and addiction. 
Consider the Benefits of Surgical Quality Analysis
Through a surgery quality analysis, Goldfinch Health processes medical (including pharmacy) claims for one to three years and produces a summary of areas to watch and opportunities for improvement in one of the highest-cost areas of healthcare and employee productivity: surgery. 
The picture that often emerges is one of not only opportunity but urgency. For example, Goldfinch recently reviewed a population that showed during COVID-19:
18% reduction in major musculoskeletal procedures (back, hips, knees, shoulders)
And a 25% increase in steroid injections into joints
Of course, this means members in this population have put off surgery. But, in the end, most of those cases are inevitable. There will be a knee replacement or shoulder procedure needed. Due to the time, stress and treatments that have occurred in the meantime, those members will report for surgery with diminished physical and mental health. It truly is a powder keg waiting to blow. 
Another group believed strides had been made related to opioid use. A deeper look at the data revealed progress had been made—but not in post-surgery opioid use, where painkiller use remained three times higher than national guidelines recommend. 
Considering surgery often touches more than 60% of high-cost claimant cases, these insights provide the vision to act before healthcare and productivity costs overwhelm your budget. 
See also: Mental Health in Post-COVID Era
SIDEBAR: Representative Insights Derived from Surgical Quality Analysis 
This surgery quality assessment by Goldfinch Health includes assessment of:
Outpatient vs. inpatient procedures (highlighting the potential for 40% (or greater) cost savings with outpatient procedures, and the formula for getting there)
Large incision ("open") surgery vs. minimally invasive surgery approaches
Post-surgery opioid use  
Surgical complications benchmarked against industry standards
Conclusion: Who Can Benefit from a Surgical Quality Analysis? 
Surgical quality analysis is a proven strategy for self-funded employee benefit plans for private and public employers as well as union-sponsored health plans. Employee benefits administrators and trustees will gain insights from engaging in a surgical quality analysis. A surgical quality analysis of self-funded claims data will offer key insights as to instituting modern medical case management strategies to optimize healing and achieve cost containment strategies. In short, self-funded organizations seeking to improve the outcomes of surgical procedures to reduce patient safety risks, promote faster healing, expedite return to work, decrease lost work time and associated lost productivity and achieve cost containment can expect to find value in a surgical quality analysis.