How long did it take to sell 240,000 insurance policies online in 2017? Most insurance leaders across Asia guess "at least a few weeks." The reality is that, in the age of digital, it only took one second. The record was set on Alibaba's Tmall.com website on Nov. 11, 2017, by Zhong An, Chinese digital-first insurer and the most successful global insurtech so far. The total for that day was a staggering 860 million insurance policies sold online. The pace of Zhong An's growth has given the much-needed wake-up call for the insurance industry.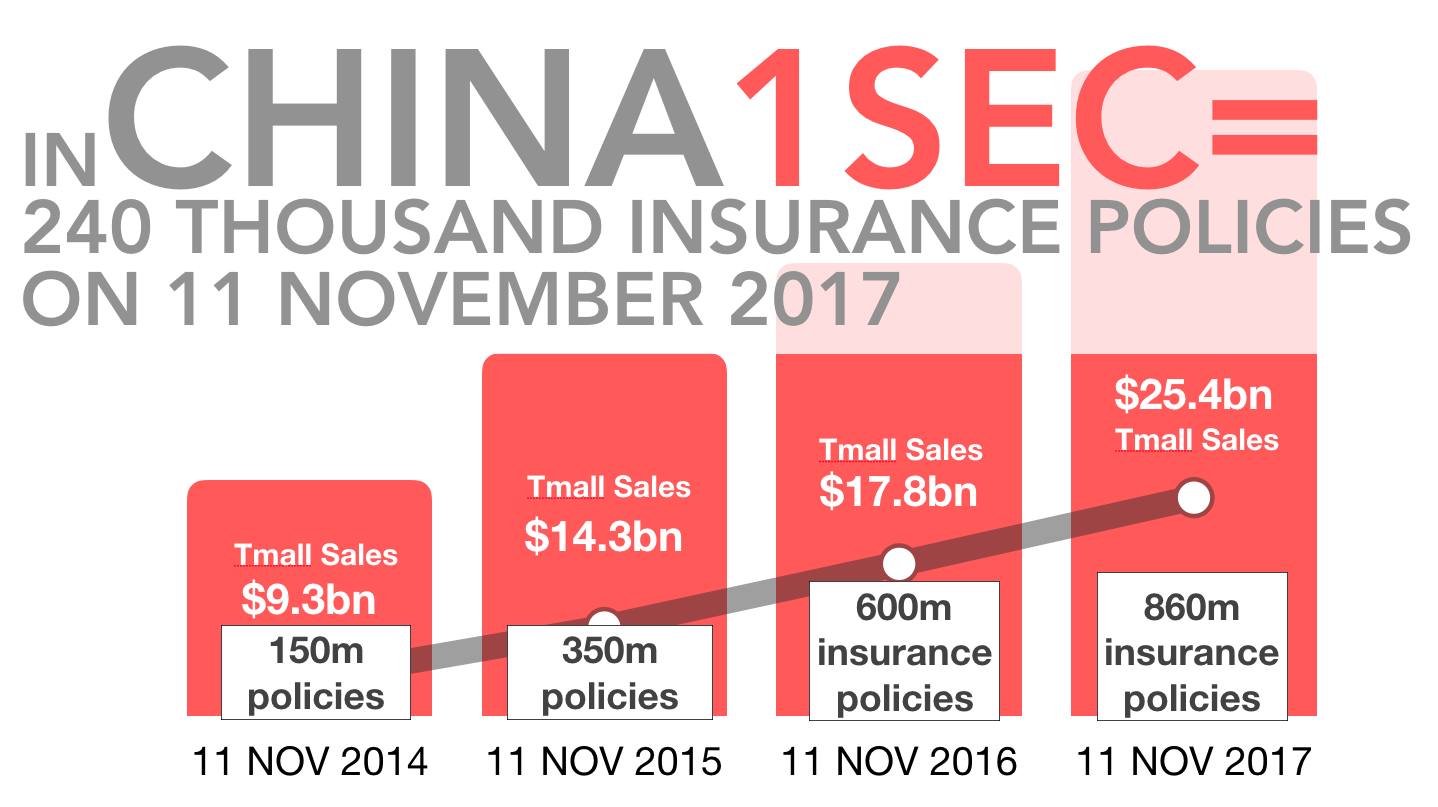 Opening Act of Insurtech
Insurtech had emerged in 2012, and over the last six years the insurance industry has started to embrace it. While there's been a lot of excitement about insurtech, most of the digital efforts so far have been largely incremental—insurance products are becoming slightly cheaper, their distribution becoming a little bit more digitally enabled and the back-office becoming marginally more efficient. The "opening act" focused on the low hanging opportunities that kickstarted the insurtech wave globally. Now as opportunities susceptible to incremental tech solutions quickly dry up, many insurance managers are concluding that insurtech might have run its course, and, going forward, it will be back to business as usual for insurance. They will be in for a surprise! The perfect analogy for the current stage of the insurance industry is a record label in the age before digital music. Record labels erroneously believed they were in the business of CDs, which drove them to focus on pushing pre-packaged products with a single feature that consumers wanted, delivered to customers via expensive and inefficient distribution music store networks.
See also: Digital Insurance 2.0: Benefits  
The valuable lesson being that the full force of disruption did not come when records started selling CDs online but when Napster hacked through the oligopoly of record labels and force-unbundled their products. While Napster ultimately didn't survive, it disrupted the status quo by pushing record labels to finally unbundle their products and make them available to digital-music distribution platforms such as iTunes and Spotify. The latest trends coming out of China are pointing to an early shift in insurance fundamentals. So the current slowdown in insurtech is not an end, but the beginning of the ecosystem transition toward the "Spotify moment" for the insurance industry.
Main Act of Insurtech
The "Spotify moment" happens when a discretionary spending item, like music, gets transformed from an occasional luxury into a utility that millions of customers rely on as their trusted daily tool. The key trigger for a "Spotify moment" is a combination of frictionless customer experience, mass-customization that closely matches consumer's needs, perceived value for money and access to wide variety of choices. The "Spotify moment" will see insurance products simplified down to their core coverages and then embedded frictionlessly into digital ecosystem. This moment is now fast approaching, and it will bring with it the "main act" of insurtech. In the main act, insurance will move closer to becoming a risk transfer utility and a seamless part of consumers' day to day digital service consumption. Digital businesses will start to dynamically pick the coverages that are relevant to the specific "worry profile" of their users and allow users to add those alongside their core services. Insurers have a narrowing window of opportunity to prepare or risk being sidelined into niche segments. Key strategic activities should include the following:
Product Sprints
.
 Cross-functional teams will need to start executing rapid product unbundling and creation of digital-oriented stand-alone coverages. Currently, it takes insurers on average six to 12 months to launch a consumer insurance product. In the future, product design will need to happen in five-day sprints and become iterative, to identify best product-market fits within the digital ecosystem.
See also: Stretching the Bounds of Digital Insurance  
Opportunity Management.
 Evaluating digital opportunities by the same metrics as legacy business is a sure way to destroy any sign of innovation. Digital requires a strategic "VC" approach to opportunity selection and management. Placing many strategic bets will let organization learn and iterate quickly from both mistakes and successes. Dedicating investment pool and digital P&L will keep accountability and ownership clear. Lastly, providing the best support for digital opportunities will maximize the probability of success. After all, would you rather lose your best resources to your self-disrupting digital team or to Amazon?
Startup Collaboration.
Working with startups and approaching them as high-potential partners will give the organization the right cultural compass and position it well for the dynamic digital insurance ecosystem. The future of insurance is digital; resistance is futile!