Ahhh... a full-bodied merlot or cabernet sauvignon. Nothing tastes better than an aged red wine. The longer these vintage spirts lay dormant, the better. 
Unfortunately, there is no such happy result when it comes to delayed vehicle claims. In fact, the more time a claim goes unattended, the more "collateral damage" is created, with increases in (already challenged) cycle times and decreases in customer satisfaction. 
Cycle Times and Customer Satisfaction 
A recent J.D. Power report reinforces the correlation between delayed cycle times and reduced customer satisfaction, citing a notable drop in satisfaction when claims exceed two weeks.  
Specifically, compared with the quickest claims (resolved in less than one week), satisfaction levels dropped 56 points for the 34% of claims that stretch beyond two weeks, and plummet nearly 90 points when lasting beyond a month and 140 points among the longest claims. Time to settle is a key driver of overall satisfaction.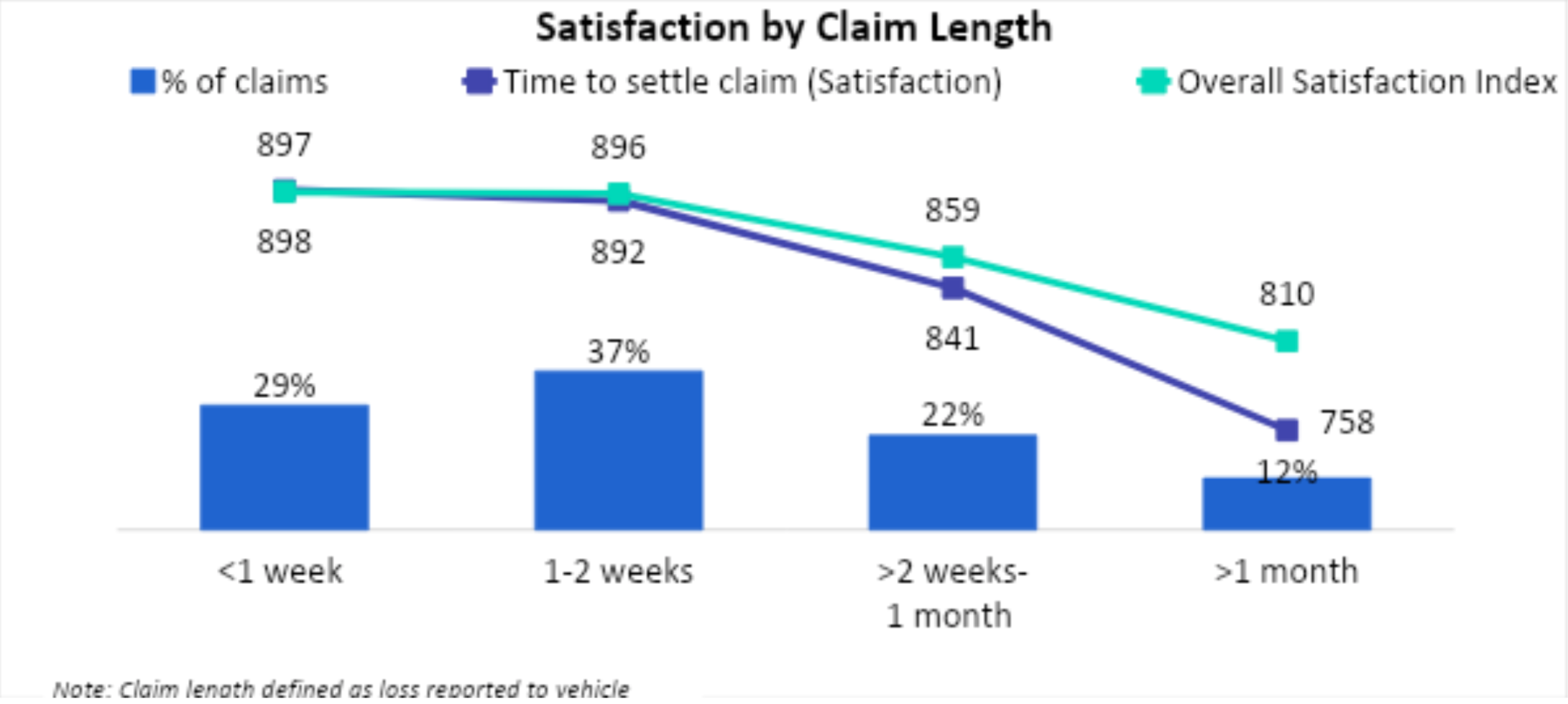 Source: J.D. Power
Communication-related metrics, such as for keeping the customer informed of progress, also notably decline.  
Mark Garrett, director of insurance intelligence at J.D. Power, recommends a "laser focus on both speed and high-quality communications to maximize customer satisfaction."
And that is one of the many reasons touchless vehicle claims are finding a stronghold. 
From Novel to Mainstream 
Once considered novel, these fully automated, touchless claims are now growing in popularity, empowering customers to jump-start the claims process, anytime, anywhere.   
But that's not their only superpower.   
The portability and convenience of touchless claims open the door to a fully streamlined, virtual experience – from first notice of loss (FNOL) to settlement, repair and getting customers back on the road. There's no waiting for callbacks, navigating busy phone lines or moving your day/week around the confines of set service hours. Instead, touchless claims bolster consumer confidence via personalized, proficient claims experiences. 
It's all about managing consumer expectations through positive carrier experiences, and while not for everyone, touchless claims place the customer in the driver's seat, keeping them engaged with every step of the claims process.  
Tech-Savvy Customers  
Make no mistake, current and prospective customers are primed and ready for digital experiences, including Millennials and GenX individuals – often referred to as the Digital Generation – who essentially grew up with technology and digital innovation. 
Those experiences embedded in AI – the "engine" of touchless claims – are no exception. Look no further than the findings of the Solera Innovation Index 2022, a survey of 2,000-plus consumers, OEM dealers, repairers and insurers regarding their view of AI technology and its impact on the claims/repair journey: 
79% of tech-savvy customers would trust

automotive claims powered entirely by AI (up 7% year-over-year) 

Approximately

1/3 of respondents personally completed a claim devoid of human interaction

 

49%

of consumers

prefer end-to-end self-serve claims options

 
Accelerating Carrier Adoption 
With all of the upsides to touchless claims, the exceptional customization features make their use a blend of art and science. While carrier adoption is underway, the pace is closer to a crawl than a sprint. Some may turn to a plug-in option to their existing, legacy process, then discover the approach is more clunky than seamless and throw in the touchless towel only to revert back to old ways.   
Garrett suggests a more holistic view. "The best way forward is for insurers to start focusing on carefully managing customers' expectations and fine-tuning their digital engagement strategies to shepherd their customers through the process," he said.   
Improving Communications 
The J.D. Power ACS findings also point to the role of communication in the claims process, noting the three most affected key performance indicators (KPIs) when cycle time extends beyond two weeks as:  
Accurate claim length expectations  

Unnecessary delays  

Updates 
A well-designed touchless claims model can provide avenues and features to address these KPIs, customized to reflect your carrier's own unique flow, customer engagement cadence and process touchpoints.    
See also: How Claims Process Must Drive Change
Intentional Design vs. Afterthought 
To that end, carriers that can reimagine touchless claims as an intentionally designed service of their business plan vs. a piecemeal afterthought to an outdated, longtime existing "legacy" system stand to have better outcomes in the long run.   
Holdouts to touchless claims may argue that nothing can replace human touchpoints that come with relating to customers personally during one of the most stressful times in their lives. That's true for some claims and why all roads lead back to enhancing customer satisfaction by managing expectations. We realize no single workflow for non-complex auto claims pleases every customer. That's why complementing a customer-friendly touchless claims workflow with a hybrid model -- where digital customers may opt out to immediately speak with a human (a well-trained adjuster) when desired -- is ideal for the future claims design. 
Being empathetic throughout the process is key, especially for the longer-tailed claims that can create more effort for customers who have questions, need updates and are trying to determine next steps, Garrett says. 
Touchless claims offer many ways for carriers to personalize updates and foster strong communication – there are no cookie cutter approaches.  
If there's any doubt about whether your current – and future – customers are ready for a touchless claims experience, cast that thinking away. They're here, and they're ready. Take the time to develop your unique process – rushing through the steps to "check the box" is ill-advised.  
The best results are always aligned with timely, quality claims communications, says Martin Ellingsworth, executive managing director, P&C insurance intelligence at J.D. Power. "You can never go wrong with the foundational underpinnings," he said.
Let's have a toast to a touchless claims future. 
Cheers!