The Duford Insurance group conducted a study in which they found that almost one in every two agents leave within three months of joining an insurance sales force, and up to 95% are gone within the first year itself. Can you imagine the spend on hiring, onboarding and training this workforce, only to incur it all over again? A costly affair!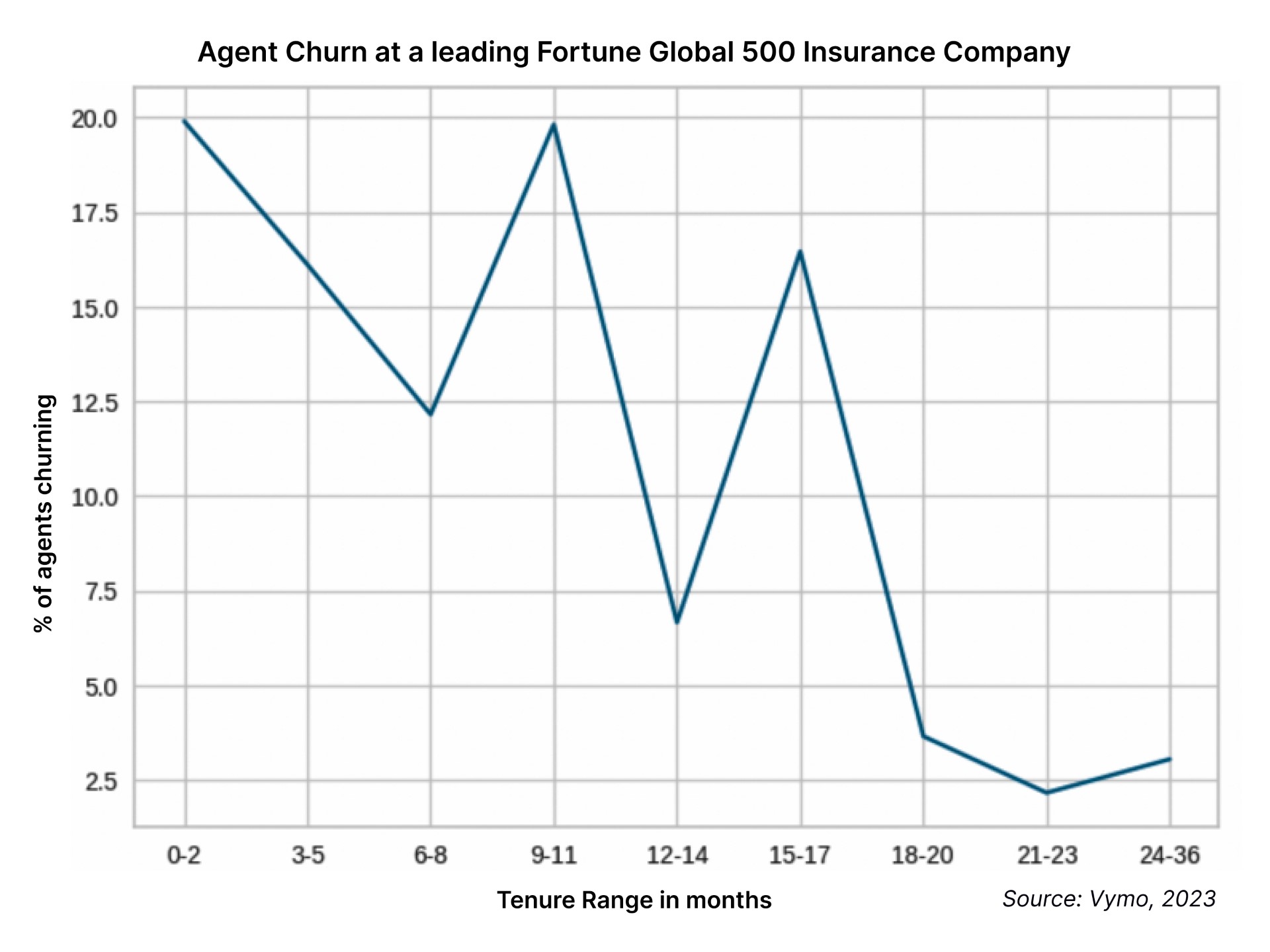 This not only impacts immediate cost, but leads to productivity issues, and in general, a decline in overall performance.
In the previous article we covered how insurers could retain their millennial workforce through better career opportunities, state-of-the-art technology tools, and well-rounded benefit programs. In the next in this series, we will cover how carriers can effectively use AI to strengthen their hiring and retention workflows.
To help simplify this, let us take an example of an agent, Leyla, who is being considered for employment by a leading insurance firm. The 24-year old has just attended an interview and let's see how her firm can utilize AI across her career lifecycle.  
Recruitment
Carriers or wholesalers can leverage AI and ML-based tools to sort and gather relevant details from the candidate's  resume, documents uploaded, demographics, interactions etc. swiftly to help the recruiting team get a complete picture. AI can also be used to compute behavioral scores to make sure that Leyla is the right fit for the role and has attributes that will help her align to the company's culture and values.
Onboarding
The first 90 days in Leyla's career as a producer are going to be crucial. Several studies and reports into why insurance agents leave suggest that poorly designed onboarding programs are among the top three reasons.
With the right sales tech tools, carriers can build a superior onboarding experience for new hires. This is a first step to addressing churn by ensuring a positive experience in the first place.  Through ML-driven playbooks that are developed based on best practices, the insurance firm can take Leyla through her 90-day onboarding through nudges and interventions that will, for example, 
Ask her to complete training videos due for this week and nudge her to finish any tests that she needs to.

Remind her manager to update her with important information from client meetings

Nudge the manager to set up time with Leyla to discuss learnings from her first sale

Recommend best practices that other top agents followed in their onboarding period so she is able to replicate this for the same results

Remind her to take the right actions towards a lead as she starts selling
Well orchestrated playbooks help carriers ramp up their agents faster in the first few months, reducing the cost and effort that is otherwise required in preparing agents for their roles.
Nurturing
The first three months, AI-led systems are also able to gather data and attributes to build a better profile of Leyla. Carriers will are now equipped with better insight into,
Skill gaps and activity gaps

The areas she needs manager intervention

If she is at a high risk of churn

A high will-low outcome scenario. For example, if she is inclined to sell more and reach out to more leads that she is doing, the system algorithm can identify more leads, better leads so she is contributing and improving on her performance.
This is a game-changer. To be able to predict churn and alert them to take remedial action can help carriers strengthen their retention strategy through a combination of learning programs, rewards and newer opportunities to help agents like Leyla continue in their roles and reach their potential.
Career Growth
Artificial Intelligence and Machine Learning tools are able to strengthen the talent acquisition and retention function in an insurance company. Predictive capabilities while identifying the right candidate, playbooks for a robust onboarding journey and the right insight and interventions to nurture, coach and mentor them can help solve one of the biggest challenges the industry is facing today.
Beyond this, an AI-enabled tech ecosystem can support agents like Leyla experience much higher learning curves,  better coaching and mentoring and a more rewarding career. Another upside to this is a stronger branding of insurance careers among the millennial and Gen Z workforce.
Sponsored by ITL Partner: Vymo