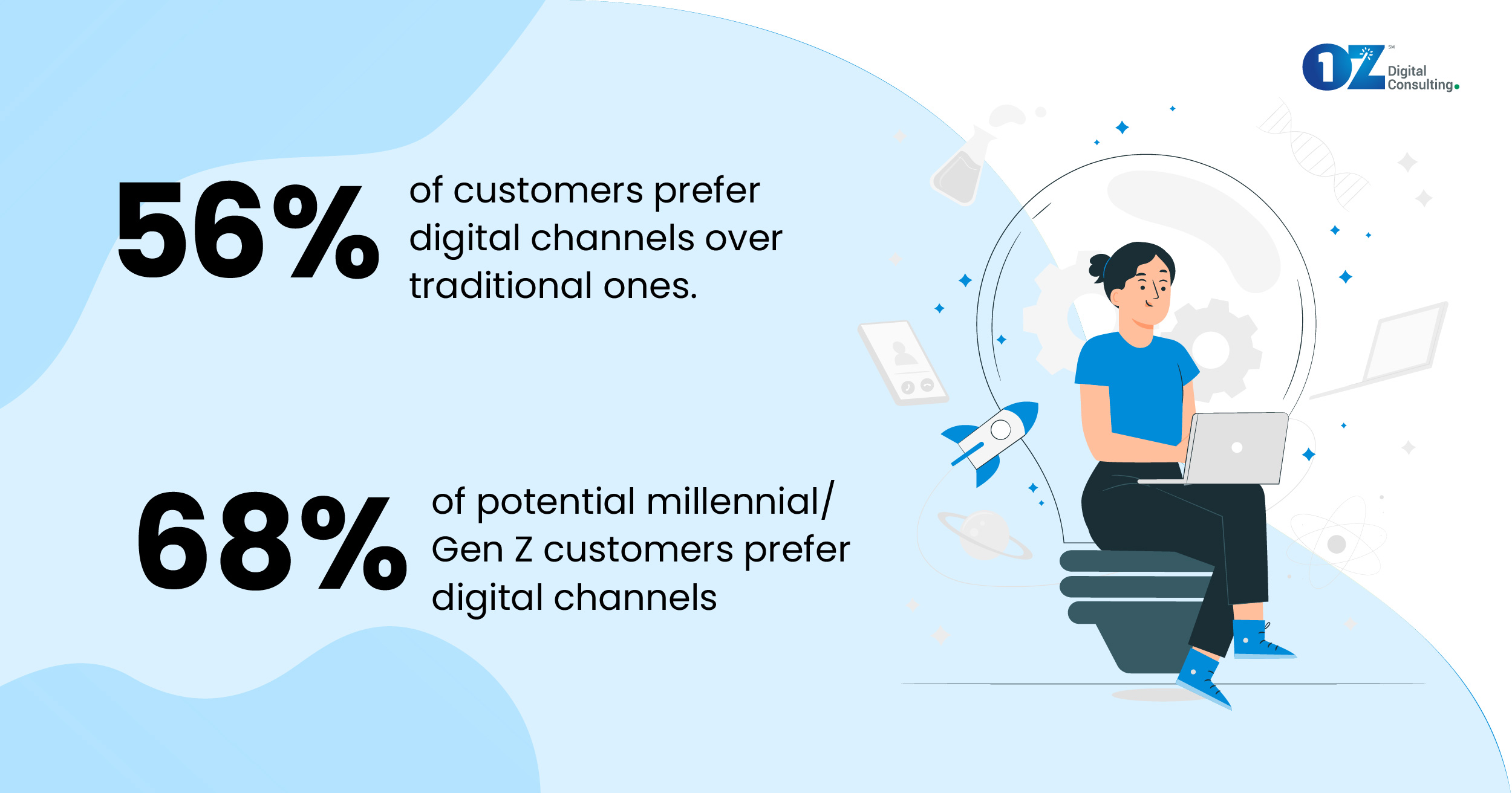 "If you do not change direction," Taoism founder Lao Tzu warned, "you might end up where you are heading."
It's a bit of ancient wisdom sure to resonate with modern enterprises as they seek to transfer their CX approach from the well-beaten path through a fast-fading single-channel world to one that leads to a new digital-first multichannel universe where tech-savvy Millennials and Gen Z—not to mention their expectations and business—reside.
Consider the following findings from a recent Salesforce survey:
56% of customers—and a full 68% of potential millennial/Gen Z customers—prefer digital channels over traditional ones.

Further: "More than half (56%) of millennial and Gen Z prefer mobile apps and are more than twice as likely than silents/baby boomers to prefer voice assistants like Siri and Alexa."

Nearly forty percent of customers "won't do business" with a company if they cannot use their preferred channels.
The challenge is particularly acute in the insurance industry where providers are working to pivot to that multichannel future while also operating as multi-line policy providers and attempting to stay ahead of the ever-evolving risk curve.
From an Insurance Nexus survey:
In North America, 43% of consumers selected the broker channel as preferred. 57% chose the online channel and twenty-nine percent prefer an aggregator.

Though nearly a quarter of millennials use an agent or a broker, only 16% identify brokers as a preferred insurance channel— "making it the fourth most popular choice after online, aggregator, and affiliate partner channels."

61% of Gen X and Baby Boomers use an agent or a broker with half "selecting that channel as one of their most preferred."
This means that insurance providers, to remain competitive, must do several different things well simultaneously.
As a Reuters white paper recently put it: "From digital native Gen Zs to silver-surfers, consumers are now accustomed to Amazon or Uber-style experiences, and they want affordable, transparent, and customized solutions."
So, can the insurance industry accomplish this feat?
Can providers effectively manage all their foundational duties while simultaneously pivoting toward an omnichannel engagement strategy?
The answer is absolutely.
But it will require a multifaceted approach to distribution that is highly flexible and adaptive as well as responsive to the differing needs based on who the client is—i.e., individual or commercial buyer—and where they are on their own digital journey. A given customer may, for example, be comfortable submitting information for a digital quote but prefer to close the actual transaction with a broker or underwriter.
On a more macro-level is will also require some degree of "co-opetition"—an increasingly common phenomenon described by Harvard Business Review as "cooperating with a competitor to achieve a common goal or get ahead."
"[Co-opetition] isn't always easy, because people tend to think in either/or terms, as in either compete or cooperate, rather than compete and cooperate," Adam Brandenburger and Barry Nalebuff write. "Doing both at once requires mental flexibility; it doesn't come naturally. But if you develop that flexibility and give the risks and rewards careful consideration, you may well gain an edge over those stuck thinking only about competition."
In other words, placing the customer first in a rapidly shifting business ecosystem could mean rethinking how the boundaries within those ecosystems are drawn in the first place.
And with consumers' expectations being continually shaped by encounters with other brands in other sectors, for insurance providers, time is truly of the essence.
To get from here to there, providers will not only want to lean on outside technical and strategic expertise—the "consultant factor," as I called it in a previous article—but also on laying the following two primary building blocks:
A Technology-First Mindset

. The mindset of insurance companies when a new or improved digital engagement tool is adopted by another industry should not be to lean into reliance on existing legacy systems and service models, but, instead, to immediately begin the process of ideating internal use cases and begin the integration process as soon as possible. In a multichannel world, providers must meet customers where they are at. That may mean, say, opening up lines of communication via instant message or an intelligent bot; a self-service web portal or mobile app; a conversational AI digital virtual agent; a human agent; or, most likely, a seamless, reactive hybrid of the three. Utilize experienced third-party insurtech firms whenever needed in whatever way possible—competitive advantage and both the short- and long-term prospects of the company will depend upon it. Customers are too inundated with options to settle in 2023. Remember, Customer acquisition in insurance is estimated to 

costs 

nine times more than customer retention.

Freedom from Friction. 

Insurance should digitally pave its customer purchase journeys: Significantly, 96% of independent agents surveyed by Clearcover 

say their customers are seeking

 more digital tools now than they were pre-pandemic. Providers ignore this fact at their own peril. "Driven by 

insurtechs

, insurance is moving towards efficiency driven by technology, data, and predictive analytics," Mike Brown writes. "It's getting away from the legacy operations defined by human underwriters, nine-to-five dealmaking, and cumbersome processes. A computer only needs a couple of minutes to underwrite an insurance policy. It's an opportune time for tech companies to get a seat at the insurance table. They have robust data and technological infrastructure that could be leveraged to underwrite and sell insurance products." If insurance companies want to protect their own turf, they're going to have to be lithe, smart, and quick, technologically speaking.
Insurers are being challenged to rethink not just the experiences they provide customers but their entire approach to customer engagement and how they collaborate with their distribution partners, agents, brokers, and intermediaries. The quote-to-card value chain and traditional pillars of brand, price, product, and the claims "moment of truth" are being challenged and disrupted.
Many customers say that today superior service is often more important than price and a great claims experience is expected.
Considering all of this, multi-channel is the new front door to your business: Without the right technology, business culture, workforce, and processes, you face becoming obsolete.
If you're ready for an extreme customer experience makeover, grab a sledgehammer. It's time to build the modernized, digital-first omnichannel experience.
Sponsored by ITL Partner: OZ Digital Consulting