On Dec. 4, 2018, the first insurtech IPO in the West happened. It wasn't, however, in London, Berlin or New York. Instead, it took place in Frankfurt, Germany. Around the world, congratulations rolled in, wishing the company the best with its freshly raised money. Only 12 months earlier, hardly anyone in the international insurance or insurtech community would have been able to pick Deutsche Familienversicherung (DFV, or German Family Insurance) out of a lineup. It was not known outside the country. We changed that. How? A concise, well-planned, pre-IPO campaign pushed the company into the heart of the insurance community. To give back to the community, we are happy to share our lessons learned. Robin Kiera, founder of Digitalscouting: When I was contacted the first time by Lutz, to be honest, I was a little skeptical. A small insurer with quite a conservative name run by a 60-year-old insurance industry veteran was planning to conquer the world? Lutz Kiesewetter, head of corporate communications and investor relations at DFV: For a long time, I had followed Robin on social media. A first call confirmed that he shared a very similar digital vision of the insurance industry.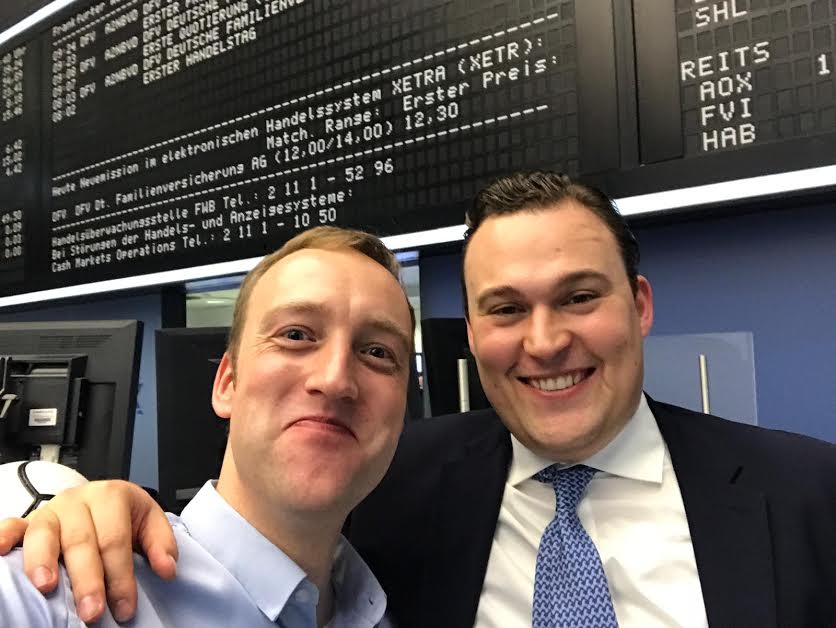 Dr. Robin Kiera (left), founder of Digital Scouting, and Lutz Kiesewetter, head of IR and PR at DFV
RK: Waiting for Lutz in the lobby, I saw heavy construction going on on the ground floor. There was free Wi-Fi everywhere, easy access for all. Actual investments were taking place, in contrast to so many other companies that talk a lot about modernization but lack any real action. Lutz was also a little younger than I expected, making it clear that young people had responsibility here, not only after serving 30 years. The conversation with the founder and CEO, Dr. Stefan Knoll, was also quite memorable. The fact that he was willing to share his crystal-clear analysis of the insurance industry was surprising. That he let me film and publish it was even more so. I was given the opportunity to look under the hood of the company, learning more about the impressive, homegrown, event-based IT system that allows end-to-end, real-time business processes. While the pure business numbers were way above industry average, I was even more impressed by the open minds and agile approach of the employees. Guided by a smart and dedicated CEO, this motivated team was thriving within their work culture, willing to go all in on new communication approaches to ultimately position the company for the IPO.
See also: Insurtech Needs a Legislative Framework  
Lesson #1: Go against all rules and go all in
LK: The publicity for the first IPO of a European insurtech and fully digital insurer in the Western world could not be done with classic, conservative PR. Thankfully, being a little different is part of our DNA, It was, therefore, clear that attention hacking in social media via influencers would play an important role. This strategy led us to work with Robin and deploy his unusual "attention hacking," which means using a flood of content on social media, vlogging and conference appearances to support our IPO mission. RK: For me, it was a go/no-go requirement that we would ignore most classic communication rules and go all in on social media, influencer marketing and content marketing.
Lesson #2: Share your story
RK: In a matter of weeks, we laid out our master plan and began to implement. We shot the first set of videos sharing the story of DFV, and we began to flood the internet with relevant, highly targeted content. I also made a lot of behind-the-scenes introductions to highly influential people within the international community. This was easy for me, because, first, I have known a lot of decision makers personally for years. Some are good friends. Second, the story of DFV was compelling: a seemingly conservative insurer with a long German name embracing modern technology, ripping apart its old IT system, creating innovative insurance products, investing heavily into team and technology and serving half a million clients already, making significant revenue and profit while a lot of other decision makers still were hesitant to invest in change and while a lot of startups presented vanity key performance indicators (KPIs) but not real sales numbers. The story was almost too good to be true. All around the world, insurance and insurtech experts were interested in hearing more. LK: The PR campaign kicked off with a DFV event series on April 26. DFV positioned itself as the only insurtech with a working insurance business model to the public, the insurance industry, journalists and the trade press. The live presentation covered features like the in-house event- and Java-based core system, the AI-based service that can settle a claim in 45 seconds, and the use of Alexa as a sales channel. The fact that DFV, with just 100 employees, not only covers the complete value chain of an insurance company but also works 100% digitally and is profitable, with hundreds of thousands of clients, while acting as a risk carrier for its products, was something that garnered attention.
Lesson #3: Meet and serve the community
RK: Sharing your story massively on social media is good. Meeting the decision makers of different ecosystems is even better. We decided to meet the movers and shakers in person by choosing to attend the most important conferences around the world. So, we went for example to Insuretech Connect in Las Vegas and DIA in Munich. We helped DFV share its fresh story backed by real KPIs on the most renowned stages in front of thousands of insurance professionals. Why? After speaking on stage, interested parties approach you; it's not the other way around any more. Also, we produced social media content from the events that reached people around the world via the Digitalscouting channels. In addition to speaking at and breathing in the exciting atmosphere of these events, we met a lot of decision makers from my network. Many people welcomed DFV with open arms, keeping their fingers crossed for the IPO. Each time I saw this happen, it moved me personally, because it reminded me how many amazing people are working in this industry. LK: For the IPO and initial financial market communication, we implemented broad, multi-channel PR. The intention to go public was exclusively picked up by Wirtschaftswoche, one of the leading magazines in Germany. The story quickly spread throughout the world via Bloomberg and Reuters. Our 360-degree strategy included standard media and communication channels, as well as intensive attention hacking via social media and the visits to insurtech events such as DIA in Munich and ITC in Las Vegas. The first insurtech IPO in Europe received considerable attention within the community and also received from the financial and business media.
See also: Insurtech Ingredients? We Just Want Cake  
The last weeks, days and hours before the IPO were dramatic. The first IPO attempt needed to be called off because the order books were not full. For the second date, results looked a little better. But it was not clear until the morning of the day if the IPO would be successful. So, when the stock exchange employee announced the first stock price of 12.30 EUR, the relief for management was huge. With a ring of a bell, DFV raised 55 million USD. I, personally, was happy to be present and part of this insurtech success story. A small insurer from Frankfurt seized the moment, using tools and tactics that were against all traditional rules to prepare an IPO, helped across the finish line by a supportive community of international insurance and insurtech professionals. Now the company focuses on delivering on its promises.