Technology is bringing change to nearly every part of our lives. Platforms like Amazon have created expectations among consumers that they shouldn't have to send the same information to multiple parties across different methods – digital and mobile technology should make the process seamless and should be personalized. And, companies like Starbucks have innovated their business processes through a Left Shift (see Figure 1 below), creating more choice and loyalty, better cycle time and ability to know more about their customers through their digital engagements.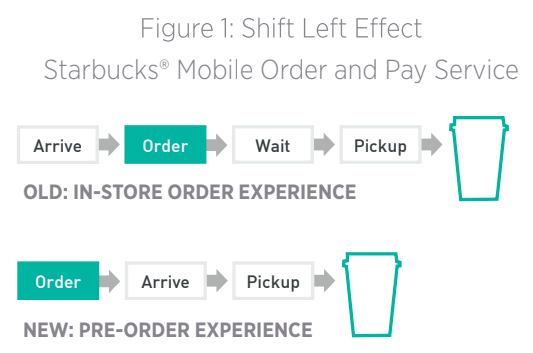 For our industry this personalization, convenience and level of service have become expected by consumers, regardless of who they are insured with, what vehicle they drive and what the characteristics of their accident were. Through new capabilities such as self-service claims, the consumer no longer waits days for an estimator to take photos; the extent of damage is knowable at first notice of loss (FNOL), and vehicle damage photos facilitate speedier decisions to be made about the claim (see Figure 2).
Customer retention is a huge benefit gained from improving digital channel experiences, yet there are additional benefits that help insurance carriers with their loss adjustment expenses (see Figure 3).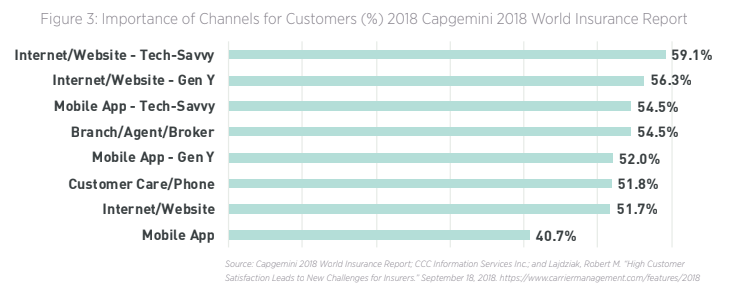 For example, the J.D. Power 2017 Auto Insurance Study found that customers who set up an account online with their insurer are two times as likely to submit incident photos through an app and receive digital updates and three times more likely to report first
notice of loss online
. However, the overall percent of customers willing to report their first notice of loss is low, with 9% in J.D. Power's 2017 survey growing only to 11% 
in their 2018 survey
. But the same survey data also showed
65%
 of customers received digital status updates for an auto claim, and 42% submitted their own photos.
See also: Transforming Claims for the Digital Era  
Virtual auto claims handling via integrated smartphone technology has emerged as a key competency that consumers not only want and expect, but the technology also removes significant cost from the claims process 
by
"…essentially eliminating the first half of the work. [The insurer doesn't] have to get the car to the human or the human to the car." Analysis of vehicle appraisals generated annually shows a shift among insurance carriers and their customers to new and different methods of vehicle inspection such as virtual or photo inspections and away from insurance staff appraisers inspecting the vehicle in the field or in a drive-in facility (see Figure 4).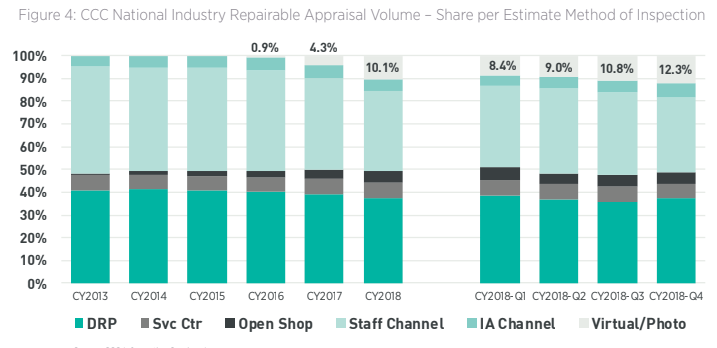 A comparison of claim cycle times reveals the number of days from the last estimate assignment to the date the initial estimate of record is completed is lowest for those appraisals with a photo estimate method of inspection, and photo inspections have the highest percent of appraisals where the last estimate assignment to date of estimate complete is less than or equal to 12 hours (see Figure 5).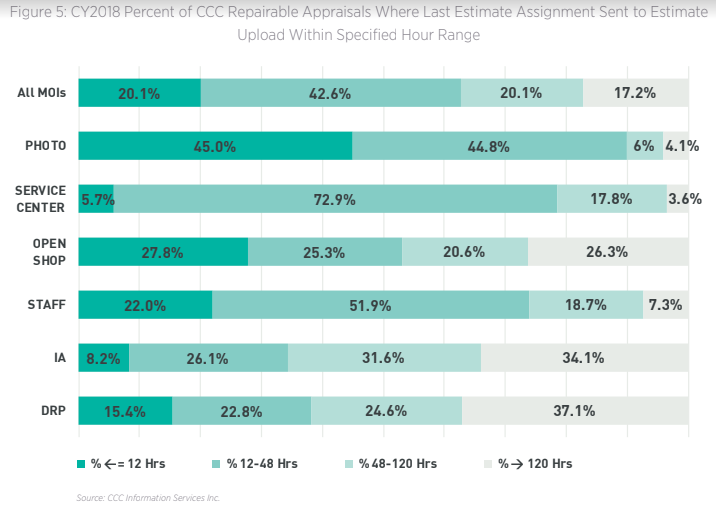 The streamlined appraisal process also sets the stage for a streamlined repair process – where within the same app the customer can view the estimate of record produced from the vehicle photos, then choose a repair facility to fix the vehicle and even schedule the appointment with that shop. Photo estimating coupled with online claims communication and scheduling saves consumers time they may traditionally have spent driving around to multiple shops to get estimates or waiting for an insurance adjuster to show up at their home or work, ultimately ending up with a paper copy of the estimate and maybe a check, only to then have to decide where to get the car repaired and schedule the repair. With online shop scheduling available as a "next step," the customer can select the repairer based on proximity, DRP program participation, on-line reviews, customer referrals or availability of OE certification, essentially enabling the overall experience to occur on a single platform in a personalized manner – not too different from what consumers experience on Amazon today. Insurance companies and repairers that adopt a single platform can enable consumers to efficiently process their claim, schedule the repair and ultimately deliver an experience more in-line with modern expectations. Self-service claims and repair scheduling capabilities via digital devices are just two examples of how our industry is using technology to "shift-left" – providing customers with enhanced self-service capabilities via technology that ensures the same or better customer service and engagement.
See also: Survival of the Fittest in the Digital Age  
Technology such as mobile, AI and IOT will increasingly play a key role in a company's ability to quickly assess and respond to consumer feedback and other information on market conditions. Knowing which technologies to use and knowing how to use them to cater the claims and vehicle repair experience to each distinct customer will lead to higher customer satisfaction, retention and growth.