Parametric insurance is often bought as a complement to indemnity insurance, but newly announced hybrid products combining parametric and indemnity insurance in the same policy will launch in 2022. These hybrid products, which represent a big shift in how parametric insurance is being sold, will be judged on uptake and effectiveness in paying out. Their performance will reveal how these approaches compare and determine whether hybrid parametric-indemnity insurance becomes a trend.
A background to parametric insurance
While indemnity insurance policies are designed to compensate policyholders for loss, parametric insurance pays out claims based on event triggers. Common triggers involve weather or natural perils, such as hurricanes measured by wind speed or floods by high water mark.
Parametric insurance is well-suited to perils for which indemnity coverage is insufficient, not available or too expensive, but parametric policies are not comprehensive. A parametric flood insurance policy for commercial property, for example, does not help in the event of wildfire or theft. For this reason, parametric insurance is often used to fill gaps in coverage of traditional insurance policies from another insurer. Traditional insurance policies have gaps in coverage from limits, deductibles and exclusions.
See also: ITL FOCUS: Parametric Insurance
Filling the gaps: four approaches
There are four ways in which parametric insurance can be structured as a complement to indemnity insurance.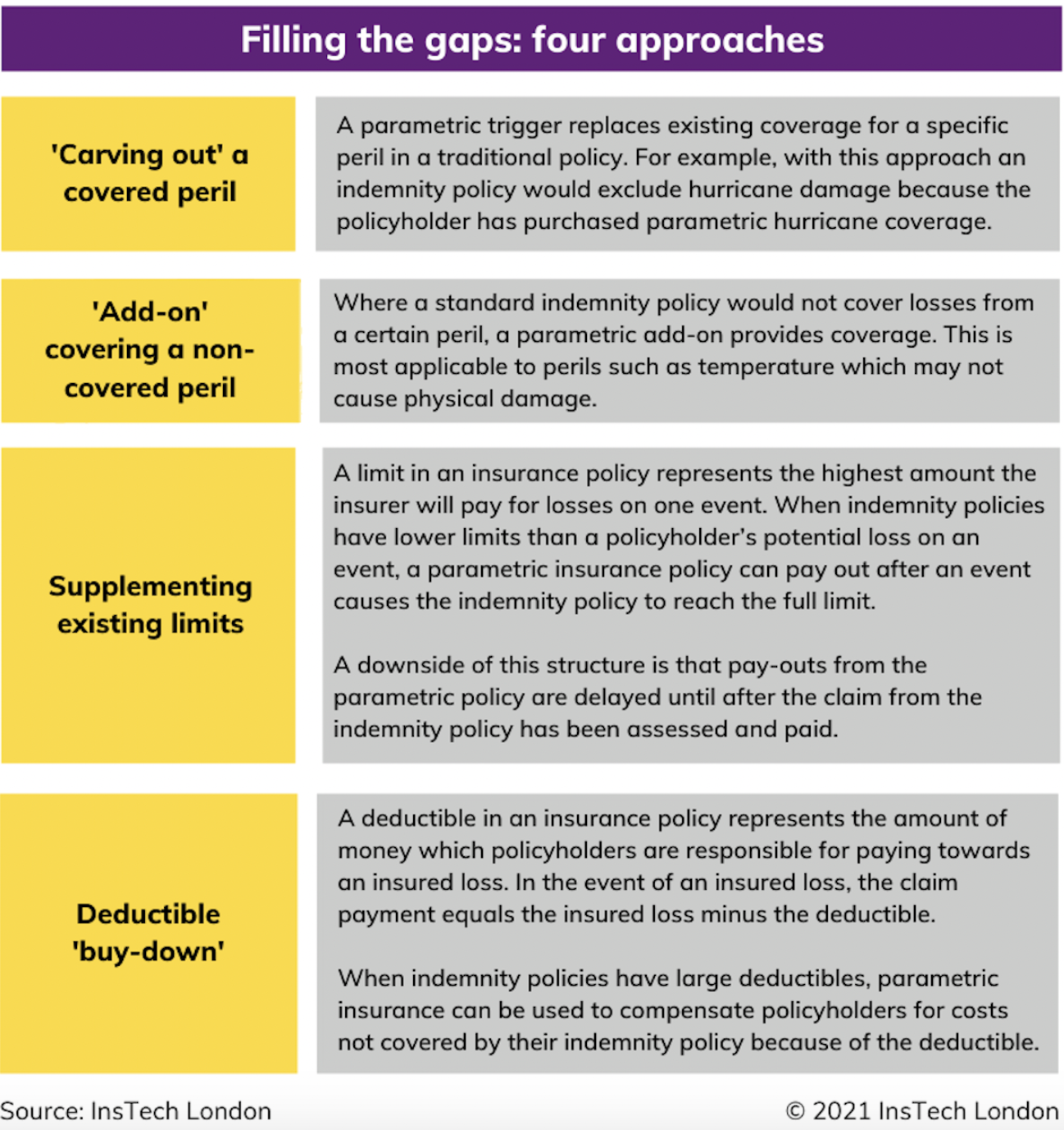 Why combine parametric with indemnity for commercial insurance?
A combination of parametric and indemnity insurance may be more cost-effective for corporations than indemnity policies alone. Descartes Underwriting provides parametric insurance against climate and natural catastrophe risk to corporate clients around the world. Descartes is a managing general agent (MGA), an organization that underwrites insurance policies without holding capital (fully defined here), with Generali as its lead insurance capacity provider. Descartes works with brokers to structure parametric policies for clients, either to protect against a specific peril or a combination of perils.
Paul Jones, Descartes' business development director for the U.K. and Ireland, highlighted the deductible buy-down approach. Clients face increasing prices for policies with increased deductibles and reduced limits for natural catastrophes. This leaves corporations taking on more natural catastrophe risk than they wish to. By purchasing an indemnity policy with a larger deductible, which can reduce the premium, and using parametric insurance to fill the gap left by the deductible, corporations may save money and be more protected. Sébastien Piguet, Descartes' co-founder and head of underwriting, shared some case studies including luxury goods corporation LVMH on InsTech London podcast episode 165.
For smaller businesses, cash flow is a key reason to integrate parametric triggers into insurance policies. Ruth Polyblank, insurance partnerships lead at Mastercard, told us, "Small and medium-sized businesses often fail after catastrophes because they depend upon regular income to survive. A parametric, non-damage business interruption cover added to an SME's indemnity business insurance can make payments for a proportion of the loss, in near real time and can be used to fund innovation, adaption and ultimately survival."
Brokers currently work with clients and partners to determine the right combination of parametric and indemnity policies from different sources, but it is also possible to combine parametric and indemnity elements in a single insurance policy.
Coming hybrid policies
One of the first examples of parametric and indemnity coverage being combined in the same policy has recently been announced. Vave, an MGA and part of Canopius Group, will include parametric extreme temperature cover, powered by the Demex Group, in all its commercial property insurance policies. Vave, which already sells homeowners' property insurance, plans to launch its commercial property insurance product in early 2022.
Since extreme temperature rarely causes physical damage, the parametric trigger in Vave's policy relates to a peril that would not be covered by a standard indemnity policy (an "add-on," as discussed above). Vave will consider whether and how to apply parametric to other perils in the future.
Parametric insurance is more easily scaled when included within comprehensive policies, rather than being sold as a separate policy, according to Vave Managing Director Marek Shafer. He told us that, while retail brokers were less likely to offer standalone parametric policies to clients, packaging parametric with an indemnity policy breaks down barriers to selling it.
Skyline Partners, an index insurance specialist and MGA specializing in parametric insurance, is working with an agricultural insurer in the U.K. to bundle parametric heat stress cover with their existing indemnity insurance policy for the dairy industry, to scale up and differentiate existing offerings. Skyline Partners' parametric heat stress product for the dairy industry was launched in France in 2021 as an embedded insurance product with the purchase of agricultural services from agritech company ITK.
Co-founder and Executive Director Gethin Jones said Skyline Partners, operating as an MGA, can also combine indemnity and parametric cover from multiple insurers in a single comprehensive offering to create differentiated solutions for clients. Hear more from Gethin on InsTech London podcast episode 146.
Parametric triggers in personal lines insurance
Some companies have struggled to sell parametric policies for personal lines. The people who most need access to immediate cash after a disaster are often unable to afford parametric coverage separate from their homeowners' policy. It is possible, but not yet proven, that extending the principle of combined parametric and indemnity policies could help solve this problem.
Vave is examining whether parametric triggers could be integrated with its homeowners' property insurance product in a similar way to its commercial property product. Dario Luna, co-founder and president of MGA Súper, which offers parametric earthquake insurance to households in Mexico, says he sees parametric insurance becoming a product feature in the future, rather than a stand-alone product. Súper plans to expand from earthquake, life and health coverage to other personal lines insurance products, including home and contents, which will include parametric features to cover earthquake and hurricane risk. Our recent interview with Dario is available to read on the InsTech London website.
See also: An Interview with Henry Gale
Advantages and pitfalls
From an MGA or insurer's perspective, combining parametric and indemnity insurance not only provides a distribution method for parametric insurance but also makes the combined offering more appealing.
Skyline Partners Co-founder and Executive Director Laurent Sabatié explained that integrating parametric triggers can help insurers differentiate their products in otherwise relatively homogeneous markets such as commercial property insurance. Having policyholders receiving fast payouts from parametric triggers could also build customer trust and retention.
Education has been a challenge in selling parametric insurance products. Although more brokers and risk managers are becoming familiar with parametric for some perils, it remains important for parametric policies to be as easy to understand as possible. Parametric add-ons to traditional policies are relatively simple, but using parametric for carving out perils, supplemental coverage and deductible buy-downs are more complicated when within a single policy.
What next?
Existing indemnity insurance products offer a distribution method for parametric insurance, and parametric insurance offers a strategic differentiator for indemnity insurance products. In theory, when integrated correctly, a combined insurance product can offer the best of both to the policyholder – who has comprehensive coverage while enjoying faster payouts – and the best of both to the insurer, which sells more indemnity and parametric insurance.
Whether this will work in practice will be shown by how successfully these combined products sell. Parametric products need to be simple and credible, whether standalone or bundled with indemnity insurance.
To learn more about parametric insurance, sign up to the Parametric Post newsletter, which compiles all the latest developments, case studies and insights in parametric insurance every two weeks.
InsTech London's report, Parametric Insurance: 2021 outlook and the companies to watch, is available to download, free to InsTech London members who can email hello@instech.london for a discount code.
If you would like to learn more about the companies featured in this article or would like to contribute to future research on parametric insurance, contact Henry Gale on LinkedIn.