Every year, about 3,000 people in the U.S. are killed in crashes attributed to a distracted driver. Yet, despite numerous public service announcements aired on television and radio or published online and in print, these fatal crashes have hit a record. As an insurer, you may be asking, "What can I do to curb this behavior?"
Every April, the National Safety Council sponsors Distracted Driving Awareness Month. This month is an ideal time to communicate with your customers about not only the dangers of distracted driving but how violations can affect their insurance premiums and how they can benefit from safe driving habits.
Here are three actions LexisNexis has put together that you can take today to better manage risk from distracted driving. If these trends across the automotive, telematics and road infrastructure are addressed, we can reduce risky driving. 
The first step is educating your policyholders. When you think about a distracted driver, you probably picture someone on his or her phone. Myriad behaviors, however, such as eating and drinking, talking to a passenger, applying makeup or even changing the radio station all qualify as distracted driving. Your customers, especially young drivers, may not even realize their habits behind the wheel constitute distracted driving. Few drivers are aware that texting while driving at 55mph is the equivalent of traveling the length of a football field with your eyes closed.
According to AAA

, new teen drivers (ages 16-17) are three times as likely as more experienced adult drivers to be involved in a deadly crash. Distraction plays a role in about 60% of teen crashes.

Distracted driving is on the rise. More than

40,000 people

died in traffic crashes in 2020 — the largest projected number of fatalities since 2007 — with many of these attributed to distracted driving.

Accidents involving distracted drivers injured an estimated 400,000 people in 2018, with one in five people who died

being bystanders

.
Some of your customers may also be unaware of state laws governing use of mobile phones while behind the wheel. Your messaging should include applicable laws and penalties. It's also a good idea to include how a distracted violation can affect a driver's insurance premiums. 
See also: AI and Its Impact on Automotive Claims
A second step for insurers involves using violation data. Distracted driving, unlike other major violations, is difficult to ticket or prosecute by law enforcement because there is no sure way to test for distracted driving after a crash occurs, but you can take advantage of the predictive nature of driving violations data. Distracted drivers often fail to maintain their speed, driving faster or slower than other drivers or the speed limit.
As the chart below shows, distracted driving violations over the past year also seem to track with miles driven as reported in the new 2022 LexisNexis Auto Trends Report. By keeping an eye on these violation trends, you can better anticipate future risks and adjust your rating plans to factor those projections into underwriting decisions.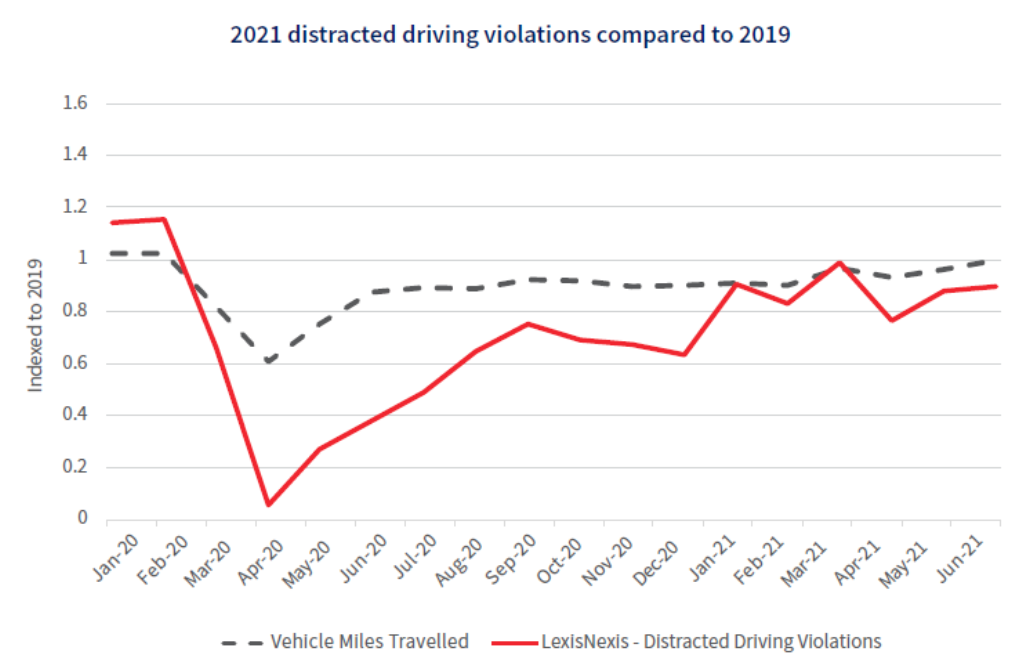 The third step is implementing a telematics program. If you haven't implemented a telematics, or usage-based insurance (UBI), program, now is a great time to explore your options. Telematics data provides better insights about driving risk and offer more personalized pricing based on actual driving behaviors. Among the top 50 insurers we spoke to in a 2021 survey, 96% believe they need to invest in telematics data now or run the risk of being left behind the competition within three to four years. 
Telematics allow you to recognize your customers' safe driving behavior through premium discounts and other rewards. As featured in the 2022 Auto Insurance Trends Report, a recent survey of U.S. consumers shows that 71% of respondents said they're interested in sharing their vehicle and driving data with their insurance company, with a predictable interest in potential discounts. However, only 22% of consumers are currently using telematics data to enable reductions on their insurance premiums through UBI enrollment. Appealing to your customers' interest to save money on insurance can be a game-changer and creates a huge opportunity for carriers.